Goodto Newsletter
Parenting advice, hot topics, best buys and family finance tips delivered straight to your inbox.
Thank you for signing up to GoodTo. You will receive a verification email shortly.
There was a problem. Please refresh the page and try again.
This lemon sponge cake has an impressive four layers and uses lemon curd, syrup, and frosting for the ultimate citrus flavour.
Think of lemon drizzle cake but then add the lemon curd, three more layers of cake, and a sweet lemon buttercream and you have this decadent bake! It takes around an hour to prepare and bake but the results are really worth it. Serve this instead of a traditional birthday cake and we are certain you'll get lots of compliments.
Ingredients
250g butter, softened
250g caster sugar
250g self-raising flour
4 medium eggs
2tbsp milk
Finely zested rind of 2 lemons
For the syrup:
4 level tbsp caster sugar
4tbsp water
Juice 2 lemons
For the frosting:
3 level tbsp lemon curd
125g unsalted butter, softened
250g icing sugar
4 level tbsp lemon curd
Pinch of salt
Method
Set the oven to 180C (160C fan, Gas 4). Butter and line the base of two 18cm sandwich tins. Put 250g butter in a large mixing bowl and beat with an eclectic whisk for a few minutes to make sure it is nice and soft and pale in colour.
Add the sugar, flour, eggs, milk, and lemon zest and beat until smooth. Divide the mixture between sandwich tins, smooth the top, and then put in the oven to bake for 30 -35 minutes.
Meanwhile, to make syrup: Pour 4 tbsp water into a small pan with 4 tbsp sugar. Place the pan on a low heat and stir until the sugar dissolves. Increase heat and bring mixture to a boil; boil rapidly for 1 min, then remove the pan from heat and add lemon juice.
When cakes are cooked, remove them from the oven and pour syrup over each one. Leave the cakes to cool in the tins for about 10 minutes until the syrup has soaked in, then transfer to a wire rack to cool completely.
Cut each cake in half horizontally, to give 4 layers in total. Sandwich together with 1 tbsp lemon curd spread between each layer.
Finally, make the frosting by beating together 125g butter with 250g icing sugar. Beat until very soft, then add 4 tbsp lemon curd and a pinch of salt. Mix together until fluffy and fully incorporated. Spread over the top and sides of the cake.
Watch how to make lemon sponge cake
Top tips for making lemon sponge cake
Whenever you're baking it's important to weigh your ingredients accurately and to work quickly and efficiently. We explain below how if you don't do this, your final cake might be affected. We also have tips on how to freeze your sponges and advice on the best place to store them.
Where should you store lemon sponge cake?
If you've got leftover lemon sponge cake the best place to store it is on the kitchen counter in an airtight container. You may want to add a piece of kitchen towel into the box or cake tin to help balance out the moisture levels as the cake may sweat. You can also keep your lemon cake in the fridge but be aware that it may dry the cake out.
Why has my cake sunk in the middle?
You could have opened the oven door too soon to check on the cake. You should not open the door for at least the first 20 minutes to give the cake the best chance of setting and holding a stable structure. You also need to act quickly from when all the ingredients are combined in the bowl to transferring it to the tins and to the oven.
The raising agents in the flour are activated as soon as the wet and dry ingredients combine so if you took too long putting the batter in the tins, it might have already done the reaction and won't rise in the oven. Don't worry though, as long as the cake is cooked through it's still perfectly fine for eating. Cut it into chunks and use it as the base of a trifle or serve Eton Mess style with cream and fresh berries.
Why is my lemon sponge cake dry?
Make sure you use exact measurements for this recipe, a little too much flour or not enough butter and egg can really dry the finished cake out. It's also possible you overcooked the sponges. They are cooked when they have risen, have an even gold colour, and feel springy to the touch.
Remember they will continue to cook a little from the residual heat of the tin. To counteract the dryness you could add more soaking syrup to the sponge or serve with a dollop of yogurt.
How do I freeze lemon sponge cake?
Once baked, cooled, and removed from the tins the sponge can be wrapped in clingfilm and frozen. Make sure you defrost fully before filling and frosting the final cake.
For this recipe, you will need two 18 cm sandwich tins. If your set is looking a little worn or you've only got one, we recommend buying a new non-stick pair as it will make baking and washing up much easier.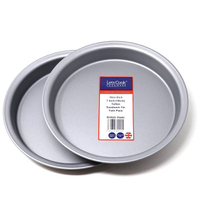 Lets Cook Cookware18cm Fixed Base Victoria Sandwich Pan Twin Pack - View at Amazon
These non-stick sandwich tins will require hardly any greasing and your sponge cake will not stick to the edges. We recommend hand-washing even though they are listed as dishwasher safe as it prolongs their life and keeps them in better condition.
If you enjoy the flavours of this cake our lemon curd cake is a little punchier with the curd and makes a wonderful showstopper. Our lemon cake with olive oil is a great option if you want a cake that will most certainly be moist in the middle and this lemon pound cake is another surprisingly easy but impressive cake you can make with kids.
Parenting advice, hot topics, best buys and family finance tips delivered straight to your inbox.
Sue McMahon is a former Food and Recipes Writer at GoodTo and Cooking Editor at Woman's Weekly. Her primary passion is cakes and Sue regularly travels the world teaching cake decorating. Her biggest achievement to date was winning the Prix d'honneur at La Salon Culinaire International de Londres beating over 1,200 other entries.