These lemon pancakes are perfect if you're looking for flavour inspiration that doesn't involve chocolate. They are under 350 calories a portion too.
Once you've mastered our classic pancake recipe you can experiment with your favourite toppings. We think this lemon meringue combination is sure to be a hit and makes a nice change from the classic lemon juice and sugar.
Ingredients
For the pancakes:
60g plain flour
Pinch of salt
1 medium egg
175ml milk
Oil for frying
For the filling:
150ml double cream
Half a lemon
3tbsp lemon curd
2 crushed meringue nests
Icing sugar
Method
Tip the flour into a large bowl and mix in the salt. Lightly beat the egg and milk together then gradually pour into the flour, whisking as you pour, until you have a smooth pancake batter.
Let the mixture stand for 5 minutes while you make the filling.
Whip the double cream to soft peaks then stir in the juice and zest of half a lemon. Mix in 1tbsp lemon curd and the crushed meringue nests. Set aside.
Heat a little oil in a non-stick frying pan and pour a thin layer of batter over the base of the pan. Cook until the edges start to curl back. Toss the pancake over or use a palette knife to flip it over.
Cook for 1 minute on the other side then transfer to a plate to keep warm while you make the remaining pancakes.
Divide the cream mixture between the pancakes and fold over. Drizzle over the remaining lemon curd and dust with icing sugar, if liked.
Top tips for making lemon pancakes
Pancakes are a cheap, quick and easy weekend breakfast or last minute dessert and you don't need to wait until Shrove Tuesday to enjoy them! We have tips on how to make the most flavoursome lemon pancakes below.
How to make a lemon pancake?
You could add a little lemon zest to the pancake batter for an extra boost of flavour. Making your own lemon curd will also make a big difference to the flavour.
Can I keep pancake batter in the fridge?
Yes, fresh pancake batter should be stored in the fridge. It will keep for a couple of days if you don't want to cook all the pancakes at once. We recommend keeping it in an airtight container so that it doesn't absorb any other flavours from your fridge.
Should I rest my pancake batter?
It is good to let your pancake batter rest for at least 30 minutes in the fridge before cooking. It helps the gluten in the flour relax and will create better pancakes if you can wait!
To avoid any sad pancake casualties that get stuck to the bottom of your pan, it's worth buying a new non-stick pan and keeping it in good condition. This means washing by hand where possible as the dishwasher is very hard on pans and can reduce their non-stick abilities.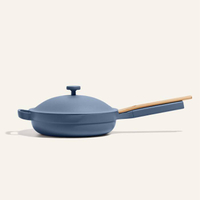 OUR PLACE ALWAYS PAN - View at Our Place
A versatile and stylish pan with an excellent non-stick coating. This pan comes in a variety of colours and can be used for lots of recipes. It is a little expensive but if you calculate the price per use, we're sure you'll be happy with the investment.
To channel the flavour of these pancakes in cake form, make this Mary Berry lemon drizzle cake. Alternatively, to stay on the pancake theme you might like our American pancakes. Browse our pancake toppings for simple ideas to upgrade a basic recipe.
Parenting advice, hot topics, best buys and family finance tips delivered straight to your inbox.