Maltesers cupcakes are an indulgent option for parties, picnics and bake sales or simply enjoy as an afternoon treat.
Lorraine Pascale has used Maltesers in the batter of this cupcake recipe and used extra Maltesers to decorate the top too. She has gone for a crushed design but you could use whole if you prefer.
Ingredients
For the Maltesers cupcakes:
200g softened butter
150g caster sugar
50g brown sugar
A couple of drops of vanilla extract
4 medium size eggs
200g plain flour
10g baking powder
Pinch of salt
80g Maltesers, lightly crushed
For the buttercream:
250g butter
500g icing sugar sifted
A couple of drops of vanilla extract
55g Maltesers, roughly crushed
Method
Heat the oven to 180C (160C fan, Gas 4) and line a cupcake/muffin tin with 12 cupcake cases.
Cream together the butter with the caster and brown sugar until the mixture is light and fluffy.
Add all the vanilla and then the eggs one at a time, whisking well after each addition.
Using a metal spoon, fold in the flour, baking powder and salt. Stir in the crushed Maltesers.
Divide the mixture equally between the 12 cupcake cases and bake in the oven for about 25 mins or until a skewer (or toothpick) inserted into the middle of a cupcake comes out clean. Once cooked, remove from the oven and leave to cool in the tin.
Meanwhile make the buttercream using an electric hand whisk. Put the butter, icing sugar and vanilla until it becomes pale and fluffy.
You can either dollop the buttercream on top of each cupcake and spread it around with a knife. Or for a more professional look fit a piping bag with a 1cm star nozzle and pipe the buttercream on top of the cupcakes. Sprinkle on some crushed Maltesers to finish.
Top tips for making Maltesers cupcakes
If you'd like to increase the chocolatey hit of these cupcakes, swap out 25g flour for some dark cocoa powder. You could also add some cocoa powder to the buttercream if you like. For more helpful tips and tricks, continue reading below.
Why is my cake batter curdled after adding egg?
If your eggs are too cold it can cause the cake batter to split when they are added. To avoid this make sure your eggs are at room temperature. If you do not fully cream the butter and sugar together, the batter might also split when you start adding your eggs. If this happens, simply add a tablespoon of flour to the mix and it should come back together into a smooth mixture.
How many calories is in a Malteser cupcake?
If you are making this recipe for Maltesers cupcakes, each cake has 603 calories. There is 65g sugar per cake and 9.3g saturated fat. These cupcakes should be consumed in moderation as part of a healthy balanced diet.
How to make cupcakes with a dome top?
The secret to achieving a dome top on your cupcakes is to appropriately fill the paper cases with cake batter. You also need to ensure that the butter and sugar is sufficiently creamed together. This incorporates air into the cake batter and when combined with the chemical raising agent and baked in a hot oven, the cake batter will rise into a light, fluffy sponge. Using a piping bag to ice the cupcakes can also help give the appearance of a dome top.
When creaming together the butter and sugars it's best to use an electric hand mixer. We like this one from Kenwood which has five different speed settings.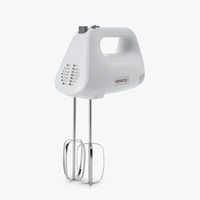 Kenwood Hand Mixer - View at ASDA
This hand mixer weighs just over 1kg and has five different speed settings. This is useful when making buttercream as you can slowly combine the icing sugar and butter before beating on a high speed until light and fluffy.
The beaters are made from durable stainless steel and can be washed in the dishwasher but can easily be cleaned in warm soapy water too.
For something simpler make our vanilla cupcake recipe. You could also add crushed Maltesers to this chocolate cupcakes recipe if you like. Alternatively our mini cupcakes are a perfect way to satisfy any sweet cravings.