A batch of these Rachel Allen lemon cupcakes take just 10 minutes to bake and include lemon in the sponge and buttercream icing.
This cupcake recipe from celebrity chef Rachel Allen is topped with a simple lemon buttercream which is very easy to make and only requires three ingredients. Rachel has decorated the cakes with crystallised flowers but you could use a little extra lemon zest or some candied lemon slices if you prefer.
Ingredients
125g (4½ oz) butter, softened
125g (4½ oz) caster sugar
Finely grated zest ½ large lemon
2 eggs, beaten
150g (5oz) plain flour
¼ tsp baking powder
For the lemon butter icing:
75g (3oz) butter, softened
125g (4 ½ oz) icing sugar, sifted
Finely grated zest of ½ large lemon
1-2 tsp freshly squeezed lemon juice
12 crystallised flowers (optional)
Method
Heat the oven to 180C (160C fan, Gas 4). Line a 12-hole tin with 12 paper cases.
Cream the butter in a large bowl until soft. Add the sugar and grated lemon zest and beat until the mixture is light and fluffy. Gradually add the beaten eggs, then sift in the flour and baking powder and fold into the mixture.
Divide the mixture between the paper cases and bake for 7-10 minutes, until risen and golden. When cooked, the centre of each cake should be slightly springy to the touch. Remove the cakes from the tin and place on a wire rack to cool before you ice them.
To make the lemon butter icing, cream the butter in a bowl with a wooden spoon or hand-held electric beater until very soft. Gradually add the icing sugar and beat into the butter, along with the lemon zest and enough lemon juice to soften the icing, to a spreadable consistency.
When the cupcakes are cool, spread a generous heaped teaspoon of lemon butter icing over the top of each one. Decorate with the crystallised flowers (if using them).
Top tips for making a batch of Rachel Allen lemon cupcakes
If you like, Rachel Allen says you can whizz all the ingredients together in an electric food mixer instead of the method above. For more tips, continue reading below.
Can you make cupcakes with plain flour?
Yes! If you make cupcakes using plain flour you'll need to add a chemical raising agent too. In this recipe Rachel Allen specifies a quarter teaspoon of baking powder for 150g of plain flour. This is easy to scale up if you want to make a bigger batch of cupcakes.
What is the best temperature to bake cupcakes?
Rachel recommends cooking cupcakes at 180C or 160C if you have a fan oven. Put the cupcakes in the middle or top third of the oven as this is where it is hottest. If you are baking two trays of cupcakes, swap them around halfway through the cooking.
Can these Rachel Allen lemon cupcakes be frozen?
The cupcakes can be frozen once cooked and cooled but you cannot ice them. Defrost fully before covering in the lemon butter icing.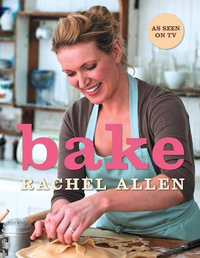 Bake by Rachel Allen (Harper Collins, £20) - View at Waterstones
For more easy and comforting recipes from Rachel Allen, buy her book Bake. There's lots more sweet options like her lime and yogurt cake as well as savoury treats like cardamon bread and beef pasties with mint.
If you like this recipe, try our vanilla cupcake recipe too. These rainbow cupcakes are perfect for parties and could be flavoured with lemon if you like. Alternatively, our mini cupcakes are a great afternoon treat.