Our roasted leeks with carrots count towards two of your 5-a-day and they make a delicious, easy side dish.
Looking for inspiration when it comes to how to cook leeks? This recipe is easy to follow, with only three steps in the method and you need just six ingredients. Serve with your next roast dinner or with some simple grilled fish, chicken or steak.
Ingredients
6 carrots
3 leeks
15g (½oz) unsalted butter
100ml (3½fl oz) dry white wine
1 tbsp honey
4 sprigs fresh thyme
Method
Heat the oven to 180C (160C fan, Gas 4). Peel the carrots and leeks. Cut into big chunks and place in a large baking tray.
Cut the butter into small pieces and scatter over the vegetables. Add the dry white wine, honey and 4 sprigs of fresh thyme. Season with salt and black pepper, then stir well to combine.
Roast for 40 mins, stirring occasionally, until the vegetables are tender and lightly charred around the edges.
Top tips for making our roasted leeks with carrots
If you're making these as part of a roast dinner, time them (and everything else) around the roast potatoes. You can keep the veggies warm if they are cooked before the potatoes, and the meat can rest out of the oven for up to an hour before serving. Potatoes and gravy are the two items that need to be served as soon as they are ready.
What other vegetables can I roast in this way?
Add other seasonal veggies to this dish if you prefer - parsnips, swede, mild baby turnips, shallots or celeriac would all work well. In spring you can add some roughly chopped spears of asparagus. Wedges or red or brown onions are also delicious and whole cloves of garlic will gently soften in the time if you like the flavour too.
What's the secret to roasted vegetables?
For crisp, almost slightly charred edges and soft, gooey centres, you want to roast your veggies in a high temperature, so don't go under 180C/350F. And don't crowd the baking tray out too much - you want the heat to be able to get to each piece.
What flavours pair well with leeks?
Leeks shine when they are paired with rich dairy products like butter and cream. Thyme is an excellent choice but tarragon works nicely too. Oregano and bay are other good choices. Crispy pancetta or bacon pieces would also be delicious scattered over the cooked leeks and carrots, this will increase the calorie count.
How do you cut leeks?
For this recipe, we'd recommend thick rounds of leek. You'll want to cook the carrots a little smaller than the leek to help them cook quicker. It's important to cut the dark leafy green section of your leeks off as they have a thick leathery texture and aren't very enjoyable to eat. They can be kept to make stock. Leeks can also be very dirty so take care to rinse them thoroughly after cutting.
A sharp knife is essential for all cooking but especially vegetable prep. We like this 16cm knife from WÜSTOF.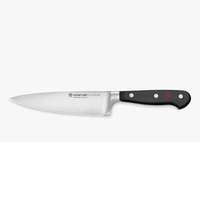 WÜSTHOF Classic Stainless Steel Cook's Knife, 16cm - View at John Lewis
This knife has a classic, timeless design and if cared for properly will last a very long time! The handle is comfortable and food writer Jessica Ransom says: "16cm is my ideal size all-rounder when it comes to knives. This is a great option for preparing vegetables, meat, fruit and herbs."
Our roast potatoes are a must have on your roast dinner plate and if you're serving beef or chicken we think Yorkshire puddings are essential too. Learn how to make gravy with our easy guide and you'll never buy granules again!
Parenting advice, hot topics, best buys and family finance tips delivered st