This Slimming World steak pie recipe with sprout mashed potatoes is 866 calories per serving.
The recipe uses frying steak but you could use fillet steak if you want the leanest cut of beef possible. It's more expensive but will remain tender given the short amount of cooking involved. This is an excellent recipe if you're entertaining but want to stay on track with your Slimming World diet.
Ingredients
Low-calorie cooking spray
600g beef frying steak, all visible fat removed, cut into small chunks
400g button mushrooms, quartered
200g celeriac, peeled and cut into small cubes
200g small shallots, peeled
2 tbsp Worcestershire sauce
A small handful of fresh thyme, finely chopped
200ml beef stock
2 tbsp Guinness
1 level tbsp gravy granules
100g Jus-Rol Light Puff Pastry
1 egg, lightly beaten
For the mash:
800g floury potatoes, such as Desiree or King Edward, peeled and roughly chopped
400g Brussel sprouts, finely shredded
100ml hot vegetable stock
Method
Heat your oven to 220C (200C, Gas 7). Spray a large, heavy-based frying pan sprayed with low calorie cooking spray and put on the hob over a high heat. Add the steak and stir-fry for 5-6 minutes, until browned.
Add the mushrooms, celeriac, shallots, Worcestershire sauce, thyme, stock, Guinness and gravy granules and bring to the boil. Reduce the heat to medium and cook for 6-8 minutes, or until the sauce has thickened.
Remove from the heat and divide the mixture between 4 deep, oval pie dishes, each about 12cm long.
Roll out the pastry and cut out 4 lids to fit the pie dishes. Brush the rims of the dishes with water, cover the pies with the pastry lids and press down with a fork. Brush each lid with the beaten egg. Bake for 15-20 minutes, or until risen and golden.
Meanwhile, boil the potatoes for 12-15 minutes, or until tender, adding the sprouts for the last 5 minutes. Drain, return to the pan and add the stock. Season and mash well then serve immediately.
Top tips for making Slimming World steak pie
Mashed potatoes are quite a calorific side dish. You could bring the total meal a lot lower if you served the pies with just some steamed green veggies like cabbage, broccoli and sprouts instead. Continue reading for some more ingredient swap ideas and flavour combinations.
Can I use a stock cube to make stock for a pie?
It is better to use a quality, fresh beef stock when making pie as it will have some natural gelatin in it and will add thickness to the finished sauce. If you use stock from a stock cube, the sauce will likely be a lot runnier. You can overcome this by whisking in a little flour and simmer until the desired thickness is achieved.
How do you make a steak pie without a soggy bottom?
This pie only has a pastry lid so there is no risk of soggy bottoms! If you like a pie with a pasty base, it's important to have a preheated baking tray in the oven and sit the pie dish directly on that. It will help heat the base of the dish up and cook the pastry. It's also important to create a steam hole in the top of the pastry lid so that the heat and steam can escape.
How many calories in a steak pie?
The pies on their own are under 500 calories per portion. In fact, they are 468 calories and have 24.3g fat and 11.2g saturated fat. Each individual pie also has 15.2g carb, 45g protein and 4.8g sugars.
Celeriac has quite a thick outer layer which will need to be peeled off. Food writer Jessica Ransom uses this Joseph Joseph peeler at home and says it is one of her favourite kitchen tools.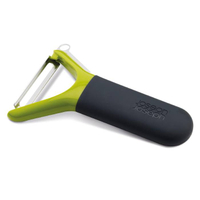 Joseph Joseph Y Shaped Stainless Steel Peeler - View at Amazon
This Y shaped peeler is comfortable and lightweight to hold. It glides over potato peel, carrot skins and makes light work of other vegetable prep too. You can also use it to remove lemon, orange or lime peel for cocktail garnishes or cake decorations.
Explore more Slimming World recipes and you'll find plenty of dinner inspiration including this Slimming World chicken pie. You might also like this