Turkey and mushroom pie is a comforting dinner that makes a nice alternative to a roast dinner and can be made with fresh or leftover turkey meat.
If you are using leftovers, don't worry if they don't amount to a full 500g that the recipe states. You can up the mushroom quantity to make the difference and it will still taste meaty or bulk out with some other veg like peas and broccoli.
Ingredients
2tbsp vegetable oil
500g (18oz) diced British turkey breast
2 leeks, washed and thickly sliced
150g (5oz) button mushrooms, quartered
Sprig of thyme, leaves picked
15g (½ oz) butter
1tbsp plain flour
300ml (½ pt) milk
1 chicken stock cube
500g ready-made puff pastry
Milk or beaten egg, for glazing
Method
Heat the oven to 220C (200C fan, Gas 7). Heat the oil in a frying pan and brown the turkey. Add the leeks, mushrooms and thyme leaves and fry for about 10 minutes until softened and slightly caramelised.
Meanwhile, make a white sauce. Melt the butter in a small saucepan and add the flour, stirring well with a wooden spoon to make a paste. Cook for 1 minute. Pour over the milk a little at a time, whisking continually until you have a thick sauce. Crumble in the stock cube and season with pepper to taste.
Mix the turkey mixture with the sauce and pour filling into a deep pie dish.
Grease the edges of the pie dish with a little butter. Roll out the pastry and transfer to the pie dish to make a lid. Trim the pastry from around the edges and press down to seal.
Brush milk or egg over the pastry to glaze it. Prick it with a fork and place in the oven to cook for 15-20 minutes.
The pastry should be risen and golden brown when you take it out. Allow the pie to stand for 5-10 minutes, then serve with your choice of sides.
Top tips for making this turkey and mushroom pie
We like to use chestnut mushrooms as they have a wonderful flavour but you can use your favourites. If you are making the pie using leftover turkey meat, simply stir it in when you have made the white sauce. Once baked ensure the filling is piping hot and use foil to cover the pastry if it's getting too dark.
Continue reading below for more tips and suggestions.
Can I swap chicken for turkey in my pie?
Yes, chicken breast and turkey breast can be used interchangeably. They have a very similar taste and texture and can be cooked the same way. Turkey breasts are bigger but can be a little drier. Cooking turkey in pies such as this one helps keep the meat nice and moist.
What mushrooms are best for pies?
We like chestnut mushrooms as they add a little colour but also bring a delicious, subtle nutty flavour. Portobello are nice and meaty but may take a little longer to cook out the moisture. For a more intense mushroom flavour, you could crumble in some dried porcini mushrooms to your sauce.
Can I use shortcrust pastry for my pie lid?
Yes! If you prefer using shortcrust pastry, or that's all you have at home, it will work just as well in this recipe. Shortcrust pastry has a crumblier texture compared to flakey puff pastry, but both taste delicious.
You can use a meat thermometer to check if your turkey is cooked all the way through. It should read 74C and the filling will be piping hot.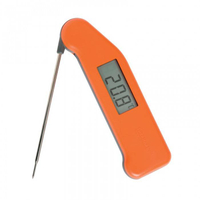 Thermapen® Classic - Orange - View at Thermapen
We love the digital screen as it's quick and easy to read. This thermometer gives temperature readings between -49.9C-299C. It's accurate and will help you to cook and bake more confidently.
You might also like our turkey and ham pie, or if you prefer something different, this chicken pie recipe is very popular. The Hairy Bikers steak and ale pie is also a crowd pleaser.
This recipe is courtesy of Britishturkey.org.uk