This turkey and ham pie is under 500 calories per portion and is easy to adapt depending on the ingredients you've got access to.
We like to make this pie around Thanksgiving and Christmas but it's delicious at any time of year. You can make it with leftover turkey or chicken meat or cook raw chunks of breast and thigh meat when you cook the onions, carrots and celery.
Ingredients
90g butter
1 onion, peeled and finely chopped
1 carrot, peeled and chopped
1 stalk celery, chopped
75g plain flour
1l turkey or chicken stock
A pinch of salt and ground pepper
1 tbsp English mustard
350g cooked turkey or chicken cut into chunks or strips
125g cooked ham cut into chunks
6 leeks, cleaned and chopped
2tbsp chopped parsley
200g ready make shortcrust pastry
1 egg, beaten
Method
Heat the oven to 220C (200C, Gas 7).
Melt the butter in a heavy based pan and add the onions, carrots and celery and cook for 5 minutes.
Add the flour off the heat. Whisk in the chicken stock and cook over a medium heat, stirring all the time until the sauce is smooth. Season well with salt and pepper and stir in the mustard.
Put the turkey or chicken, ham and leeks in the bottom of a 1.5-2 litre pie dish, sprinkle with the fresh parsley and pour over the sauce.
Roll out the pastry on a lightly floured surface and cover the pie dish with the pastry.
Brush the top of the pastry with a little beaten egg and bake in the oven for 20-25 minutes.
After this time reduce the heat to 180C (160C fan, Gas 4). Bake for a further 15 minutes until the pastry is golden and crisp and the filling is piping hot.
Top tips for making a turkey and ham pie
If you like pastry on the top and bottom of your pie, grease the bottom of the pie dish and line it with a layer of pastry. Prick the pastry all over with a fork, then line with a layer of baking parchment. Fill with ceramic baking beans and blind bake the pastry for 15 minutes. Remove the beans and the parchment and return the pie to the oven for 5 more minutes.
Continue reading for more pie tips and tricks including some tasty serving suggestions.
Why is my pie dry?
If there is too much filling for the quantity of sauce the pie could become dry. If you have a generously filled pie, consider increasing the amount of stock and sauce. You could also serve the pie with some chicken or turkey gravy so it's extra saucy!
Can I make turkey and ham pie with filo pastry?
For a lighter recipe you can definitely swap the shortcrust pastry for some sheets of filo. We think 2-3 sheets cut into smaller squares should be plenty. Brush with oil or melted butter before scrunching and placing on top.
What ham should I use for turkey pie?
You can use chunks of cooked ham or some torn slices of ham. Generally thicker cut slices work best otherwise it gets lost in the filling. You could also use some fried bacon or pancetta if you prefer. Shredded ham hock is another tasty option.
If you struggle when it comes to your knife skills but you still want to enjoy home cooked meals. We recommend using a food processor to help with the preparation of your recipes. Read our 3-in1 Ninja Food Processor to get the full lowdown on why you should invest.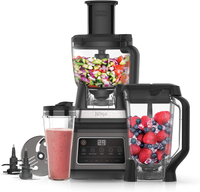 Ninja 3 in 1 Food Processor - View at Amazon
Whether you want to make a smoothie, soup, baby food, cocktails or bread, this food processor has an attachment and a setting to help. It's easy to use and clean and will make cooking from scratch feel more enjoyable.
If you'd like more pie inspiration, this turkey and mushroom pie is an excellent choice. The Hairy Bikers steak and ale pie is very popular and this chicken pie recipe is one of the most visited on the site.