Salter Dual Air Fryer EK4750BLK review
Impressive functionality and capacity with this family-friendly air fryer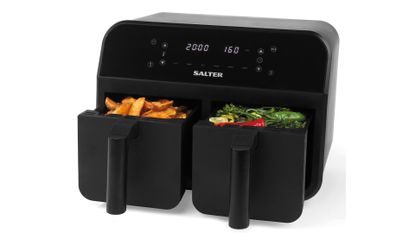 (Image credit: Salter)
This stylish air fryer from Salter would be a great addition to any family home looking to cook healthier meals and use less energy. Its capacity and duo-tray design are it's biggest selling points along with the very useful sync cooking setting. However, as a consequence of its capacity, it's not the smallest air-fryer on the market, so make sure you have adequate space to use it safely.
Reasons to buy
+

Family-friendly capacity of 7.4L

+

Easy to clean

+

Not too noisy

+

Range of cooking options, including roast, bake and reheat

+

Excellent sync function when cooking different foods for different times

+

Stylish design

+

Dual tray feature is super useful
Reasons to avoid
-

Takes up a lot of counter space

-

Instructions not the best

-

Touchscreen not immediately intuitive

-

Could be too big for smaller households

-

Instructions don't mention whether the trays are dishwasher safe
Our money editor, Sarah Handley reviews the Dual Air Fryer EK4750BLK from Salter.
If you're unsure about the popularity of air fryers, you only have to look at last year's Black Friday sales where it was almost impossible to find one in stock. They were sold out everywhere. Not only does an air fryer cook food quicker than a conventional oven, but it's also healthier as you don't need much, if any, oil and it's cheaper to run than your oven. What's not to like?!
There are a whole host of air fryers on the market to suit different sizes of households and budgets. I've tested out the Dual Air Fryer from Salter which claims to be perfectly suited to families and is one of the best air fryers for a family of four. So let's see how it faired.
Design
Capacity: 7.4L | Dimensions: H28, W35, D39cm | Wattage: 2,400W | Colour: Black
Salter's Dual Air Fryer is a sleek, modern addition to any home. It has a matte black surround, trays and handles that look sophisticated next to the touch-screen control panel.
It's quite substantial in size, so you'll need a decent amount of counter space if you want to leave it on display. Alternatively, if you want to bring it out with each use, you'll need some cupboard space at waist height or lower, as it might be a little heavy to lift out from above shoulder height.
It has two 3.7L compartments, each with a matte black easy grip handle that is always cool to the touch. The trays slide in and out easily - although it is important to make sure the trays have clicked into the closed position before use otherwise the air fryer won't work.
It's really easy to set up. Once you take it out of the box, you simply plug it in and slot a cooking rack into each tray and then you're good to go. When the power is on, you'll see an illuminated power light show up on the control panel. (So if you're really keen to keep your energy bills as low as possible, it's best to turn it off at the socket after each use). You'll find you leave lots of fingerprint marks on the touchscreen, but a quick wipe with a cloth and they are gone.
Before using it for the first time, it's recommended that you clean it and run it for 10 minutes - and the instructions do warn you that you might notice a bit of a smell when you do this. I did notice a bit of a metallic smell, but it was mild and was completely gone by the time the 10 minutes were up.
It's not as quiet as my oven when in use, but it's not obnoxiously loud either - I could stand next to it, having a conversation and not feel like I was having to raise my voice at all.
Comfort and features
This air fryer has a duo basket design which means it's capable of cooking extra large portions or two different types of food at the same time. In terms of size, it's perfect for a family - each of the frying trays has a 3.7L capacity. For times when you don't need to cook for the whole family, you can use the trays individually, which is very handy.
There's a manual setting option where you can choose the time and temperature for each tray, or you can use the Match function if you want both trays to cook the same foods for the same amount of time. There are also a range of Preset cooking settings, including roast, bake, dehydrate and reheat. Salter advises you pre-heat the air fryer before cooking, I found doing this for just two minutes did the job.
It also has a very cool sync function if you are cooking two different foods that require different cooking times or temperatures. By syncing the trays, you can ensure that while each compartment may start cooking at different times, they will finish at the same time. It took me a couple of attempts to master the sync function and I didn't find the instructions particularly clear on this point. But once I'd mastered it, I thought this functionality was great.
With the air fryer, you also get a cooking chart and selection of recipes - I used the cooking chart to see how long I should air fry some frozen hash browns and they came out perfectly cooked and lovely and crisp on the outside.
Value for money
With an RRP of £179.99, this air fryer is an investment, but shop around and you'll likely find it available at a lower price. At the time of writing, it was available on the Argos website for £119.
At a time when energy bills are still high, an air fryer is a solid investment to keep your energy usage low. I find I use an air fryer more than my oven now, so can't be far off having paid for it in savings on my energy bills. Air frying is also healthier and quicker than conventional oven cooking so there's a lot to be positive about.
This particular air fryer would be a great, fuss-free addition to a family household - thanks to its size and the various cooking options. It looks stylish, cooks quickly and its non-stick trays are really easy to clean with warm, soapy water. The cooking chart is also really useful for those new to air frying, but for anything not on the list, a bit of guesswork, gut instinct or Googling is essential.
The dual trays are the key to this being really family friendly - there's plenty of space to cook enough food to feed the whole family, and the fact that you can use the trays independently of each other, and for different foods with different cooking times, is a really neat feature.
The digital display panel didn't seem the most intuitive to me initially, and the instructions weren't quite detailed enough for my liking, but with a little trial and error and finding my way, it wasn't too long before I got the hang of it. I had seen some other reviews saying that it struggled to cook frozen foods adequately, but that was not my experience at all.
Related features
Sarah is Goodto.com's Money Editor. After segueing into the world of personal finance from the Homes sector, and acting as launch editor of Goodto's sister brand TheMoneyEdit.com, Sarah now focuses on family finance. She is passionate about cutting through confusing jargon to help people make sound financial decisions, avoid overspending and set themselves and their families up for a financially-stable future.