Are air fryers healthy? Pros and cons of air fryers
We've asked the experts how air frying compares to other cooking methods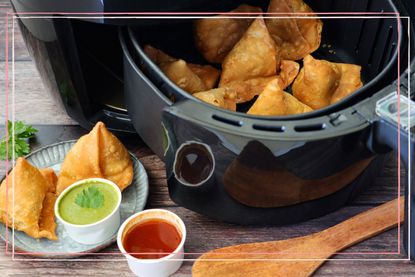 (Image credit: Getty Images)
They cook food quickly, they're easy to clean and they're energy efficient - but are air fryers healthy? Here's what the experts say.
Air fryers have become more popular than ever in recent months, and they've left those who are considering investing in these handy kitchen gadgets asking questions about their practicalities - from how to clean an air fryer (opens in new tab) and can you put foil in an air fryer (opens in new tab) to which are the best air fryer cookbooks (opens in new tab). And one of their main draws is that they fry food with little to no oil - which begs the question is air frying a healthy way to cook food?
Plant-based chef and nutrition coach Lisa Marley (opens in new tab) says: "As we become more aware of the detrimental effects of eating high fat, deep fried food, it's never been a better time to start using an air fryer. An easy, healthier and cost effective way to cook, the air fryer can produce wonderfully crisp food without the fat and grease, saving time and money in the process." But how healthy is it?
Are air fryers healthy?
Whether air fryers are healthy really depends on what you are cooking. They are generally healthier than deep fat frying, because they require much less oil and therefore food cooked in them will have a lower fat and calorie count.
Air fryers only need a little oil (usually only a tablespoon), just to stop your food from burning - it's the hot air inside the air fryer does all the cooking. The beauty of air fryers is that they can cook food that is just as crispy and flavourful as deep fat fried meals, but with much less fat.
However, just because you're cooking food in an air fryer doesn't mean it's healthy. Personal trainer and nutritionist Rebecca-Leigh Stainton (opens in new tab), says: "Whether air frying is healthy depends on how much oil or butter you're using. The appliance itself doesn't make anything healthy as its purpose is to heat up the food.
"It depends most importantly on the ingredients and how much you're using to prepare, marinate and cook the food. For example, if you were going to cook vegetables with a cup of garlic butter, the food might taste incredible but it wouldn't be as 'healthy' as using fry lite or a teaspoon of olive oil."
Essentially, if you're cooking a food that you wouldn't normally add fat to, then preparing it in an air fryer is unlikely to make it healthier.
Registered nutritionist Jenna Hope (opens in new tab) recommends "combining air frying with boiling/ sautéing and steaming for healthier cooking methods."
She adds: "It's important to note that foods high in sugar and fat can be cooked in an air fryer, so for the food to be healthy it needs to be nutritious and rich in vitamins and minerals."
But there are certainly worse ways to cook your food. Electronics retailer Currys (opens in new tab) explains: "Air frying uses a whopping 75% less fat than normal frying, so you can serve up crispy chips and fried snacks for the whole family without piling on the calories.
"An air fryer is basically a mini convection oven that uses a fan to circulate heat around food. This cooks things evenly and quickly – and it's the speed that gets your food so crispy."
They recommend the Ninja Foodi multi-pressure cooker and air fryer.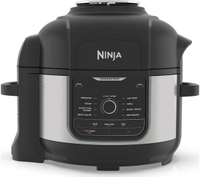 (opens in new tab)
NINJA Foodi OP350UK Multi Pressure Cooker & Air Fryer - £199 | Currys (opens in new tab)
This versatile kitchen gadget not only works as an air fryer but, with its exclusive TenderCrisp technology, you can use the pressure cooker function to cook tender, juicy meat before adding the ideal crisp finish. Using super-heated steam, your food will cook up to 70% faster than traditional cooking methods, so you can enjoy everything from steaks to a whole roast chicken with ease.
Are air fryers healthier than ovens?
Again, whether an air fryer is healthier than an oven depends on how much oil you're using. In general, an oven needs more oil than an air fryer, because air fryers are hot enough to crisp food without any added oil.
However, if you're cooking something than needs little to no oil in the oven - such as frozen chips that already have oil added - it's unlikely that cooking it in the air fryer will be any healthier.
One advantage of air fryers over ovens is that they are cheaper to run. This is because not only do they use less energy, but they are able to cook food around 20% quicker than ovens.
Goodto's Money Editor Sarah Handley (opens in new tab) says: "If you use your oven daily, it might be worth considering an air fryer. Not only it is a healthy way of cooking, but an air fryer uses significantly less energy, and can cook food faster too. But do your research first. See what kinds of foods you can and can't cook in an air fryer, and what capacity air fryer would best suit the needs of you and your family."
Air fryers: Pros and cons
Pros of using an air fryer
Quicker than using the oven - air fryers reduce cooking times by 20% to 50%
Makes frozen food extra crispy - the circulated hot air cooks food more evenly that in an oven
Easy to clean - air fryer baskets are removable, and you can wash them with hot soapy water alongside your other dishes
Versatile - you can cook many different foods from meat and fish to vegetables and frozen meals
Great for reheating food - air fryers are like mini convection ovens, so they won't make reheated food soggy in the same way microwaves can
Cons of using an air fryer
Limited capacity compared to ovens - standard air fryers rarely have a capacity of more than 6L, which cooks for about four people
They take up a lot of space - air fryers can be bulky, and they take up a lot of precious kitchen counter space
There are some things you cant cook - unlike ovens, air fryers won't work with wet food or batters
Expensive - for a good size air fryer that you can make meals in, you'll probably need to spend upwards of £50. So if you're thinking of investing it's important to weigh up how often you think you will use your air fryer
What can you cook in an air fryer? Healthy air fryer recipes
1. Crispy kale
Remove stalks from 10oz of kale and rip into bite size pieces
Massage 7ml rapeseed oil into the kale, and mix in 1/2 tsp salt
Lay the kale in the air fryer basket, separating the pieces as much as possible
Cook on 180° for 4-5 minutes, shaking the pan half way through
2. Cauliflower steaks
Remove the leaves from a head of cauliflower and cut into 1 inch slices, leaving the core in tact
Combine 1tbsp olive oil, 1/2 tsp turmeric, 1/2 tsp paprika, 1/2 tsp garlic powder, 1/2 tsp pepper powder, 1 tbsp lime juice and a pinch of salt in a bowl, and brush the mixture onto the cauliflower slices
Place the stakes in the air fryer basket and air fry at 108° for 15 minutes
3. Honey and garlic salmon
Mix together 1 tbsp olive oil, 1/2 tbsp soy sauce, 1 tsp honey, 1/2 tsp garlic powder, and a pinch of ground ginger (per salmon fillet)
Place the salmon fillets in the air fryer basket so they do not touch, and pour the mixture on top (you could line the air fryer with foil for an easier cleaning job)
Cook at 180° for 5-10 mins, depending on the size of the fillets. You will need to keep checking to make sure the salmon is cooked through but not over cooked
4. Falafel
In a food processor, blitz 1 can of chickpeas, 1/2 cup fresh parsley, 1/3 cup chopped coriander, 1 small red onion, 2 cloves of garlic, 1tsp cumin and 1/2 teaspoon salt
Sprinkle 3 tbsp all purpose flour and 1 tsp baking powder into the mixture and combine
Refrigerate the mixture for 2-3 hours
Form the mixture into 12 balls of roughly equal size
Place in the balls in the air fryer basket and cook at 180° for 15 minutes, turning halfway
Lisa Marley says, "As well as potato and sweet potato chips, air fryers are great for vegetable bakes, roast potatoes and even risotto. Chips come out crispy and golden, with soft fluffy centres and none of the high calories from oil."
Related features:
Video of the Week
Lisa Marley is a popular plant-based chef, nutrition coach and ProVeg UK (opens in new tab) Chef trainer. She trained as a pastry chef at Westminster Kingsway College as well as gaining a culinary diploma from Ashburton Cookery School, and this unique blend of influences enables her to create her mouth-watering recipes for various major publications and media platforms. In addition, Lisa has performed professional demonstrations and product launches for many high-profile brands, including KitchenAid, MorphyRichards, Tesco Real Food, Britannia Living and many more.
Rebecca-Leigh Stainton is a qualified personal trainer and nutritionist, and her credentials include Level 4 Nutrition for Weight Management and Athletic Performance, Level 3 Personal Training, and a Level 3 Diploma in Exercise Referral. Via her Instagram, she offers fitness advice and recipe inspiration.
Jenna Hope (RNutr) is a Registered Nutritionist with a first-class undergraduate degree and a masters degree from The University of Surrey. She works closely with brands, corporates and individuals to help them implement smarter strategies for Nutrition, including ASOS, Google, Soho House, The Ned, Phillips, Accenture, The Telegraph and many more. She is also the resident nutritionist at The Grove Hotel & Spa Resort.
Ellie joined Goodto as a Junior Features Writer in 2022 after finishing her Master's in Magazine Journalism at Nottingham Trent University. Previously, she completed successful work experience placements with BBC Good Food, The Big Issue and the Nottingham Post, and freelanced as an arts and entertainment writer alongside her studies. In 2021, Ellie graduated from Cardiff University with a first-class degree in Journalism.