Ark 3-in-1 Travel System Review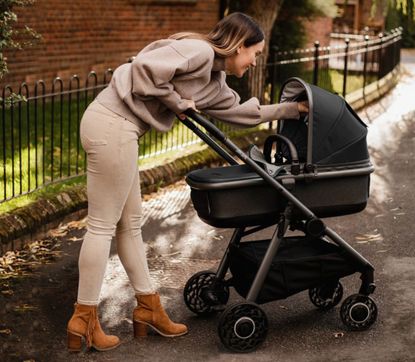 (Image credit: Ark)
Reasons to buy
+

Good manoeuvrability

+

Attractive colours

+

Intuitive to use with parent-friendly features
Reasons to avoid
-

Bassinet is fiddly to set up

-

Feet raised in full recline mode
We asked mum Grace Holliday to put the Ark 3-in-1 Travel System to the test with her five-month-old, Lila.
The Ark is currently on sale for just £299, down in price from £800, making this by far one of the best prams you can buy if you're looking for value for money and a pocket-friendly price. In the bundle, you get both the front-and-rear-facing pushchair seat and the carrycot - which is suitable for overnight sleeping - included in the price along with other extras such as the rain cover.
Designed to be foldable with one hand, the Ark has a small footprint and is compact when folded, making it a great choice if you need to store it in a narrow hallway or in a small car boot.
Design
Star rating: ⭐⭐⭐⭐ | Weighs: 11.7kg | Age: Birth – pre-school (15kg)
There are a lot of things to love about the Ark Travel System, according to our tester, and most revolve around just how user-friendly it is. 'The 5-piece system includes the frame, a carrycot attachment, a seat attachment (which can face both ways), and the colour pack, which includes a hood, carrycot and seat pad, plus a rain cover,' says Grace, who put the Ark to the test with her baby daughter for this review.
She tested the coral red design, which she says is true to the colour displayed online. 'I love the colour not just for aesthetic reasons, but practically, having a brightly coloured pram,' Grace says. 'Firstly, while it might catch someone's eye parked alongside a sea of black and grey models at the park or play area, it isn't going to be anyone's first choice to steal, as it would be pretty obvious being wheeled away! Secondly, it gave me more confidence as I learned to navigate my local roads and crossings, and having my pram out at dusk. I knew passing cars would see a flash of colour when driving past or stopping at lights.'
'You can purchase an additional Colour Pack for £100, though disappointingly you can't just purchase the pushchair colourway if you're already done with the bassinet, as the package covers both. As such, it might not be wise to purchase a range of colours to match each outfit, but it could be a brilliant way to freshen up your pushchair after a couple of years of use,' adds Grace. 'There is also mustard yellow, teal, black and grey available at present. There are a number of other accessories you can buy, like a compatible bag, mattress protector, sun canopy and footmuff. There is also a replaceable harness available for £15, should that be needed after a few years of regular use.'
This wasn't a cheap travel system initially but at this price and with the multiple additional features - like the temperature gauge and the ability to fold down the entire frame and seat when in pushchair mode - it's pretty much unbeatably good value. 'I can't imagine feeling the need to replace this travel system anytime soon, which is important for the price- you want to be buying longevity alongside everything else,' Grace adds.
Comfort and features
Our tester's daughter was on the cusp of transitioning from a carrycot to a pushchair when they received the Ark, so for the first outing they used the carrycot. 'We had some trouble setting up the base of the bassinet as it is collapsible and while this is a brilliant feature, there are very stiff metal rods that have to be clicked into place to hold the frame of the carrycot in place,' Grace explains. 'While you get to grips with this, a second pair of hands may be needed, and it certainly shouldn't be put together for the first time when you are rushing out the of house. The rest of the travel system goes together with ease, however.'
The carrycot mattress felt 'very soft and comfortable' and Grace notes that the temperature gauge, which slots easily into a dedicated pocket inside the carrycot is a useful extra. 'Whether for chilly winter walks or hot days at the beach, it's a lovely additional feature that tells me the makers prioritised parent's peace of mind when designing the pram.'
While our tester loved the cot attachment and would have happily used it for longer, she quickly moved on to testing the pushchair seat since her baby was happily and safely holding her neck up. 'We have no problem clipping the seat unit in place, either front-facing or parent-facing and on our very first outing our daughter fell asleep,' Grace reports. ;This might not sound that impressive, but she's a baby that is always keen to be up and looking at the world, so it was a huge testament to the comfort of the pushchair that she was able to drift off.'
One downside to the Ark, which Grace encountered while testing it for this review, is that you can't make the footrest any flatter when the seat is reclined. 'As a result, when we put our baby in the furthest reclined position, her legs are raised from the knees down and while it doesn't seem to bother her much, it doesn't look particularly comfortable so I will be glad when she is a little bigger and we use this setting less,' explains Grace. 'On the upside, if you'll forgive the pun, the most inclined position has her sitting in a very comfortable and supported position that allows her to see right out at the world - or parents - in front of her.'
To check what kind of terrain the Ark can handle, Grace tested the pushchair on park pathways, in a busy town centre, in a supermarket and in a shopping centre, and found she could push it one-handed, even with bags in the lower basket, on a slight hill. 'This isn't just down to the weight, but the manoeuvrability of the wheels and the system in general,' says Grace. 'Having a hand free to check her next feed time on my phone - or take a sip of caffeine - is appreciated! The handle height is easily adjustable too, so my husband and I can switch pushing without any hassle. Finally, the basket underneath is a fair size, though a bag can only be put in it from the front, rather than the back, due to the height of the mesh. This is a minor inconvenience, and I wouldn't have expected a large basket from such a compact design anyway.'
What about the brand's claim that this is a doddle to fold? Grace reports that it is indeed a dream. 'My favourite feature of all is that in pushchair mode, you can fold down the entire travel system without having to separate the seat and the frame,' she says. 'It can then be wheeled behind you like a suitcase. For parents anxious about the stress of first outings, it's great that one big hassle that can often be a big strain on backs and tired arms has been removed.'
Value for money
When Grace initially tested the Ark travel system for this review, it was priced at £800. At the time she said: 'While it isn't the cheapest on the market it is by no means the most expensive, and you can see where your money is going. I believe it will have really good longevity and don't see myself wanting to replace it - both aspects that I think may something a good buy.'
Factor in the current price of just £299 and this is a pram bundle that's exceptionally good value for money.
Would our tester recommend the Ark travel system to a friend? Absolutely. 'It does everything I want it to and more, Grace says.
Don't forget to check out the rest of our baby product reviews.
As a parenting specialist for more than 15 years, Heidi has written for most national newspapers and for a wide range of consumer magazines, including Mother & Baby where she was the Shopping Editor for six years, looking after regular consumer features including buying guides and gift roundups.