Babyzen YOYO2 Review
We asked mum Anna to put the Babyzen YOYO(2) to the test. What did she think?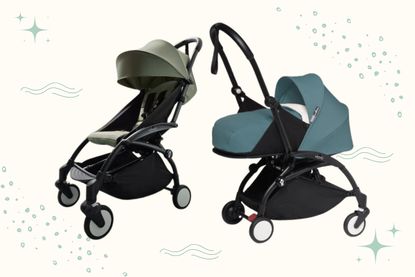 (Image credit: Babyzen )
A lightweight and compact pushchair that folds and unfolds in a matter of seconds, the Babyzen YOYO2 is impressively engineered, offering style and functionality with well-thought-out extras, including a shoulder strap so you can easily carry it when folded, a zip pocket on the hood for your phone and purse, and a generous shopping basket.
Reasons to buy
+

Super compact when folded

+

Looks fab with quality fabrics and stylish colours.

+

Very light
Reasons to avoid
-

Price - it's not cheap

-

Not practical on rough terrain

-

Handlebar is not adjustable
We asked mum Anna Watt to put the Babyzen YOYO 2 Stroller to the test with her eighteen-month-old, Harry.
Easily one of the most popular buggies among celebs, The YOYO2 from Babyzen is a super lightweight (6.1kg), travel-friendly pushchair that folds so compactly (folded dimensions: 52 x 44 x 18 cm) that you can count it as cabin baggage. But it is one of the best pushchairs money can buy?
With an integrated strap, so you can carry it over your shoulder, it's the ultimate lightweight stroller - perfect for jet-setting parents or anyone who wants a set of nippy wheels for their that won't take up loads of space when it's not in use. And it's not just for older tots - with the addition of the YOYO+ newborn pack (sold separately) you can easily convert the YOYO2 from a forward-facing pushchair to a lie-flat pram, suitable for use from birth.
The YOYO2 is a new and improved version of the Babyzen YoYo+ stroller, with new features including individual suspensions on all 4 wheels so it can tackle a broader range of terrain than its predecessor.
Super lightweight pushchairs can be flimsy since it's hard to build a robust frame without it also being heavy. But that's not an issue with the YOYO2, thanks to the combination of materials used, including aluminium alloy, stainless steel, and fibre-glass reinforced technical plastics.
If you want the option to attach a baby car seat to the frame to create a travel system - handy for moving back and forth between the pram and the car with your baby - there is a coordinating YOYO car seat (sold separately) by BeSafe. It comes supplied with adaptors so you simply click the seat into place on the pushchair frame.
Design
Star rating: ⭐⭐⭐⭐⭐ | Weighs: 6.2kg | Age: Birth – approx. 4 years (22kg)

Light and compact enough for travel use but sturdy enough to handle tough terrain, the Babyzen YOYO2 is a popular choice with parents looking for a nippy lightweight stroller for city living. So what did our tester think of it?
'It's aesthetically pleasing, with a small curved frame and good quality mono-colour fabric - mine is the black version,' she says. 'The hood is thick enough to keep the strong summer sun out of my baby's eyes, while the handlebar has a leather feel and is sturdier than the handles on other lightweight pushchairs.'
The downside, when it comes to the design, is that the handlebar isn't height adjustable. 'It's fixed at what feels like quite a high position, which felt a bit awkward at first until I got used to it. I am 5"5 though, so shorter mums may find this less of an issue.'
Another thing to factor in if you choose a particularly light or compact pushchair is how much storage it offers since this often gets sacrificed in the design process. But, again, that's not a concern with the Babyzen YOYO2. 'The basket can carry up to 5kg which is more than enough for my change bag and some shopping,' says our tester, Anna. 'Plus when your child is seated in the pushchair it can also support a shopping bag attached to the handlebar.'
Overall, Anna found the Babyzen YOYO2 a great choice for a toddler, although its position low to the ground slightly put her off the idea of using it with the bassinet as a pram. 'I like that a toddler is close enough to the ground to easily get out of the buggy independently once the straps are opened, but I possibly wouldn't choose this for a newborn as I prefer my baby closer to me,' explains Anna. 'I preferred my baby to be higher up but this is just personal preference so if you don't mind your baby being lower to the ground - or if you're short on space and your priority is a pushchair that packs up super small then this is the one for you.'
Comfort and features
The easy-fold feature of the Babyzen YOYO2 is the factor that initially interested our tester in trying it out, so how did she find it in practice? 'The fact that you can literally flip this up in a couple of seconds using just one hand might seem a bit gimmicky, and it certainly took me a fair few attempts to master the magical pop-up technique, but it's brilliant for when you're holding a wriggling toddler with one arm and need to get the pushchair open quickly,' says our tester, Anna. 'The 5-part harness takes some getting used to but it's also definitely useful for freeing your child fast and prevents limbs getting stuck when your little one is eager to get out.'
In general, light and compact prams aren't brilliant at dealing with tough terrain. If you're looking for a sturdy ride for your baby that will withstand country walks and cobblestones, you usually need to opt for something with a bit of weight to the frame to make it robust. Anna, our reviewer, tested the YOYO2 on a number of surfaces and found it hard to push on a gravel drive, as you might expect. 'It managed well on pavements, even on sections that are uneven and a bit potholed, as well as in shops and at the park,' says Anna.
'I live in a town so it's perfect for where I tend to go out and about. I found it great for manoeuvring around shops, on busy streets, and also in cafes. It can fit in tight spaces but you can also fold it down and store it under the table.'
Anna also found the small zipped compartment useful for storing her phone and some cash and says it's easy to access. 'There is also a meshed storage panel which is great for keeping the rain cover in.'
Value for money
Overall, our parent tester, Anna, found this a well-made, stylish pushchair and particularly liked the leather-feel handlebar, the thick anti-UV fabric, and the cushioned seat. 'For an item you will be using potentially for extended periods every day for several years, it makes sense to not scrimp and whilst many may be put off by the price, it does produce good value for money considering you could use this as your sole pushchair, rather than, as I did with my first child, and many do, have a main pushchair and a more compact foldable stroller for when travelling,' Anna explains.
'Although it doesn't perform so well over rough terrain, it is the perfect choice for city dwellers, providing a smooth drive over street pavements and folding down quickly, and into a small space, for trips on public transport. It folds down quickly and has an impressive, and eye-catching pop-up feature meaning you can fold it out in a quick flick of the wrist.'
Having put the Babyzen YOYO2 to the test for a number of weeks for this review, would our tester spend her own money on this pushchair? 'Yes, it's a well-known brand so you know what you are getting with a Babyzen YoYo and while it's one of the more expensive pushchairs you can buy, it's a sensible choice when you consider it can be used as your sole pushchair all the way from birth up to around five years.'
And, the ultimate test, would our reviewer recommend the Babyzen YOYO2 to friends? 'Again, yes,' says Anna. 'My cousin is about to have her third child and I recommended the YOYO2 to her because with two older boys, she has very limited space in her car so needs a pushchair that folds down super small but is still suitable from birth.'
Overall, the Babyzen YOYO2 is the ideal pushchair for anyone looking for a buggy that looks sleek and stylish but which takes up minimal space. 'It's perfect if you live in an urban area and are looking for an everyday pushchair that folds up small but still has all the important elements - comfort, manoeuvrability, and storage space.'
Don't forget to check out the rest of our baby product reviews.
As a parenting specialist for more than 15 years, Heidi has written for most national newspapers and for a wide range of consumer magazines, including Mother & Baby where she was the Shopping Editor for six years, looking after regular consumer features including buying guides and gift roundups.