Ickle Bubba Gravity Max Stroller Review
A lightweight pushchair with an intuitive, one-handed fold and chic styling - perfect for nipping around town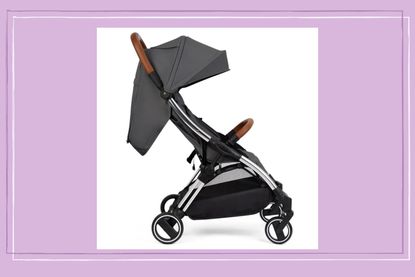 (Image credit: Ickle Bubba)
'It's such a fantastic all-rounder, impressive in looks, quality, handling, steering, and comfort. The 'Magic-fold' is a genius feature and makes life so easy for parents. It's also compact and lightweight - this pushchair has it all.'
Reasons to buy
+

One-handed fold feature is superb

+

Premium, luxe fabric

+

Light enough to lift easily

+

Nippy and easy to manoeuvre
Reasons to avoid
-

Small wheels - not ideal for rural life

-

Shopping basket is small and tricky to access
Goodto asked mum Sarah Dawson to put the Ickle Bubba Gravity Max Stroller to the test with her two-year-old, Edie.
The Ickle Bubba Gravity Max stroller is one of the best pushchairs money can buy because it has a magical feature that most mums and dads long for in a pushchair - an auto-fold design which means you only need one hand free to collapse it.
Why is this such a dreamy design in a pushchair? Because once you've lifted your baby out of the buggy, your arms are full. So how are you supposed to fold the stroller? Factor in another child or two and the prospect of collapsing your pushchair - whilst keeping hold of your kids - can suddenly seem more challenging than a Mensa test.
And as a mum of three and something of a baby gear expert, I'm always dubious when brands make bold claims. I've lost track of the number of times I've read that a pushchair can be folded with one hand, only to discover that it's not actually quite that simple. Luckily, Ickle Bubba has fixed this problem with the Gravity Max.
Design
Star rating: ⭐⭐⭐⭐⭐ | Weighs: 7.79kg | Age: Birth – approx. 4 years (22kg)
The Ickle Bubba Gravity Max Stroller is suitable from birth until your little one is around 4 years old (max weight limit: 25kg) and comes with an extendable UPF 50+ hood, plus a seat liner, footmuff, rain cover, and cup holder all included in the price - making it incredibly good value for money.
Our tester, Sarah Dawson, volunteered to review the 5-piece Ickle Bubba Gravity Max and reports that her first impressions were excellent. 'It is so easy to put together – you simply have to click the two front wheels and two rear wheels onto the chassis and you're ready to go,' says Sarah. 'The fabrics used feel super-soft and luxurious, and the stroller overall has a really premium look and feel to it. We were testing out the black colourway but it also comes in graphite grey or silver grey, and each model has a silver chassis and tan leatherette handle and bumper bar.'
Comfort and features
Excellent first impressions are one thing but did the Gravity Max pushchair continue to impress our reviewer while she was putting it to the test? Yup.
'The seat unit is padded, and my 26-month-old looked incredibly comfy riding around in it,' Sarah explains. 'I've got to say she tends to slump down in the stroller we currently use (as though she is actually being supported by the harness between her legs rather than by the seat), but the Ickle Bubba Gravity Max holds her in a great position.'
When it comes to snoozing on the go, the Gravity Max seat unit has three recline positions, including lying flat and completely upright, as well as an adjustable leg rest, which our tester feels, makes it suitable for a wide age group. Younger babies will appreciate the recline setting if the urge to nap comes over them while out and about, as it often does, while older toddlers will appreciate the leg rest when they're tired of, well, toddling and want to hitch a ride.
That said, our tester remarked that she'd prefer to use a pram with a carrycot for a newborn rather than a pushchair like this one with a lie-flat seat. It's a fair point. 'But for older babies - I'd say especially from nine months up - it's great and absolutely ideal for young toddlers,' adds Sarah.
As we've said, the big USP of this stroller is its 'magic-fold'. This means you can fold and unfold the pushchair with one hand – with the pushchair pretty much doing all the work for you. 'To unfold you simply put the handle towards you - it needs a good tug - and the stroller opens up,' explains Sarah. 'I found this really easy to do one-handed, although it did take a couple of goes for me to use the right amount of force to make sure the whole chassis opens up in one go. You may find you need to give it a bit of a jiggle, or press down with your foot once open to check it has all locked into place safely.'
Folding the Gravity Max is just as easy. 'There's a sliding button on the handlebar, which you push to the left with your thumb, while pulling up the lever underneath with your other fingers to fold the top half of the seat forward – which sounds trickier than it actually is,' Sarah adds. 'When the seat has folded forward enough the rest of the chassis just folds itself up into a really nicely compact package. I managed to fold and unfold the stroller with one hand whilst holding my toddler in the other arm - so it really does live up to its one-handed claim!'
Once folded, the Gravity Max is pleasingly compact. 'It stands upright, so I found it easy to store and had no problem fitting it into the boot of my Nissan Qashqai,' adds Sarah. 'But if you have a small boot – or just prefer the stroller to take up less space – you can slide the bumper bar off to make it even more compact when folded.'
On the subject of the bumper bar, our tester liked how you can use it to wheel the stroller around when it's folded, butoffers a word of warning. 'On one occasion when I use the bar to lift the stroller into my car boot, one side slid off. Probably best not to lift it using this and just use the handlebar instead.'
Any downsides to the Gravity Max? We found it easy to steer and manoeuvre on smooth ground like shiny shop floors and smooth pavements, but off-road terrain was more of a challenge. 'It's really lightweight and nippy, especially on pavements and in shops - flat ground is an absolute breeze and I didn't have any issues going up and down kerbs, although my husband felt he had to put more effort into getting the stroller up kerbs compared to other ones he's used,' says our tester. Sarah.
Sarah lives in a rural area, so she took the Ickle Bubba Gravity Max on some country walks. While it just about coped with bumpy paths and roads, she feels the small wheels definitely aren't built for tackling uneven terrain and thus it's best suited to city slickers.
Our tester also discovered that it's not designed for running although, to be fair, it doesn't claim it is. 'I found this out when jogging to try to catch up with my 5-year-old who'd gone AWOL on his bike,' Sarah explains. 'The front swivel-wheels shook a lot and kept jarring when I tried running with the Gravity Max. I felt as though it was being pushed to its limit (me too, actually!) even thought it was only for a short distance.'
Value for money
After testing, our reviewer reports that she 'loves' the Ickle Bubba Gravity Max overall. 'It's packed with parent-friendly features and it delivers a lot for the price and is one of the best day-to-day strollers I've used,' Sarah says. 'It performs well and looks great and I think it would make the perfect day-to-day stroller around towns and cities or for frequent trips to the park.'
The only downside we found while reviewing the Gravity Max is the size of the shopping basket. 'I managed to get my toddler's coat and wellies in, and on a trip to the shops I fitted in about one small bag's worth of groceries,' Sarah explains. 'But I struggled to get my change bag in and found it a little inaccessible as it has netting on either side to stop your belongings from falling out. You can open and close these with the Velcro straps, but it's not exactly what I'd call easy access.'
That said, there is a zip pocket at the back of the seat unit, which is perfect for keeping your keys, phone, and purse handy. The Gravity Max stroller also comes with a drinks holder, so once that's fixed onto the chassis you don't have to worry about storing your water bottle.
And don't forget to check out the rest of our baby product reviews.
As a parenting specialist for more than 15 years, Heidi has written for most national newspapers and for a wide range of consumer magazines, including Mother & Baby where she was the Shopping Editor for six years, looking after regular consumer features including buying guides and gift roundups.