Micralite ProFold review
Weighing just 7kg, the Micralite ProFold is a popular plane-friendly pushchair.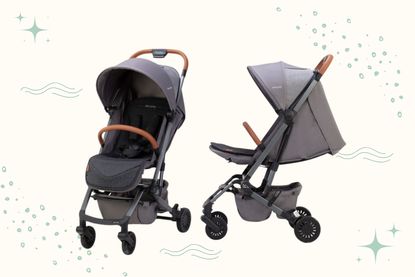 (Image credit: Micralite)
'A compact travel stroller, ideal for a city trip or for squeezing into a corner in the boot of the car with plenty of space for the rest of your luggage.'
Reasons to buy
+

Super compact when folded

+

Ultra-light - so easy to carry

+

Small and responsive - great for urban streets
Reasons to avoid
-

The harness - it's fiddly and not very robust
We asked dad Ben to put the Micralite ProFold to the test with his 22-month-old son.
Weighing just 7kg, the Micralite ProFold is one of the best pushchairs you can buy if you're looking for something light enough to carry easily - it even has a shoulder strap - and super compact for easy storage in a tiny car boot or cramped hallway. In fact, it's small enough to pop in the overhead locker on a plane as carry-on luggage. But what's it really like to use in practice? Read the rest of our Micralite ProFold review to see how our parent tester got with it.
Design
Star rating: ⭐⭐⭐⭐ | Weighs: 7kg | Age: Birth – 15kg
Suitable from birth to 15kg with a full reclinable lie-flat seat, the Micralite ProFold is aptly named because it's designed to be foldable with one hand - a dream come true if you need to pop the pushchair into the car boot whilst holding your baby.
'It folds to a neat carry-on suitcase shape that slips easily into a hallway, car boot, or even a car footwell and would make an ideal carry-on for the plane,' says our tester, Ben. 'It also comes with its own strap so you can carry it on your shoulder and its lightness and ingenious folded shape makes this a really practical feature. It was very easy to collapse and to open from folded. It would really come into its own when navigating airports, train stations, or the tube as you can switch easily between pushing and carrying as required.'
Comfort and features
If you choose a particularly lightweight pushchair, you run the risk of it being less robust than heavier models. So, we were eager to find out how sturdy the Micralite ProFold feels. It's one thing being able to fold it small enough to carry as hand luggage, but can it still do the job when it comes to pounding the pavement with a growing toddler on a daily basis?
In a word, yes. 'It was responsive to push around, easy to steer with one hand and the brake was easy to put on and off, whilst still feeling safe and reliable,' says our parent tester, Ben. 'The ProFold's compact size and light frame make it easy to push around, particularly on busy pavements and in crowded shops, while the suspension makes it a smooth ride.'
But while the Micralite ProFold handles busy pavements and shiny shop floors well, it's not designed for bumpier terrain. 'We felt we had to support the frame of the stroller when mounting curbs, by pushing with a foot on the rear bar where the brake sits, otherwise the frame felt like it was really straining with Joe's weight,' says Ben. 'The ProFold is designed for children up to 15kg, which is around three years, and we tested with a 22-month-old, so perhaps we're heading towards the top end of the stroller's weight limit. But it's definitely a city stroller and not suited to off-roading or poorly maintained pavements.'
What about the basket? Again, if you choose a light and compact pushchair you sometimes have to compromise when it comes to things like space in the shopping basket. It stands to reason that a very lightweight frame won't be able to cope with bags of heavy groceries in the basket, after all. But the basket on the ProFold is 'surprisingly large', according to our tester. 'We easily got a day's groceries including milk and bread in there,' says Ben.
Overall, this is a strong contender if you're looking for a lightweight, compact stroller for city use. 'If you need a compact stroller that can fold out of the way in a small hallway or that will easily navigate the underground and convert quickly to one that you can carry upstairs when the lifts are out, then the Micralite ProFold is great. You can nip through busy streets, and it takes up next to no space in the bustle of a city, says Ben. 'If you do a lot of intercity travelling and you're looking for a stroller that you can pack alongside luggage in an average car boot, or as carry-on luggage on a train or plane, this stroller is also ideal. I can't wait to pack it on long trips in the car and see how much other luggage I can fit alongside it or to take it on the train for a day out in London.'
'If, on the other hand, you spend your days going to parks, green spaces, and off-roading more than you do hopping on and off public transport, or if your local area has badly maintained pavements and/or you have the space for a bigger and more robust stroller, I would recommend something that can handle more diverse terrain,' adds Ben. 'And if your toddler hates getting in the buggy, you may find you need four hands to secure them in this one!'
Value for money
The one thing our tester didn't love about the Micralite ProFold is the harness. You secure it by fitting two plastic clips together before inserting them into a central buckle. 'Harnesses that fasten in this way are often magnetised or designed to click together quite securely and stay held together so you can use one hand to navigate them into the central buckle,' explains Ben.
'Some are even so robust that you rarely have to unfasten them at all and can pull the harness over a shoulder as one piece rather than two. But with the Micralite ProFold, the two pieces barely sit together at all and fall apart at the slightest tug. The padding on the shoulder straps is not ergonomically designed to sit over the shoulder, so the strap pulls out and upwards, away from the centralised clip. Even with a willing passenger (!) this means the two clips need to be held together firmly and constantly to keep them in place with one hand, while you use the other hand to navigate them into the central buckle. With practice and with a willing passenger, this was possible. But it's definitely a two-person job if the passenger is wriggling or unwilling to go in.'
Aside from this, our tester feels the Micralite ProFold is a good buy if it matches your lifestyle requirements. 'If you want a stroller for off-roading, parks, or longer walks, this isn't the right product for you but if you want a compact stroller suited to city life - and particularly if you need something that stores compactly and works well on public transport - the ProFold is a great option,' says Ben. 'If you do a lot of travelling, this is also a great stroller for planes, trains, and for packing alongside luggage in the car boot.
Don't forget to check out the rest of our baby product reviews.
As a parenting specialist for more than 15 years, Heidi has written for most national newspapers and for a wide range of consumer magazines, including Mother & Baby where she was the Shopping Editor for six years, looking after regular consumer features including buying guides and gift roundups.