13 little ways to make your best friend's day
Want to put a smile on your favourite person's face? These little acts of kindness will show your friend just how much you care (and most of them won't cost you a penny!)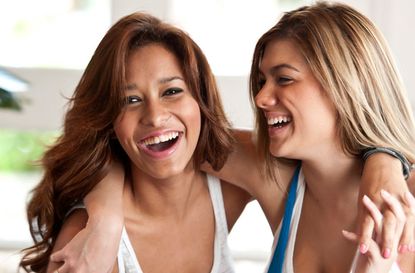 Best friends are amazing. They know us inside and out, share our hopes and fears, are always ready to help, hang out or have fun at a moment's notice - and we think it's about time we start to recognise just how fab they are on a daily basis.
These little acts of kindness will take you no more than a few minutes to complete, and most of them won't cost you a penny, but they'll make your pal happy and let her know just how much you appreciate her - because you can never tell her too many times how great she really is!
1. Post her a letter
If you know that all your friend usually gets through her letterbox is school letters and bills, brighten her morning with a handwritten note. It can be anything from a 10-page letter to a funny picture you saw in the paper - it's the thought that counts, and besides, she'll just be happy it's not asking her for money!
2. Bake her a cake
...or some cookies, cupcakes, scones, or any other sweet treat that you know she loves. They're lovely for a special occasion like a birthday, but even nicer as a surprise when she's not expecting it - pop them in a nice box and tie with a bow for bonus presentation points.
3. Save magazines you know she'll enjoy
The cost of buying all of your favourite glossies can add up quickly, so don't just chuck them in the recycling once you reach the back cover. Save up that month's titles and take them round so she can enjoy them over a cup of tea - who knows, she might even have a stash of her own that you can swap them for!
4. Babysit her kids
No matter how much they love their little ones, every mama needs a break. Whether she uses the free time for some much-needed 'me' time (have you tried getting under 5's to behave during a manicure?) or an evening out with her man, the hours you'll be giving up are super valuable and it's a nice chance to bond with her family too.
5. Cook dinner for her
Eating with someone is one of life's little pleasures, so put aside an evening to savour some comfort food together. If you know she's having a nightmare week and can't make it over to your house, tupperware it up and deliver it to her door with a bottle of wine - the look on her face will say it all!
6. Invite her out for coffee
An hour to yourselves and a strong cappuccino can solve almost all of life's problems - whether you go out for a Starbucks or whip up a frothy coffee and plate of biscuits at home, there's nothing better than a good old chinwag. You'll get stress out, caffeine in, and the world put to rights (all in time to do the school run - result).
7. Give her a (genuine!) compliment
When you see someone a lot, it's easy to think nice things and forget to say them, so make a point of looking out for a new pair of shoes or haircut and telling her how fab she looks! Of course, your kind words don't have to based on her appearance - if she's done a great job on a project or handled a stressful situation brilliantly, be sure to let her know how proud of her you are.
8. Send her an unexpected text
You know that feeling when someone texts you 'just because', instead of because they want something? Your best friend needs that every now and then too! Anything from a quick 'how are you?' to a snap of something you saw and thought she'd like will put a grin on her face and let her know you're thinking of her in between dates in the diary.
9. Frame a photo of a fun time you had together
Too many great pictures sit forgotten in dusty old albums (or Facebook timelines) that you never end up opening. Dig out some of your old favourites of the two of you and put them in a frame for your friend so she can enjoy them every day. Once they're hung on the wall or stacked on the mantlepiece, they'll be a permanent reminder of great times from days gone by.
10. Get the kids to make her something
A craft, a card, a macaroni picture she can stick on the fridge - gifts from little hands are just the cutest. After all, it's not just treats from you that will cheer her up - who doesn't like being told they're the favourite auntie?
11. Send her some social media love
Liking a post or commenting on a nice picture will take you all of two seconds, but gives your friend a reason to smile for much longer. Social media profiles can feel strangely lonely when no one responds - your quick click will let your friend know that someone's actually listening, and more to the point, that they actually care.
12. Pick up the phone
Having said this, there are some things that you just need to talk about, and when you can't do it face to face, this is the next best thing. Whether it's a bad day or great news that make you pick up the receiver, it's always lovely to hear your best friend's voice at the end of the line - email just isn't the same!
13. Make her a CD of your favourite songs
Music and memories go hand in hand, and in all of the great nights you've had together, we bet there are a few tunes that stick out in your mind! Make a playlist of the tracks you know she'll remember, and burn them onto a disc for her to enjoy - every time she plays it, she'll think of you and smile.
Where to next?
Swipe to scroll horizontally
Trusted, informative, and empathetic – GoodTo is the ultimate online destination for mums. Established in 2007, our 15-year-strong archive of content includes more than 18,000 articles, 1,500 how-to videos, and 7,000 recipes.