The best control underwear
Cheat your way to looking fab - whether you want a waist shaper or just something to tame your tummy, we've got it!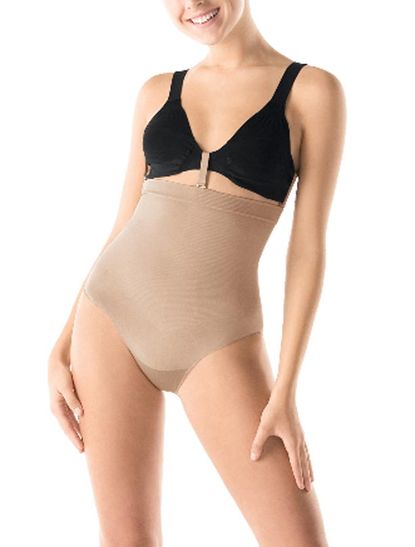 (Image credit: Spanx)
Cheat your way to looking fab - whether you want a waist shaper or just something to tame your tummy, we've got it!
The right control underwear can pull you in at the waist, shave off those dreaded bingo wings or sort a muffin top and still give you Kim Kardashian's curves too - no wonder they're known as magic control pants!
There's no need to spend a fortune on a pair of shaping underwear either - our favourite ladies shapewear starts from under five pounds and promises to be the most tummy controlling item you've ever had in your wardrobe!
Whether you want a waist shaper, just something to tame your tummy, or the best buy for wearing under that new dress, click through now to see our favourite women's underwear.
No last minute diet necessary!
Curve maker
The original
Sometimes you just can't beat the original - billions of pairs havent' been purchased by women all over the world for no reason!
This clever Spanx bodysuit takes off the inches by lifting, smoothing and shaping to give you a body that would leave Hollywood green with envy.
In a nude colour it is perfect under any item in your wardrobe but will show dirt quickly so make sure to wash regularly.
Versatile, trustworthy and best of all tummy taming!
Bum flatterer
The curve-creating control skirt
There's no need to spend a fortune on magic underwear, there are plenty of purse friendly options.
This smoothing skirt comes down past your upper thighs and up over your waist, rather than just in the shape of regular underwear.
The slimming style will flatter your waist, bum and thighs all in once and it's seamfree so no-one will even know you're wearing it!
Win win.
Sexy curves
The only tights you'll ever need!
Have you always wanted to achieve that enviable hourglass figure but lacked the natural physique to do so?
Then try these brilliant Aristoc support tights.
This pair removes any worries about layering tights over normal Spanx - the visible knicker lines, the bunching up - definitely more Bridget Jones than glamourous.
Instead these Aristoc tights will create an hourglass figure by smoothing, lifting and toning while you're sitting comfortably all night.
The tights are available in nude and black.
Festive One
The festive one
Whilst black and nude control underwear is all very good, sometimes you want something a little more Christmassy to wear around the festive season or under a particularly glitzy party dress.
This Christmassy body comes in a gorgeous red silk with sheer slimming panels.
The swimsuit shape means that everything is held in, rather than just targeting one particular problem area.
The fabric across the bottom is especially designed to avoid any embarrassing VPL faux pas and the straps at the back are adjustable.
Go on, you've filled everyone elses' stockings, isn't it time to treat yourself?
Slicker knicker
The tummy-smoother
Not as thick as some of the other magic knickers on the market, these nifty black briefs use a combination of light boning and powermesh (sounds good if it's technical right?) to create a smoother appearence to your tum without feeling like you're wearing a rubber corset.
As well as holding in your bum these knickers given general support to all those troublesome tummy areas that tend to wobble a little (or a lot...)
With light rouching on the back the desingers made sure that you will be sure to avoid any embarrassing visible knicker line - the ultimate party dress sin.
For mums
The one for expectant mums!
Pregnancy is meant to be a time of glowing skin and a beautiful bump, but sometimes you really feel like your body is turning against you. So Spanx is here to support you, baby bump and all.
These pregnancy styles offer a cradle of comfort to expecting mums. With a legband-free design that prevents uncomfortable bulging on your thighs, as well as being made out of soft yarns that will stretch with your growing tummy.
Providing lower back support, these Spanx comfortably shape your bottom and thighs in a flattering way so you can focus on your baby!
Sexy Slip
The sexy slip
We believe that if you've got it, flaunt it!
This slip number is about as far from embarrassing images of Spanx that we can imagine!
With clever waist-whittling technology this sexy slip pulls in your tummy, hugs your hips and still lets you show off that killer cleavage by leaving room for your favourite push-up bra over the top.
We will definitely be wearing this one underneath our New Years dress.
Barely there
The no VPL one
There are those tricky times when you need a little bit of stomach-flattening help but don't want your whole body to be wrapped in tight control underwear.
This bargain number is the perfect combination of being held in at the front by the control panels whilst still having your bottom exposed.
With guaranteed no VPL line, you can wear that dress you've been eyeing up with the tight fitted bottom, whilst feeling the full effects of the slimming underwear.
The perfect combination.
Slimming cami
The one which works on your top half
If you fancy something that looks a little more like it will fit right in with the rest of your clothes (and not leave you with a muffin top pouring over control pants) then this cami is perfect.
Not only is it waist-sculpting, tum-trimming and bust-smoothing, it comes in this perfect nude colour so you know you can wear it with anything that requires that little extra help.
Whilst it is a little more pricey than the other options, we think we will be wearing this with everything in our wardrobe, especially during party season.
Sexy slimmer
The ones you wouldn't mind him seeing you in!
It says it all in the name - control pants. They aren't renowned for being the sexiest item of ladies underwear out there.
But sometimes we all feel the need to have a little assistance and still feel like we wouldn't mind getting undressed in front of someone else.
Instead of compromising on your style, buy these black lacey control pants which are so sexy we can't believe they are going to hold us in as well as other pairs.
But these briefs promise to hold in a bloated belly and smooth and unslightly bum wobbles that make you feel self conscious.
Not only that, but they are a bit of a bargain. We'll take two pairs thank you!
Leopard control pants
The one that you don't realise are control pantsThese leopard beauties are perfect for those ladies who really don't want to feel like they are wearing big nude stretchy control underwear. It can be a little embarrassing to say the least.
In a fun print with a high waistband in the style of a 1950's swimming costume, there would be nothing humiliating about being caught short in these.
We'll be adding several of these to our basket!
Body shaper
The all-in-one that sucks you in everywhere
As much as we're now wishing that we stuck to our resolution to get in shape, that obviously hasn't happened. And won't be happening any time soon. So we need some emergency assistance.
We'll be relying on this shaping body stocking from Debenhams to help us wow all year long.
The long-line shape means you won't be suffering from any misplaced bulges - muffin tops created by control pants that stop at your waist. It also incorporates a supportive bra whilst smoothing your middle.
The cling-resistant material will keep us feeling comfy all night.
Lovely legs
The thigh flatterer
Whilst many women bemoan the shape of their pre-pregnancy tums, there are some of us who have always had to contend with our 'less-than-perfect' thighs - a combination of cellulite and our pear-shaped genetics.
But don't let those lumps and bumps stop you wearing that glitzy party dress.
These panelled leggings, which starts at your waist and finishes just above your knees is perfect for keeping things smooth and toned.
These are guaranteed to give you thighs that would make anyone jealous!
Butt booster
The one to enhance your derriere!
This has to be the cheekiest product we've come across.
If like us, the view of your bottom leaves you feeling a little deflated, Spanx 'butt-booster' does quite literally just what it says.
The material sculpts your bum for a natural-looking rounded rump and comes with optional pads which will fill out your cheeks if you fancy more of a lift.
The 'butt booster' is not as cheap as some of the other options out there, but you can't really put a price on a great bum.
Arm skimmer
The one with the sleeves
If you battle bingo wings or uneven skin tone on your upper arms like the rest of us, then you'll be thrilled to see this lace sleeve body which can conceal those troublesome limbs.
The bodice shape boosts your bust and tones your arms at the same time, making that tight sleeved dress an option again.
Alternatively, the detailing is so pretty you could even wear it with the arms out underneath a dress and no one would know your slimming secret!
We're going to the shops to get one now!
Jessica Dady is Food Editor at Goodto.com and has over 10 years of experience as a digital editor, specialising in all things food, recipes, and SEO. From the best food hampers to cookbooks, from the best cake stands to kitchen appliances, Jessica has a wealth of knowledge when it comes to must-have food products. A passionate baker, she spends some of her time creating celebration cakes for friends and family including her two lucky children.