15 Best family Halloween costumes and ideas for 2022
Some parents are just amazingly organised when it comes to Halloween - and the results are just too cute to handle.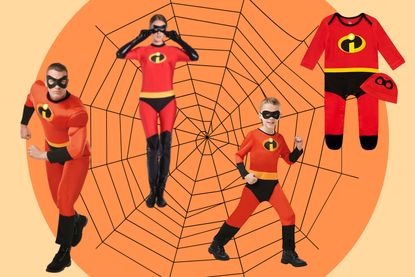 (Image credit: Future)
Family Halloween costumes are a great way to get creative this autumn with so many fun ideas to choose from.
Sorting out kids' Halloween costumes is an autumn tradition but what happens when you've got a big Halloween party? Or you're all going out trick-or-treating or planning some Halloween games? Family Halloween costumes make the situation so much easier as you've only got to think of one set of characters and do one online shop for supplies. Plus, they're sure to be a winner on Instagram and make the family photo album.
Whether you're a fan of the Disney movies or prefer more of a classic spooky Halloween outfit from one of the famous Halloween movies for kids and adults, we've got you covered with our selection of the best family Halloween costumes. We've even got a guide to pregnant Halloween costumes too!
Best family Halloween costumes 2022
1. The Incredibles
First up on our list is the amazing crime-fighting family themselves! While the parents can dress up as Mr and Mrs Incredible, the kids can wear matching incredible suits and babies can dress up as Baby Jack in an adorable baby grow.
Get the look:
---
2. Monsters Inc.
All eyes are on Mike Wazowski in this adorable family Halloween costume idea. While Sulley and Boo are a perfect Halloween couples costume, this extra addition of Mike is perfect if there's three of you in the family, as you can complete the trio from the films. While you'll probably need to buy the Sulley onesie, and baby Mike too, Boo's costume you can probably make from home with an oversized purple t-shirt, leggings and plimsoles.
Get the look:
---
3. The Addams Family
This is a real family Halloween costume staple! If your family is kooky like this one, there's surely not a better outfit to get for Halloween. It's an easy one to do no matter how many there are of you in the family as well, as long as Mum and Dad can get the garb for Morticia and Gomez Addams, you'll be instantly recognisable. Kids can dress up as Wednesday and Pugsley, while babies can fit into the mix with a baby grow tux.
And much like our other family Halloween costumes, you can get what you need from Amazon.
Get the look:
---
4. Lilo and Stitch
This iconic Disney film makes for a great Halloween costume! It's ideal for a trio (with Dad as Stitch, of course) and the outfits are all quite easy to make with some hula grass and green felt.
Get the look:
---
5. Charlie and the Chocolate Factory
Actor Neil Patrick Harris is famous for his yearly family Halloween costumes and we love the Charlie and the Chocolate Factory family costume he shared on Instagram. While Neil got the role of Grandpa Joe, his husband David took on Mr Wonka and their children were Veruca Salt and Charlie himself. You could also dress the kids up as Oompa Loompas or even a golden ticket from a different approach to this great costume.
Get the look:
---
6. Little Red Riding Hood
Turn this classic fairytale into your next family Halloween costume! Aside from the wolf onesie for the little one in the family and Red Riding Hood's cape, you'll likely have everything else you need to bring this story to life for spooky season.
Get the look:
---
7. Firefighters
A family of firefighters make for a great Halloween costume, especially with this kids get up from Amazon, which includes a hardhat, a megaphone that makes realistic sounds and a mini fire extinguisher, so they can embrace the look from head to toe!
Get the look:
---
8. Scooby Doo and the Mystery Inc.
This family Halloween costume is certainly a commitment but you'll no doubt make an entrance! Walk into Halloween dressed as the famous crime fighting Mystery Machine team with outfits available on Amazon for all the gang. If you've got a furry friend in tow on Halloween, even better, as they can come as Scooby Doo himself!
Pair this collection with some of the best Halloween food ideas and you've got yourself a party.
Get the look:
---
9. Jurassic Park
Just the two of you on Halloween? Try this Halloween costume straight from the Jurassic park films. It's especially a great one if you've got a dino-loving kid in tow who can dress up as one of the formidable creatures with this costume from Amazon. For the adults, all you'll need is a Jurassic Park t-shirt, a cap and some classic ranger gear to pull off this memorable look.
Get the look:
---
10. Thing 1 and Thing 2
If there are baby twins in your family or you have two children of a similar age, a Cat in The Hat family costume is a great option. While the two little ones can wear these cute baby grows, other members of the family can dress up as the big cat himself, or don a purple and green get up for a Sally Walden costume.
Get the look:
---
11. Vampires
If you want to stick to something a little more traditional this month, a coven of vampires is a ready-made family costume. Each member of the family can make their costume their own with the classic trickles of fake blood, hair styles and dark costumes and, of course, those pointy teeth. If you have a baby and they're a little too young for a vampy makeover, try this super cute bat costume.
Get the look:
---
12. Tiger King
If it's good enough for Kim Kardashian, it's good enough for us, as the reality star dressed her family in a hilarious Tiger King ensemble for Halloween 2020, as seen on her Instagram. Along with the tiger onesies for the kids, adults will need a vibrant shirt and a mullet wig for Joe Exotic, a flower crown and bright shawl for Carole Baskin.
Get the look:
---
13. Ghost
Sometimes the simplest ideas are the most effective! That's undoubtedly why the classic white-sheet-black-eye-holes Halloween costume has been such a winner for so many years. But why not save yourself some time with this ready-made version for the kids from Amazon, and get a hold of some face paint for yourself. Go haunting on Halloween as a family with this classic costume and you'll no doubt turn a few heads.
Get the look:
---
14. Toy Story
It's certainly not the scariest family Halloween costume on the street but everyone will certainly recognise who you are. There's plenty of characters to choose from too and all the outfits can be picked up from Amazon, but our favourites are these Woody, Jessie and Buzz Lightyear costumes, and we think the alien costumes will make a great look for the kids.
Get the look:
---
15. The Flintstones
A family themselves, is only right that the Flintstones have a place on this list. Parents can dress up as Fred and/or Wilma, while kids can also join in the fun with these cave person costumes.
Get the look:
---
Video of the Week
Ellie is Goodto's Feature Editor, having joined the team as a Junior Features Writer in 2022, and covers everything from wellbeing for parents to the latest TV and entertainment. Ellie has covered all the latest trends in the parenting world, including baby names, parenting hacks, and foodie tips for busy families. She has a distinction in MA Magazine Journalism from Nottingham Trent University and a first-class degree in Journalism from Cardiff University, and previously Ellie has worked with BBC Good Food, The Big Issue, and the Nottingham Post, as well as freelancing as an arts and entertainment writer alongside her studies.