Andrea McLean reveals she's suffered 'complications' following her hysterectomy on Loose Women
Unfortunately the TV star has encountered some 'yucky' problems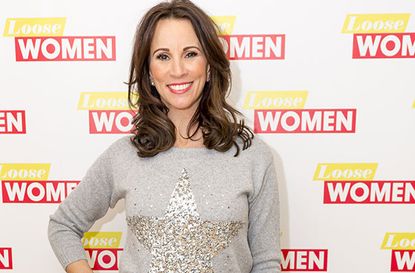 GoodTo newsletter
Sign up to the GoodTo Newsletter. You can unsubscribe at any time. For more information about how to do this, and how we hold your data, please see our privacy policy
Thank you for signing up to . You will receive a verification email shortly.
There was a problem. Please refresh the page and try again.
Andrea McLean has opened up further about her recovery since having a hysterectomy in September, admitting she's suffered 'complications'.
The TV star, 47, recently underwent a hysterectomy - a choice she made after being 'doubled up in pain' from a combination of perimenopause and endometriosis, a condition which she's suffered from since her early twenties.
After already updating viewers on her recovery, Andrea has opened up once again to admit that unfortunately she has suffered some 'complications' that have left her unable to exercise.
Speaking to her fellow panellist Martine McCutcheon, Gloria Hunniford and Jane Moore, the 47-year-old explained that after some 'yucky' problems, the doctors have told her to 'take it easy'.
She said, 'One of the hardest things since the operation is that I haven't been able to work out.
'Not to be yucky at lunchtime but I've had a few complications since the operation and I've had to really take it easy.'
Previously speaking during her first Loose Women appearance since the operation, the presenter opened up about the procedure and admitted the recovery was harder than she expected.
'The thing I didn't appreciate was how tired I would get,' she told the Loose Women panel.
'It's just coming up to six weeks now since I had the hysterectomy and obviously you have the physical side of things to get over, you're very tired and that sort of thing. But my biggest fear was mentally falling off a cliff because that's it. Menopause, just like that. And I was really worried about how that was going to affect me'.
Speaking about the operation she added: 'I'm not brilliant with anaesthetic, so coming round from the operation was quite difficult.
Andre opened up about her experience to fellow Loose Women panellists Linda Robson and Jane Moore
'My whole body was shaking and convulsing and I literally came round and was like that. Add I was very, very cold and that took a while to wear off and my teeth were clenching and then I felt very sick and very very nauseous.'
However, Andrea also admitted she had to mentally recover from the fact she had her womb removed.
She said: 'It takes a long time just to get over that, never mind having your engine removed'.
Andrea has previously spoken out about her decision to have a hysterectomy and how she has dealt with the fact she will never have more children.
'I'm really, really happy in a relationship with a lovely man so it was obviously a big decision,' she explained the The Mirror.
'Nick and I have children of our own and we hadn't talked about having children together before.'
'I knew I would be an older mum but that we could still maybe have children if we wanted to. But I was also in constant pain and couldn't carry on any longer.'
'Nick was brilliant, he just said: "If you're OK, I'm OK, that's all that counts".'
'We made the decision, had a big hug and counted our blessings.'
Andrea has two children, Amy and Finley, from previous relationships, while Nick has two daughters of his own.
However, despite knowing that the surgery was ultimately the right choice for herself and her family, Andrea confessed that she did dream of the couple having a child together - a baby with blue eyes.
'I looked over at Nick and asked: "If we had a child what do you think it would look like?"', she said.
'I've got brown eyes, as do my children, and Nick has blue eyes. I asked if he thought we would have had a blue-eyed child.'
'It was the first time I'd really thought about it and Nick looked as if to say: "Where the hell has that come from?" I think it was because I knew it would never happen now.'
'We had a little moment where Nick came over and gave me a hug and said: "I do, I think we would have had a blue-eyed baby".'
Although obviously emotional about her fertility, Andrea added that the procedure had left her feeling positive about the future.
'I'm at such a brilliant time in my life, I've hopefully got rid of endometriosis and I'm in a brilliant relationship,' she concluded.
'Next year is my 10th at Loose Women and 20th at ITV. I've so much to look forward to. I can't wait to get started.'
Trusted, informative, and empathetic – GoodTo is the ultimate online destination for mums. Established in 2007, our 15-year-strong archive of content includes more than 18,000 articles, 1,500 how-to videos, and 7,000 recipes.