Best jeans for women: 16 styles for all shapes, sizes and budgets
We could all do with a pair of figure-hugging jeans that lift our bums and suck in our tums. Find your perfect jeans with our guide to the best ones for your shape here...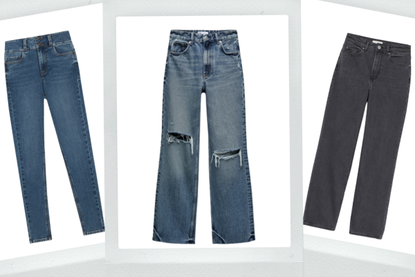 Finding the best jeans for women can often be a tricky task - thanks to confusing sizing and an overwhelming choice of styles. That's why we've asked the experts for their best picks to kiss goodbye to those stressful changing room experiences.
Rarely an occasion goes by that can't be solved without a pair of jeans. A failsafe wardrobe staple, there's always an occasion or top to wear with black jeans or a fashion comeback moment that demands some flared jeans (opens in new tab). As our fashion director Paula Moore puts it: "Jeans are a fashion essential and make up the backbone of a capsule wardrobe. They can be dressed up or down and once you find a pair that suits your frame, you'll feel body confident in seconds."
Hoping to help you land the perfect pair, we've dived deep into the denim industry to compile a comprehensive list of the best jeans for women. With over 30 years experience in the fashion team, we've tried on hundreds of high street jeans and know which work and which don't. From the quality of the denim and the value for money aspect to the comfort factor and whether the sizing is true-to-fit - we turned to some of our favourite, most reliable brands to crown which are the best jeans in each category. Not only will these pairs fuel your love affair with denim, but we've compiled tips for how to wear them, how often to wash jeans (opens in new tab) and which body types they flatter the best.
16 of the best jeans for women:
Why you can trust GoodTo Our expert reviewers spend hours testing and comparing products and services so you can choose the best for you. Find out more about how we test.
1. Best Skinny Jeans
This classic shape has been around for a while and has shown little sign of wavering in the style stakes. The tight denim streamlines your bottom half and balances out a voluminous top, so if you have a penchant for an oversized shirt, puff sleeve blouse or boyfriend blazer, skinny jeans are the pair for you. Plus, this cut is royal-approved. The Duchess of Cambridge leans towards skinnies in navy or black when opting for a smart-casual look.
"This style is super versatile and can be dressed up with fitted blouses and heels, or dressed more casually with chunky jumpers and boots", says Katie Eastwood, Style Ambassador at Stitch Fix UK (opens in new tab). "Given their figure hugging shape, they are also the best choice if you are looking to wear high boots, as there is no excess denim to tuck in. This also makes skinny jeans a fab choice for petite women, as the tight fitting style doesn't drown smaller frames and can help elongate the leg."
River Island Blue Molly Mid Rise Bum Sculpt Skinny Jeans | Price: £46 | Sizes: 6-18 |
River Island is our go-to for skinny jeans. Not only is this pair super comfortable thanks to the added stretch in the fabric, but it also includes clever bum sculpting technology to help contour your curves. There are seven colour options and the jeans come in three leg lengths to help you get a better fit. A pair that will be your staple for years to come.
VIEW NOW - £46 | RIVER ISLAND (opens in new tab)
2. Best Straight-leg Jeans
Perhaps the easiest shape to wear that suits most body types, straight-leg jeans are a safe bet. One of the most reliable options, the slim fit avoids unnecessary bulk around your thighs while being roomy enough for you to stay comfortable. Look for high-waisted styles so that your hips keep them in place and stock up on the various washes on offer so that you have a pair for all seasons. A straight leg with a subtle knee rip can add a casual spin to your denim, while a darker wash gives a more dressed-up feel.
"My favourite everyday look is straight-leg jeans with a simple Breton t-shirt and trainers," reveals Goodto Fashion director Paula Moore (opens in new tab). "But I also love to add heels and a statement top for a night out."
H&M Straight High Ankle Jeans | Price: £24.99 | Sizes: 4-22
Simple and fuss-free, H&M denim is great value and fits in all the right places. This pair sits high on the waist with a relaxed leg and finish at the ankle, ideal for showing off your footwear. They are also available in coloured denim too if you want to add some bright bottoms to your style repertoire.
VIEW NOW - £24.99 | H&M (opens in new tab)
3. Best Wide-leg jeans
Don't let the name of this cut put you off. A pair of wide-leg jeans is a great option for highlighting your waist and skimming over thighs and bum. Just take a look at TV presenter Emma Willis and A-list actor Dakota Johnson for inspiration. If you tend to carry weight on your bottom half, wide-leg jeans glide over your wider hips and keep a broad line down your legs. They are often longer in length so petites might want to steer clear.
"My main tip for wide-leg jeans? Add heels", recommends Paula. "Styles like these fall to the floor so you can give the illusion of longer lengths by adding height with your footwear. Balance proportions with a slim-fitting top to avoid drowning your figure in fabric and avoid chunky jumpers. Tucking them in will create extra bulk around your middle."
Mantaray Wide Leg Jean | Price: £24.50 | Sizes: 8-22
We can't fault the value of this on-trend pair of jeans. Not only is the dark blue wash perfect for dressing up or down, but the retro tab detailing at the waist gives them a vintage feel that ups the fashion credentials.
VIEW NOW - £24.50 | DEBENHAMS (opens in new tab)
4. Best High-Waisted Jeans
All hail high-waisted jeans. Perhaps the most universally flattering of all the styles, these highlight your waist to create an hourglass silhouette. "Every wardrobe should include a pair of high-waisted jeans! It's such a versatile style as you can tuck tops in to emphasise the waist, or wear an oversized shirt loose over the top", says stylist Katie Eastwood.
"Whether the leg of the jeans are skinny, straight or wide, the high-waist makes them a very flattering and comfortable option." With the denim sitting higher on your torso, it also elongates your legs to make you appear taller.
New Look Blue 'Lift & Shape' High Waist Yazmin Skinny Jeans | Price: £27.99 | Sizes: 6-18
This pair might just become your denim favourites. The skinny style sits high on the waist and features a double button fastening for added support. The sculpting seams help to frame your hips and they come in four leg lengths. The ideal denim for streamlining your legs and hugging curves.
VIEW NOW - £27.99 | NEW LOOK (opens in new tab)
5. Best Mom Jeans
Mom jeans have had a bit of a makeover in recent years. A huge trend in the '80s and loved by fashion icon Princess Diana, the shape fell out of favour during the early noughties but is back with a vengeance. The style is high-waisted, roomy in the leg before tapering in at the ankle for a beautifully curvy silhouette. Seen on the likes of supermodels Kendall Jenner and Gigi Hadid, they are the ultimate pair for column figures who want to create curves or pear shapes who carry weight on their bottom half thanks to the unforgiving thigh area.
"I love to wear mom jeans with a waist belt for a throwback to 80s nostalgia", says Fashion Director Paula. "Tucking a top in will always work best with this style to balance out the outfit. A relaxed fit shirt tucked in with trainers or chunky sandals will up your style credentials in no time."
Mango Mom Elastic Jeans | Price: £35.99 | Sizes: 4-26
We love how the spanish brand has increased its size offering and showcases a lot of the products on different sized models. This pair of mom jeans looks fab on all shapes and fits like a glove. Available in multiple denim washes, if it's the tapered trend you're after then these are a must-have.
VIEW NOW - £35.99 | MANGO (opens in new tab)
6. Best Boyfriend Jeans
This cut is typically fitted at the hips with a loose, relaxed feel around the legs. A great option for the everyday, this style looks just as cool rolled up at the ankle as well to add another element to the laidback look. "Boyfriend jeans are a favourite at the moment and great for creating an effortlessly chic Parisian look - to achieve this, loosely tuck in a crisp white shirt and add pointed flats, gold jewellery, a red lip. Voila!" explains Katie. "The 'girlfriend' jean is also a brilliant option if you're looking for a slightly more fitted, high-waisted style."
Marks & Spencer Boyfriend Ankle Grazer Jeans | Price: £39.50 | Sizes: 6-22
The denim offering at M&S is not to be overlooked and regularly features many best jeans for women. Top marks for comfort, these relaxed jeans are the ultimate everyday pair. Roomy the whole way down the leg, finishing at the ankle bone, they have just the right amount of stretch to ensure they aren't too restrictive while maintaining support. Ideal with trainers or sandals in summer, the loose fit makes them an all-year round purchase.
VIEW NOW - £39.50 | M&S (opens in new tab)
7. Best Flared Jeans
The iconic seventies shape is having a moment this season. Sitting high on the waist, slightly relaxed around the thighs and flaring out from the knee, this is the style that accentuates curves the best. Team your jeans with a top that ends around your waist – anything too long can make your hips and thighs look bigger.
"I tend to always wear heels with flared jeans as they will make your legs appear longer and you'll instantly stand up straighter", explains Paula. "This is another pair that work best with tops tucked in to create definition at the waist." Victoria Beckham is the ultimate fash-spiration for this style. Wearing hers super long and tucking in an oversized shirt, the fashion designer knows how to make flares look classy and give her slim figure more curves.
White Stuff Hattie Flare | Price: £55 | Sizes: 6-22
Do you dare to flare? You should with this figure flattering pair. The rich, dark denim has a smarter feel meaning you can easily make these work for day or night. Denim is a focus for White Stuff this year with sustainability at its heart and we can't get enough. Great fit, high rise and just the right amount of flare, this is a pair to bookmark.
VIEW NOW - £55 | WHITE STUFF (opens in new tab)
8. Best Bootcut Jeans
There's a subtle difference between flares and bootcut jeans and it's all in the fit at the thighs. Bootcut jeans are typically tighter in the leg and flare out from below the knee. It's a particularly good shape if you have broad shoulders as they balance out your top half.
"Bootcut jeans do a great job of creating shape for tall women as they hug in at the thigh and flare out at the ankle, adding definition to the silhouette", says Katie. "To create a 70s inspired look, team your dark wash bootcut jeans with a blouse and heeled boots, adding a suede jacket and oversized sunnies to really emphasise that retro feel." And don't think bootcuts are just for boots, either. A platform sandal can be just the right touch for a glam night out.
Joe Browns Western Bootcut Jeans | Price: £40 | Sizes: 8-18
Classic and comfortable, these well-fitting jeans do just the job. Tighter around the hips and a snug fit around the bum, they flare out from the ankle to pave the way for heeled boots. The mid blue is a great colour that will fit seamlessly in to your wardrobe and go with any of your existing blouses. Win-win.
VIEW NOW - £40 | JOE BROWNS (opens in new tab)
9. Best Cropped Jeans
Cropped jeans can be tricky to pull off, but the key is to ensure they fall just above the ankle bone rather than mid calf - which cuts you off at an unflattering angle. Culotte styles that are wider around the leg are often cropped and look fab on taller women. Whilst a relaxed fit is not too rigid for warmer weather whilst showing a little skin.
"Cropped jeans are best for showing off a statement shoe and look great in summer with a fitted top and colourful or embellished sandals," reveals Katie. Tops that finish at the waist lend themselves to a cropped style whereas longer length shirt or smock tops can make your legs appear shorter.
Joules Simone Girlfriend Jeans | Price: £49.95 | Sizes: 6-20
For a comfortable, well put-together look, these girlfriend cropped jeans are unrivalled. Finishing just above the ankle bone and tapering slightly in, they draw the eye towards the narrowest part of your leg. With a slim, relaxed fit, they can be rolled up if they sit slightly too long and still look just as good. Comfortable and true to size, they are made using eco wash techniques - so you can look great and help the planet at the same time.
VIEW NOW - £49.95 | JOULES (opens in new tab)
10. Best Ripped Jeans
Few items of clothing portray a nonchalantly cool aesthetic like a pair of ripped jeans. When looking for a casual pair, think about how you want the rips to feature. Are you after a subtle slash at the knee or are you looking to make a statement with multiple holes? A relaxed boyfriend fit, wide or straight-leg style often works best to give your outfit that laidback feel. For a more sustainable take, think about creating your own rips in an old pair of jeans that you can customise to your preference.
"Look for the best boxy t-shirts or slouchy knits to pair with ripped denim", says fashion expert Paula. "Keep the relaxed feel from top to bottom and it's a look you'll feel instantly stylish wearing." Need some inspiration for pulling off the look? Actors Katie Holmes, Jessica Alba and even the Duchess of Sussex have worn ripped jean outfits worthy of best dressed lists.
Zara Ripped Wide Leg Jeans | Price: £29.99 | Sizes: 4-18
You can always rely on Zara for the most on-trend denim of the season. Super relaxed, this pair of jeans has the optimum ripped effect. Slashed across both knees, it makes a statement without being too overpowering. The high waist fit is flattering as the denim falls effortlessly to the floor. They are quite long in length which adds to overall effect, but look just as cool rolled up a little, too.
VIEW NOW - £29.99 | Zara (opens in new tab)
11. Best Petite Jeans
For those who are under 5ft 3, finding the perfect jeans can be a challenge. For the best fit, it's worth looking at specific brands who offer short leg lengths so that the cut is made in proportion, rather than you having to pay extra to get them shortened. Skinny jeans will hug your figure, while mom jeans and relaxed girlfriend shapes offer a slim fitting casual style. Super baggy designs, wide-leg fits and flares can overwhelm your frame or make your legs appear shorter so it could be worth avoiding these styles.
"At just 5ft, I always have to shop in the petite sections so I am well versed in which brands offer the best jeans," says Paula. "I always look for high-waisted cuts so that I can tuck tops in and make my legs appear longer and have relied upon Topshop for my denim for years. Still available at ASOS, it's much-loved styles are wardrobe essentials for any short women."
Topshop Petite Organic Cotton Blend Jamie Jeans | Price: £40 | Sizes: W24-W34
The iconic 'Jamie' jeans from this homegrown brand are available in 28inch leg lengths, making them an ideal choice for petite women. A comfortable fit with a good amount of stretch, this pair are ankle grazers so finish at the perfect spot on the leg. The skinny style has holding power technology to help you feel supported, too. A no brainer for the vertically challenged!
VIEW NOW - £40 | ASOS (opens in new tab)
12. Best Tall Jeans
The key thing to remember if your legs are 34 inches or longer is that not all jeans are created equal. Often it's not just a case of a brand adding inches to the bottom, but the pairs need to be made with the correct proportions in mind. For example, the place of the seams and pockets often need to be adjusted. The great thing about being long-limbed is that you can play around with lots of shapes. A culotte style can balance out broad shoulders, while tall women can pull off intentional cropped styles with ease.
"If you are looking to emphasise your height and elongate the leg, it's best to tuck a top into high-waisted, longer length jeans. This will showcase the whole length of your leg, from waist to toe", says style expert Katie. "If you're looking for a more casual look, style tall jeans with an oversized jumper and trainers."
Long Tall Sally Washed Black Wide Leg Jeans | Price: £49 | Sizes: 10-24
We love Long Tall Sally for creating quality clothes with the correct specifications for tall women. This pair of wide leg jeans is available in a 36 inch leg, meaning they fall effortlessly to the floor so you can embrace this season's denim trend. Have a browse of the website, too, as many of its jeans are also available in a 38 inch leg.
VIEW NOW - £49 | LONG TALL SALLY (opens in new tab)
13. Best Shaping Jeans
Sometimes, jeans can feel rigid, fall out of shape or aren't quite as comfortable to wear. That's why we champion shaping jeans. Any clothing that has clever hidden support to help smooth and support gets our vote. Whether you're a pear shape, have an apple figure or an hourglass silhouette, any body type can benefit from shaping jeans that mould to your frame for the most flattering of fits.
"It's no secret that clothes can help us feel more confident, so if you like more structure in your fits, then shaping jeans will be that pair you return to time and time again", explains Paula.
Next Lift, Slim and Shape Skinny Jeans | Price: £45 | Sizes: 6-26
Available in six timeless denim washes, these jeans are guaranteed to make you feel a million dollars without spending a fortune. With hidden support and a high waistband, the stretch fabric contours to your figure and smooths your tummy. They are the ultimate pair for streamlining your legs to make styling your top half a breeze.
VIEW NOW - £45 | NEXT (opens in new tab)
14. Best Maternity Jeans
Comfort is key when it comes to shoppign the best maternity jeans (opens in new tab). The first port of call for any mums-to-be is to decide whether you feel best in jeans with an over-the-bump or an under-the-bump band. Both have their benefits, but in general bottoms that have an elasticated panel that sits over the bump are more supportive while those with elastic around the waistband can instead be less restrictive.
"A lot of my mum friends have lent towards over-the-bump jeans as they also offer a little more coverage and grow with your bump," says Paula. "Long-line peplum tops and buttoned up blouses are ideal to wear with the jeans and will last when your little one is here, too."
Isabella Oliver Over The Bump Organic Maternity Boyfriend Jean | Price: £69 | Sizes: 4-18
This maternity brand is one of our favourites and these jeans are a wardrobe must-have for any expectant mums. The band is comfortable, not too tight and has an extra lower back support that has received rave reviews from customers and our testers alike. The relaxed boyfriend fit is super comfortable while keeping slim around the leg so that the fabric doesn't overwhelm your changing figure.
VIEW NOW - £69 | ISABELLA OLIVER (opens in new tab)
15. Best Sustainable Jeans
Traditionally, jeans are not very eco-friendly. Often chemical pesticides are used to grow cotton crops that make the denim fabric and huge amounts of water is consumed to make just one pair of jeans. That's why many high street brands are looking at ways to make jeans a much more sustainable option.
One of the standout stores of the last year is Albaray. Launched during the pandemic, the brand values ethical processes and responsibly sourced fabrics. Its denim collection is made without hazardous chemicals, using 100% organic cotton and sustainable laundry processes that consume less water. "The fashion industry contributes huge amounts to landfill and that needs to change", says Paula. "Any brand that is actively seeking to reduce their carbon footprint and produce stylishly durable pieces needs to be on your radar."
Albaray Authentic Light Wash Wide Leg Jean | Price: £69 | Sizes: 8-18
Hello new season denim. These wide leg jeans are so flattering on the bum thanks to the framing pockets that sit high on the waist. But the best part of all? They have been made with sustainability as the focus. You can do your bit for the planet and rest assured that this pair was made with eco-conscious details. Make them last by skipping the tumble dryer that tends to shrink jeans (opens in new tab) - and allow them to dry naturally. Greener and more care-conscious - it'll ensure you'll have a pair for life.
VIEW NOW - £69 | ALBARAY (opens in new tab)
16. Best Statement Jeans
Feel like upping your denim game? Then a statement pair of jeans is worth the investment. Rid yourself of your style inhibitions and browse the vast array of embroidered styles, patterned fabrics, patchwork designs or coloured options available. "My rule is to keep your top half plain if your bottom half makes a statement so think about pairing jeans with a plain white t-shirt or blue shirt", advises Fashion Director Paula.
Consider just how much detail you're after. Patchwork denim is a clever way to ease yourself into statement jeans by keeping the overall look to blue tones. Or you can iron on some embroidered patches to give it a try for a more individual take.
Superdry Riley Girlfriend Jeans | Price: £59.99 | Sizes: W25-W32
The cool, relaxed fit of these Superdry jeans oozes style prowess. Ripped at the knee, the legs are adorned with embroidered sequin stars that will boost your mood and add some sparkle to your wardrobe. The step hem shows off your footwear while the detail is attention grabbing without being scary. A certified fashion winner.
VIEW NOW - £59.99 | SUPERDRY (opens in new tab)
Top tips to consider when buying jeans
Try on in person if you can: There is no universal sizing guide for the high street so each brand can come up slightly differently. Ignore the labels and buy a pair according to how they make you feel.
Look for jeans that include elastane: Especially if you'd like them to have some added stretch and be more of a flexible fit.
Consider your lifestyle: If you're often on the school run then a more relaxed fit might get the most wear day to day whereas a straight-leg jean might be best if you have a lot of social events in your calendar and need a pair that works for day and night.
Think of the denim wash: Light washes are great for spring and summer whereas darker indigos and blacks have a smarter feel.
Analyse your body shape: Look in the mirror and tell yourself what you like best. Do you have a smaller waist that you'd like to highlight? A fabulously full bust? Or a great bum? Once you've worked out the shape of your silhouette, you can follow tips on the jean styles that flatter you figure.
Read the reviews: When online shopping, have a browse of customer feedback to see if you can get an insight into whether the fit is true to size or they are a durable pair.
What jeans style is in for 2022?
Jeans are an undeniable wardrobe staple that will never go out of style, but the different shapes and cuts tend to fluctuate in fashion favour each year. In 2022 it's all about the wide-leg and low-rise jeans - according to the fashion experts.
Stylist Katie Eastwood says: "We have seen a variety of styles and washes across the SS22 catwalks this year, with slouchy low rise styles in darker washes across the ready-to-wear catwalks of Dior & Valentino and pale wide leg styles reigning supreme at Diesel and Balmain."
Though low slung trousers of the noughties might be back, they're not as accessible for us non-model mortals. So it's the wide-leg styles that we are focusing on for this year. Remember to always tuck in a thin knit, t-shirt or blouse with this style as leaving longer tops loose can leave you looking drowned in material. Instead, show off your waist and let the flattering wide leg fall to the floor.
But remember, there is no right or wrong when it comes to jeans trends:
"Think of what you're missing in your current wardrobe and take into account your body shape. What will make you feel your best? Try on pairs and when you find the style that works for you, I recommend buying in a couple of different washes so you have the perfect bottoms for any fashion emergency," says fashion director Paula Moore.
Video of the Week: