Chanelle Hayes reveals she's happier than ever with her weight
'I don't care if I lose weight'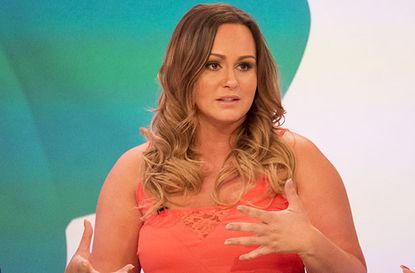 Big Brother star Chanelle Hayes has once again opened up about about her changing figure.
Speaking during an interview with New magazine, the former glamour model, who has gone from a size 8 to a 16 in recent years, declared that she's happier than ever with her figure and 'sees no reason' to change her size.
'Even when I've been slim I haven't necessarily been happy, but things are good now, so I don't see any reason to change.'
Chanelle added that she believes the attitudes towards curvier girls are changing for the better, saying: 'Everyone likes something to grab hold of, don't they?'
Addressing speculation that her weight gain could be due to a fitness DVD deal, after an appearance on This Morning saw Phillip Schofield and Holly Willoughby seemingly unconvinced that she had gained weight without an ulterior motive, Chanelle said: 'It does my head in! I expect an apology from Phillip Schofield when it comes to January 1!'
It seems the reality star is totally comfortable with her figure, previously telling Now magazine: 'I don't care if I gain weight and am a size 18-20,' Chanelle said. 'I don't care if I lose weight. I don't have any plans to be massive or thin again. I'm a happy size 16, enjoying everything.'
She also admitted that her yo-yoing weight had taken an impact on her overall health, adding 'My doctor told me I'd done lasting damage and there's nothing I can do to change that.'
'My hair is so thin and horrendous... When I was excessively dieting it got thinner and it's never recovered.'
Mum-of-one Chanelle proved her body confidence by stripping down to her bikini live on Loose Women back in May.
The curvaceous brunette had the other panellists in awe of her figure, with Katie Price exclaiming, 'Your belly's actually flat. You've got no rolls there,' but Chanelle explained that she wasn't always so at ease with her body, revealing that she was close to having an eating disorder at one point.
Chanelle, who says she now weighs about 14 stone, showed off her enviable figure in a revealing bright pink bikini.
The mum spoke openly about her body hang-ups, telling the Loose Women ladies: 'I've always hated my arms. They look like legs hanging from my shoulders.'
Talking about her battle with her weight Chanelle explained that in 2014 she was a size four to six and weighed just eight and a half stone, but that she was even smaller in 2007 at just six stone, after using laxatives and having liposuction in her desperation to stay slim.
Loose Women presented Chanelle with a cardboard cut-out of her figure back when she was at her smallest but the feisty TV personality knocked it over declaring, 'she's dead and gone!' Talking about her time being that slim Chanelle admitted, 'I was so miserable all I wanted was a burger. I was so evil. I was so hungry all of the time.'
'At the time there were still loads of lads mags still around. You've got to be slim to get work in that industry.'
Janet Street Porter asked her: 'If you've had liposuction and you've been on diets do you think your attitude to food is a healthy one?' before hinting at the fact that Chanelle may have had an eating disorder.
'[I was] probably very close to it at some point. It was really unhealthy. I would hate to advocate all that dieting. Living in London everyone seemed so much skinnier than me at the time,' Chanelle said.
Explaining her routine now Chanelle told the audience that she has adopted a healthy lifestyle, saying 'I still go to the gym and I can still get through a spin class. I work out a lot and I do a lot of healthy things. I do stuff, I don't just sit there and shove pizza in my face.'
'I put on weight really easily and I can lose it easily if I want to.'
Rosie is an experienced food and drinks journalist who has spent over a decade writing about restaurants, cookery, and foodie products. Previously Content Editor at Goodto.com and Digital Food Editor on Woman&Home, Rosie is well used to covering everything from food news through to taste tests. Now, as well as heading up the team at SquareMeal - the UK's leading guide to restaurants and bars - she also runs a wedding floristry business in Scotland called Lavender and Rose.