Charlie Brooks reveals her diet and exercise secrets (and you can try them all yourself!)
The soap star looks better than ever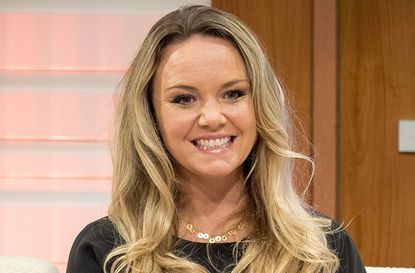 She's been on our screens since 1999, when she started playing baddie Janine Butcher in EastEnders, and Charlie Brooks has changed a lot in that time.
The former I'm a Celebrity contestant looks better than ever at 34 years old, but how does she do it?
Charlie in the 2012 edition of I'm a Celebrity
Her bestselling fitness workout DVD, Before and After Workout, which she released 10 years ago this year, gave us a glimpse into how the star lost the weight she'd gained during her pregnancy, after welcoming her daughter Kiki in 2006.
That was her first health kick, but she's still going strong in leading a healthy life and staying fit. Find out how she does it!
Charlie appearing on Good Morning Britain
1. Healthy eating
Charlie relies on eating healthy, and her lifestyle has to be balanced.
In an interview with The Mirror, Charlie said it's about eating foods that will do good to her body, rather than calorie counting: 'It just made me aware of all the crap I was eating. Being thin is part of what goes with my skin being better, my nails being stronger, all-round being healthier.'
Speaking to Closer, she also detailed what foods she cut from her diet in order to kickstart her weight loss. Drinking plenty of water was one of her first steps, as was cutting out coffee, bread, potatoes and alcohol.
The star also said she stayed away from carbs in the evening, and filled up on vegetables first, eating lots of fish.
But what if she really craved a takeaway? 'If I did want a takeaway, I avoided the rice and did an extra half an hour on the treadmill', Charlie said. 'In time, I actually enjoyed changing my eating patterns.'
2. Prepare your meals
There's nothing better than preparing your own meals so you know exactly what you're putting into your body.
This is why Charlie always plans her meals ahead, and takes packed lunches to work like homemade soups, salads and pasta salads.
'It's easy to be tempted when there's no food to hand. So now I've started to plan ahead. I chop up a load of veg, add a bit of stock and some spices, cook it all up and freeze it', Charlie said. 'Then I know I've always got some delicious, chunky soup to look forward to.'
3. It's OKAY to cheat
Of course Charlie also has times when temptation is just too hard to resist.
When that happens, the mother-of-one says she enjoys it and resumes her healthy eating the next day.
'I'm only human and I do binge. If I have a day when I've eaten a Mars bar and a Thai takeaway, it's not the end of the world. I wake up the next day and tell myself it's a new start', she told Closer.
4. 'If you aint sweating, it aint working!'
As well as eating healthy, Charlie likes to get her sweat on!
'If you aint sweating, it aint working!' is her fitness motto, and she usually prefers to do her workout in the morning, before her body realises what she's doing: 'The longer the day goes on, the less likely it is I am going to exercise. I put everything into it, though.'
5. Be consistent
Just like everything else in life, consistency is key. Charlie incorporates exercise and healthy habits in her life in a way that she can follow them consistently, like using her lunch break for a quick workout.
'I started jogging around the studio during my breaks, whereas before I'd always had a nap or read a book', the fitness enthusiast said.
And even holidays aren't an excuse for not working out, as you can see from her picture in workout gear above - a frequent sweat is essential for Charlie!
Trusted, informative, and empathetic – GoodTo is the ultimate online destination for mums. Established in 2007, our 15-year-strong archive of content includes more than 18,000 articles, 1,500 how-to videos, and 7,000 recipes.