We earn a commission for products purchased through some links in this article.
Dawn French looked happy and healthy as she took to our TV screens to promote her new novel, According to Yes.
Appearing on Good Morning Britain and Lorraine on 22nd October, the actress, writer and comedian looked noticeably trim, having previously revealed that she's lost an impressive seven-and-a-half stone.
Speaking during her ongoing 30 Million Minutes live tour, Dawn told audiences that the decision to slim down came for health reasons, after she experienced a cancer scare.
'When I was due to have my hysterectomy the doc told me that if I could lose some weight before the op, they would be able to do it via keyhole, and I would recover in three weeks or so,' the 58 year old explained.
'Otherwise it would be big open surgery, and three months to recover. So, I set about dropping a few stone.'
'No magic wand, just tiny, joyless low-cal eating and lots more walking for weeks and weeks. It was grim. I lost seven-and-a-half stone. I could have the keyhole surgery. Great. That's all it was, practical.'
Dawn has been looking notably slimmer during her recent TV appearances
Dawn, who is mum to adopted daughter Billie, said that her weight loss had prompted rumours in the media of her having had a gastric band, but that the prospect of surgery had been enough.
Luckily, she was not actually diagnosed with the uterine cancer she feared, but chose to go ahead with the hysterectomy to reduce her future risk.
'So there you have it,' she declared. 'My belly no longer contains a womb. Though it does most certainly contain a tuna baguette. And a Curly Wurly. And some peanut brittle.'
There was also some specultation that Dawn's weight loss could be attributed to heartbreak after her divorce from husband Lenny Henry in 2010. However, she's since found love with charity worker Mark Bignell, whom she married in 2013, saying 'When I saw him, straight away I knew.'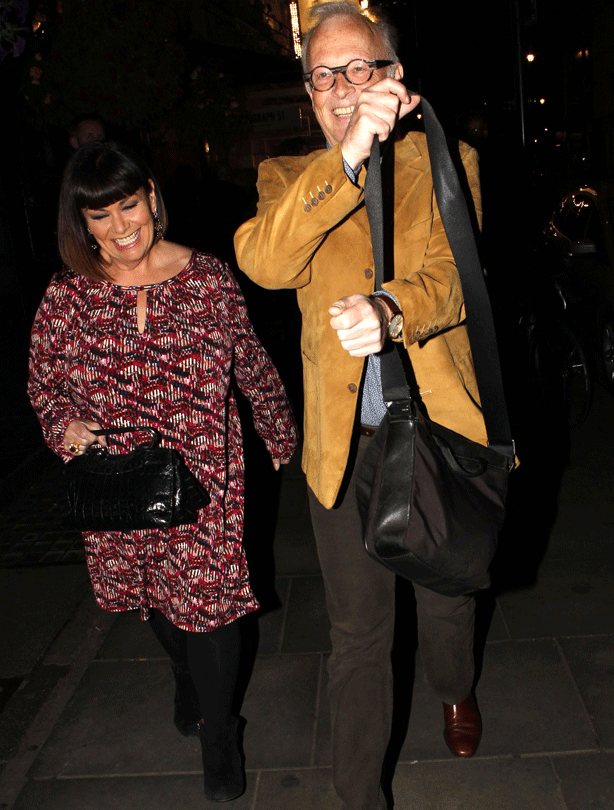 Dawn with husband Mark Bignell
'There was sunshine in the room, this light on him, and I saw his face and I thought "Oh my God, Oh my God.", she confessed in an interview with the Mirror.
'It was literally like that. And I went home that night and said to my best friend, "I think I've met somebody who I want to be with."'