Rosemary Conley's Kick-start Diet
Looking forward to your holiday in three weeks? You could lose half a stone before you go, on diet and fitness guru Rosemary Conley's sensible plan, combining slow-release energy foods and a little exercise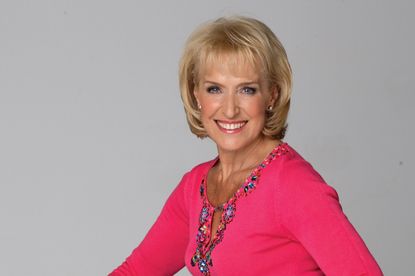 Diet and fitness guru Rosemary Conley shows you how to boost your metabolism on this low GI (glycaemic index) low-fat diet. Full of slow release energy foods, you won't go hungry on this sensible 21-day diet.
What is the Rosemary Conley Kick-start Diet?
A 21-day diet plan by health and fitness expert Rosemary Conley designed to kick-start your metabolism and help you get in shape. Once you've completed the two-week kick-start diet, there's another week-long plan where you're allowed more calories and more treats including alcohol. Followed correctly, the Rosemary Conley Kick-Start Low GI Diet could help you lose up to half a stone!
How does the Rosemary Conley Kick-start Diet work?
The foods on this diet are low GI (glycaemic index) which means they're digested slowly. Energy will be released steadily so you won't suffer from any after-lunch slumps that make snacking so tempting.
The Kick-Start Low GI Diet is low-fat and calorie controlled so you'll lose weight in a healthy way. In general, a low GI diet can also help prevent heart disease and cut your risk of developing diabetes.
Who is the Rosemary Conley Kick-start Diet good for?
People who like detailed diet meal plans to follow. People who tend to get sugar highs and lows as this will help even these out.
What are the drawbacks of the Rosemary Conley Kick-start Diet?
No alcohol or puddings are allowed in weeks one or two.
What do you do?
For the first two weeks follow the 14-day kick-start diet plan. You can eat three main meals a day plus two power snacks, one mid-morning and one mid-afternoon. You're also allowed an extra portion of salad that you can eat at any time and 450ml (3/4 pint) semi-skimmed milk.
During week three, mix and match the meal plans. You can also add a 100 calorie low-fat dessert each day, a daily treat worth 100 calories plus an alcoholic drink each day worth 100 calories.
Try to choose foods with five percent or less fat content and remember to drink five glasses of water a day. Tea, coffee and diet drinks are also allowed and you can repeat any of the meal options.
14-Day Kick-Start Diet Plan
Day 1 & Day 8
Breakfast: 1/2 fresh grapefruit with low-calorie sweetener, one poached or boiled egg with a slice of toasted wholegrain bread spread with Marmite Lunch: 1 pitta bread filled with shredded lettuce and 50g (2oz) low-fat cottage cheese and 1tbsp sweetcorn Dinner: 4 slices of roast chicken served with 115g (4oz) boiled new potatoes (with skins) and unlimited vegetables
Day 2 & Day 9
Breakfast: 20g (3/4oz) any whole-oat or high-fibre cereal served with milk from allowance and low-calorie sweetener, a 100g pot low-fat fruit yogurt (max 75 kcal and 5% fat) Lunch: 2 slices wholegrain bread filled with salad, low fat salad oil plus 25g (1oz) wafer thin ham, an apple Dinner: 115g (4oz) lean fillet or rump steak, grilled, served with 115g (4oz) boiled new potatoes, unlimited green vegetables, grilled tomatoes and mushrooms, a kiwi fruit
Day 3 & Day 10
Breakfast: 1 slice wholegrain bread spread with tomato ketchup topped with 2 grilled turkey rashers, a peach Lunch: 50g (2oz) smoked mackerel fillet served with 1tsp horseradish sauce, a large mixed salad and 1/2 slice wholegrain bread Dinner: Pasta bake with tomato sauce served with a crunchy green salad, a pear
Day 4 & Day 11
Breakfast: 40g (11/2oz) porridge oats cooked in water and milk from allowance and 1 tsp runny honey Lunch: 1 x 175g (6oz) sweet potato baked in skin, topped with 4 tbsp baked beans Dinner: Pork burgers: mix 115g (4oz) lean minced pork with chopped onion, grated apple and chopped sage, shape into burgers and grill for 6 mins each side. Serve in a wholegrain bap, with 1 tsp mustard plus salad
Day 5 & Day 12
Breakfast: 3 low-fat meat sausages or 4 Quorn sausages, grilled, served with 150g (5oz) grilled tomatoes and 150g (5oz) grilled mushrooms Lunch: Omelette made with 2 eggs, a spray of oil, 75g (3oz) chopped mixed peppers, 1/2 red onion and chopped fresh herbs Dinner: Baked Cod served with 150g (5oz) boiled new potatoes (with skins) and seasonal vegetables or salad
Day 6 & Day 13
Breakfast: 1 medium slice toasted wholegrain bread topped with 1 x 150g can baked beans Lunch: 1 x 100g (3 1/2oz) can pink salmon, mixed with salad leaves and cherry tomatoes served with 1 small wholegrain roll Dinner: Shepherd's Pie served with seasonal vegetables of your choice (excluding potatoes)
Day 7 & Day 14
Breakfast: 1 1/2 slices toasted wholegrain bread topped with 1 x 200g can boiled plum tomatoes Lunch: 2 slices wholegrain bread filled with salad plus 25g (1oz) chicken Dinner: Cheesie macaroni: dry-fry unlimited button mushrooms, cherry tomatoes with a little spray oil. Mix in 115g (4oz) [cooked weight] boiled macaroni and cover with low-fat bechamel sauce made with skimmed milk. Top with 2 tsps grated low-fat cheese and grill
Power snacks (Choose one each of these mid morning and mid afternoon)
75g (3oz) seedless grapes, 1 orange, 1 apple, 1 pear, 2 satsumas, 1 peach or 2 kiwi fruit, a 100g pot 0.1% fat Actimel probiotic yogurt drink, 3 celery sticks with 25g (1oz) low-fat cottage cheese,150g (5oz) strawberries plus 1 tsp 0% fat Greek-style yogurt.
From the start of week three, add on 1 x 100-calorie dessert, 1 x 100-calorie treat of your choice (which can fall outside the low-fat, low-Gi guidelines) and 1 alcoholic drink worth 100 calories.
Desserts
Approx 100 kcal each. Select one per day 1 meringue nest with 50g (2oz) Yeo Valley Organic Raspberry Yogurt 200g (7oz) fresh fruit salad 1 yogurt or fromage frais (max 100 kcal and 5% fat) 1 x 110g Rosemary Conley Low Fat Belgian Chocolate Mousse 1 x 35g Rosemary Conley Low Gi Nutrition Bar (any flavour)
Treats
Treats with more than five per cent fat 20g (3/4oz) mixed nuts and raisins 1 x 23g Walkers Squares Ready Salted 2 McVitie's Jaffa Cakes Treats with five per cent or less fat 6 Marks & Spencer Count On Us Chocolate Biscuit Sticks 1 Morrisons Eat Smart Chewy Cranberry Breakfast Bar 1 x 25g bag Jacob's Thai Bites
Alcohol Approx 100 kcal each. Select one per day 1 x 150ml (5fl oz) glass red or dry white wine or champagne 1 double pub measure gin or vodka and slimline tonic 1 double pub measure whisky and Diet Coke 300ml (1/2 pint) pint beer, lager or dry cider t
ry our Rosemary Conley recipes For more information visit www.rosemaryconley.com.
Also try Rosemary Conley's new Gi Hip & Thigh Diet For more information, buy Rosemary Conley's Gi Hip & Thigh Diet, £3.49, from Amazon or visit www.rosemaryconley.com.
Or see our goodtoknow user review on Rosemary's new fitness DVD Rosemary Conley - Brand New You! Work out with Coleen Nolan.
Got some great diet tips? Share them in our chat forums
If this not right for you? Try some of our other top diets: Beverly Hills Diet
If you prefer more flexibility in your diet, try the goodtoknow Diet Club, no foods are banned thanks to our clever food swap and recipe finder tools. Find out more by signing up to the goodtoknow Diet Club trial (opens in new tab) - it's free for 7 days!
Trusted, informative, and empathetic – GoodTo is the ultimate online destination for mums. Established in 2007, our 15-year-strong archive of content includes more than 18,000 articles, 1,500 how-to videos, and 7,000 recipes.