Ed Sheeran reveals three-and-a-half stone weight loss after diet of pizza and beer
And the way he did it is totally achievable!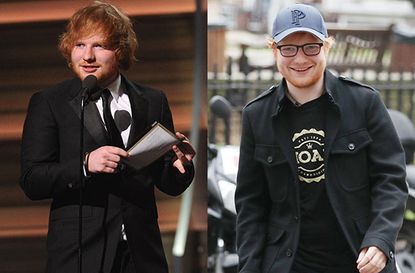 Ed Sheeran has hit the headlines recently for making an incredible comeback to the charts with two new songs after a three-year hiatus.
But now the Thinking Out Loud hit-maker has been causing a stir for quite a different reason, after revealing he's lost an impressive three and a half stone!
Ed revealed that he ballooned to 15 stone during his year off from touring, as he'd continued his diet of pizza and beer but stopped burning it off on stage.
The 25-year-old singer enlisted the help of his girlfriend, 24-year-old hockey star Cherry Seaborn, to lose the weight on a high-impact exercise (opens in new tab) regime.
Ed's daily exercise takes just 10 minutes a day - and the results are clear to see!
Ed said: 'I didn't realise how active I was on tour.
'My diet was pizza and beer, but because I was doing two hours a night I was really in shape.'
Ed arriving at BBC Radio One this week
Realising he'd gained weight after initially believing his clothes had shrunk, Ed then decided to start exercising for 10 minutes a day.
'I stopped touring and carried on my diet of pizza and beer. Suddenly I didn't fit in anything. I was like, 'All my clothes have shrunk'
He told Total Access on Signal 1 radio: 'I did ten minutes a day without fail - intervals of 30 seconds sprinting and 30 jogging.
'The key is to not miss a day, so you don't have to do an hour.'
Ed at the Grammys in February 2016
Ed, who's due to make chart history this week with new singles at numbers one and two - Shape of You and Castle on the Hill - is now down to 11-and-a-half stone.
Despite his newfound love of fitness and impressive chart success, it seems Ed still loves the quiet life, and plans to build a pub in his garden in Suffolk.
He said: 'I love the simple country life – going to the pub, ale. I'll put my awards in there.'