How to avoid a back to school asthma attack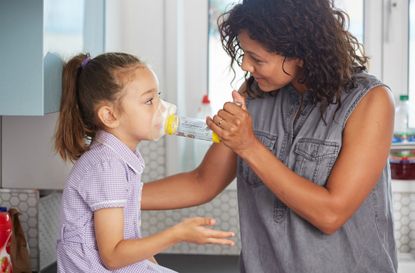 Asthma UK give their top tips on how to respond when a child has an asthma attack.
Asthma UK (opens in new tab) is warning parents of asthmatic children about the increased risk of asthma attacks when children go back to school in September.
Asthma UK warns: 'More children are rushed to hospital with their asthma in September than at any other time of the year.'
According to Asthma UK, 1.1 million children (1 in 11) in the UK have asthma, an inflammatory condition of the airways of the lungs. Asthmatic children are particularly vulnerable when they go back to school (opens in new tab) as they may have fallen out of the routine of using their preventer inhaler. The medicine builds up over time, which helps to protect the airways.
Without regular preventer medicine, children with asthma are susceptible to having an asthma attack triggered by cold or flu viruses.
Dr Andy Whittamore, Clinical Lead at Asthma UK and a practising GP says: 'The 'Back to School' effect of asthma can be frightening and potentially life-threatening for children returning to classrooms this week. It's easy for children to fall out of routines over the summer and forget to take their asthma medicines. This means their asthma is a ticking time bomb and then when they catch a cold or flu at school, they are at risk of having a potentially life-threatening asthma attack.
'Parents can follow simple steps to cut the risk of their child having an asthma attack, such as giving the school a reliever inhaler for their child and a copy of their asthma action plan. They should also ensure that their child takes their preventer inhaler, this helps to build up protection in their airways over time so that if they come into contact with triggers such as colds, they are less likely to have an asthma attack. Adults also need to know how to spot when their child's asthma is getting worse and know what to do if they have an attack and can get information and support from www.asthma.org.uk/back-to-school (opens in new tab).
'If a child is using their reliever inhaler (usually blue) three or more times a week, coughing or wheezing at night or feeling out of breath and struggling to keep up with their friends, parents should book them an urgent appointment with their GP.'
Asthma UK are advising parents to familiarise themselves - and anyone who looks after their child - with what to do if their child is having an asthma attack.
Warning signs that a child's asthma symptoms are getting worse...
Puffing on their reliever inhaler (usually blue) three or more times a week.
Coughing and/or wheezing at night or in the early mornings.
Breathlessness – if they're pausing for breath when talking or struggling to keep up with friends, that's a sign.
They might say their tummy or chest hurts.
If you notice your child's asthma symptoms are getting worse...
Give two to four puffs of their reliever inhaler, through a spacer. Space the puffs out so there are 30-60 seconds between them. If their symptoms don't get better or if their reliever inhaler isn't lasting four hours, follow our asthma attack advice below.
Make a same-day appointment with your child's GP.
If the surgery is closed, call 111 for advice.
If you have any questions, call our asthma nurses for advice on 0300 222 5800(Mon – Fri; 9am – 5pm). You can also visit our child asthma advice.
If a child's symptoms are rapidly getting worse...
Call 999.
While you wait for the ambulance, help the child sit up and give them a puff of their reliever inhaler every 30-60 seconds. You can give them up to 10 puffs.
Repeat this step every 15 minutes while you are waiting.
For more information on how to protect your child when they're back at school this September, visit Asthma UK's website or call the Asthma UK Helpline on 0300 222 5800 to speak to an asthma nurse.
Parents can also speak to our asthma nurses by calling 0300 222 5800 or by messaging 07378 606 728 on WhatsApp.