Boohoo slammed for 'making jokes' about OCD with Christmas pyjamas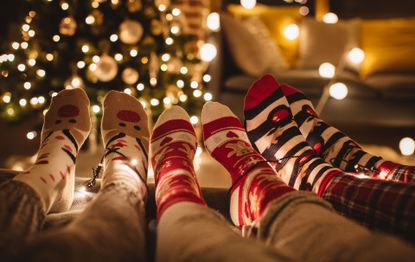 (Image credit: Getty)
GoodTo newsletter
Sign up to the GoodTo Newsletter. You can unsubscribe at any time. For more information about how to do this, and how we hold your data, please see our privacy policy
Thank you for signing up to . You will receive a verification email shortly.
There was a problem. Please refresh the page and try again.
Online fashion shop Boohoo has been slammed by charities for selling a Christmas product 'making jokes' about OCD.
Just a few weeks after high-street bargain store TK Maxx was forced to pull their kitchenware range that displayed an OCD-related joke, yet another retailer has now come under fire for 'trivialising' the life-impacting disorder.
Boohoo is now facing backlash from charities and Twitter users after campaigners pointed out their Christmassy pyjama set adorned with an OCD design.
OCD, Obsessive Compulsive Disorder, is a debilitating mental health condition that affects up to three quarters of a million people in the UK, according to charity OCD-UK. It is an anxiety (opens in new tab)-related condition that involves obsessive thoughts leading to compulsive behaviours and can cause severe mental distress.
The online fashion retailer's OCD Christmas Lounge Set, which was on sale for £20 for plus-size customers, contains a t-shirt with 'OCD' written across it.
The 'O' in 'OCD' is made up of a reindeer's (presumably Rudolph's) bright, shiny red nose and, topped with a pair on gold antlers and underneath the acronym reads 'Obsessive Christmas Disorder'.
On seeing the festive set on sale on the clothes website, Twitter users hit back at the store for their 'poor taste' towards the mental health condition.
One ranted: 'OCD is already a widely misunderstood mental health issue and you're adding to the stigma and trivialising it by making it into a "quirky" set of Christmas pyjamas??? Care to explain cos I'm really really not understanding what's funny about this'
While another wrote: 'This is an example of why we still need to tackle #mentalhealth #stigma. What kind of company thinks it's funny to use a mental health condition as a 'cute' or 'funny' phrase for profit? It's literally called 'OCD Christmas Lounge Set' on their website. Poor taste, @boohoo'
And many pointed out that retailers would not be so quick to design products referring to other health conditions, such as anorexia, bipolar disorder or cancer.
'Hey @boohoo, what's with these pyjamas? OCD is a real, valid mental illness, that effects and can destroy lives,' explained one Twitter user. 'Its not something to make jokes about. I know for a fact that there would not be pyjamas with jokes about depression, bipolar disorder, anorexia etc. #OCDUK @OCDUK'
Another wrote: 'Do you know how offensive & stigmatizing this item is? OCD is not a quirk liking things in a certain way it is a serious debilitating anxiety provoking mental illness which ruins lives. Please remove from sale, would you sell products about Cancer?'
After the many complaints the offensive pyjama has now been taken down from the website.