The seven health checks that could save your life this winter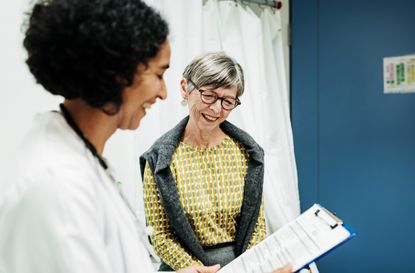 We all service our cars every year to make sure they're running smoothly, so why not our bodies too?
Despite the NHS offering free health checks, less than 50% of Brits took advantage of them last year.
But undergoing routine health checks could help you spot any problems in the early stages when they are easier to treat. Age UK reveals the seven key health checks that could save your life.
Abdominal aortic aneurysm screening
The aorta is the main blood vessel in your body, which pumps blood from your heart around your body. If a swelling in the aorta is left, it could get bigger and burst, causing life-threatening bleeds in your stomach. An AAA doesn't produce any symptoms, so a screening test could pick up a bulge before it causes you problems. The test involves an ultrasound on your stomach – it's quick, painless and reliable.
Women aren't routinely called for tests, as it's seen to be more common in men over 65. However if you think you need one, speak to your GP.
Blood pressure tests
The British Heart Foundation estimates that as many as five million UK adults have undiagnosed high blood pressure. So it's essential you get yours checked with regular health checks. As a general guide, high blood pressure is anything over 140/90mmHg. Hypertension doesn't have any symptoms, but it can weaken your heart and damage the walls of your arteries, increasing the risk of heart disease, stroke and kidney disease.
The test takes two minutes. A GP or nurse will wrap a cuff around your upper arm, which inflates until it becomes tight. If your blood pressure is consistently high, your GP will advise how you can lower it through diet and exercise or may even prescribe medication.
Breast screening
Breast cancer (opens in new tab) is the most common cancer in British women and, like bowel cancer, the earlier it's picked up the better. Screening can help with this – and stats show that around 1,300 lives are being saved each year due to women being screened.
What happens? An X-ray (mammogram) of each breast is taken. Each one is gently, but firmly compressed with a clear plate. This can feel a little uncomfortable, but it only lasts a few seconds.
You will usually receive your first invitation to attend your local breast-screening unit between the ages of 50 and 53 years old. You'll then automatically be invited every three years until you reach your 71st birthday. If you're 71 or over, you can still request a scan every three years – ask your GP for more information.
Bowel cancer screening
There are 42,000 new bowel cancer cases in the UK every year – that's more than 110 every day – making it the fourth most common cancer on our shores. But the sooner it's detected, the easier it is to treat and the better chance you have of surviving.
Although this screening won't actually diagnose cancer, it can detect potential problems before you experience symptoms. It's a bit of a DIY job, as you'll be sent a Faecal Occult Blood Test through the post, which will require you to collect stool samples over several days on a special card. These are then sent to a laboratory for analysis.
Experts will look for traces of blood – if there are any, you'll be asked to repeat the test again or may be called for a colonoscopy. It doesn't mean you have bowel cancer, but it will rule out the possibility. If you're aged 60-74, you'll automatically be invited to do a home-testing kit every two years.
Cholesterol blood tests
Cholesterol (opens in new tab) is a type of fat that is carried in your bloodstream. It can build up in your arteries and increase your risk of heart attack and stroke. But like high blood pressure, it doesn't produce any symptoms, so you won't know you have it unless you get tested.
A blood test carried out by your GP or pharmacist can measure your levels. If they come back high, you may be advised into changing your diet, maintaining a healthy weight and taking regular exercise. Or if you already have heart disease, your GP may prescribe cholesterol-lowering medicines, such as statins.
Cervical screening
Cancer Research UK states that there are around 3,200 new cases of cervical cancer each year, yet one in three women don't attend their screenings – with embarrassment being the primary factor. But this test – offered every three years from age 25 in England and then every five years between 50 and 64 – could save your life, by detecting abnormalities in your cervix. If left untreated, this could lead to cancer.
A speculum is used to open the vagina and then a small soft brush is used to sweep around the cervix to collect cells to be analysed. Most women say it's uncomfortable but not painful. You should receive results within two weeks – any abnormal changes may need further investigation.
Skin health checks
Keeping an active eye on moles is key, especially at this time of year when tights and long sleeves mean they're not readily visible. Most are harmless, but sometimes they can develop into skin cancer. Although rare, melanomas are still the fifth most common cancer in the UK, with around 13,000 new cases diagnosed each year.
Check your body every few weeks – look out for changes in colour, size or shape of existing moles and any new ones that might crop up. If you notice anything unusual, visit your GP. They may refer you on to a specialist who could decide to remove it.
Natalia is a health journalist with 14 years experience in the publishing industry. She has worked for a number of well known magazines and websites including Marie Claire, Woman&Home, Top Sante, Boots and The Telegraph. She likes to think she practices what she preaches when it comes to health and fitness. Her athletic prowess began early. A keen fencer for 13 years, she wielded an epée for Olympic Team GB during her teenage years. She likes to think she made sword-fighting cool before Game of Thrones came along! While working on her sporting performance with the team, she also participated in a lot of nutrition and psychology training, When it comes to time off, you'll most likely find her up a mountain somewhere. It seems holidays have become a time for climbing several thousand feet, rather than chilling out. She's now hiked eight of the major mountain ranges across four continents – including the Appalachians, the Smokies, the Sierra Nevadas (she spent her honeymoon hiking to the top of Half Dome), as well as hitting the summits of Snowdon, Pen-Y-Fan (Brecon Beacons), Table Mountain in South Africa, the Blue Mountains in Australia and the Atlas Mountains in Morocco. She's also passionate about all things health, particularly vaccinations, and will happily jump on her soap box at any given opportunity to talk about their benefits to anyone who will listen!