Holland and Barrett now sell sustainable period products
Swapping to sustainable period products? Holland & Barrett is offering a variety of sustainable period products for that time of the month.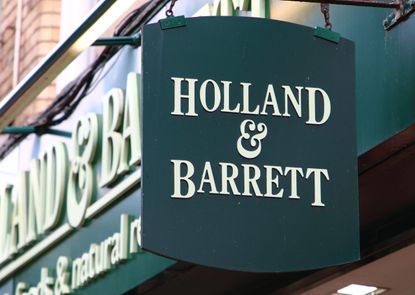 GoodTo newsletter
Sign up to the GoodTo Newsletter. You can unsubscribe at any time. For more information about how to do this, and how we hold your data, please see our privacy policy
Thank you for signing up to . You will receive a verification email shortly.
There was a problem. Please refresh the page and try again.
Thinking of making the swap to sustainable period products? As we become more and more aware of the environmental impact of waste products, Holland & Barrett is offering a variety of sustainable period products and for that time of the month.
Did you know that a tampon alone can outlive the average woman, and a sanitary pad can take around 500 years to decompose? Traditional period products are harming the planet, but Holland & Barrett is expanding its range to make sustainable period products more available.
"We're delighted to be the first British high-street retailer to offer such a breadth of alternative period products," says Victoria James, category buyer for Holland & Barrett. "We hope these new options will leave women feeling more confident about making a choice that is both right for them, and doesn't cost the earth."
Here are just some of the best sustainable period products on offer…
The range includes FLUX Undies, which are absorbent and leak-proof underwear that can hold up to the equivalent of four regular tampons, keeping you dry for up to 12 hours. You can then pop them in the wash and re-use them. They're also great to help prevent leaks on your heavier days as a second line of defence.
This re-useable menstrual cup can replace tampons and pads. Simply fold, insert and empty after 12 hours then rinse to re-use. A cup can last for many years, so it can cut the cost of buying tampons or sanitary pads each month as well as reducing wastage.
These eco-friendly pads are made from absorbent bamboo and come in a variety of sizes for different flows. The wings secure with a popper to keep them in place and they can then be washed and re-used.
Alongside the product launch, Holland & Barrett's have partnered with Bloody Good Period, a UK charity whose mission is to end period poverty, after it was revealed 1 in 4 women in the UK unable to afford period products.
The full sustainable period protection range is available at Holland & Barrett stores nationwide and online.
During her four years at TI MEDIA, Eleanor has worked on various titles, including Woman & Home, Feel Good You, Woman's Own and Powder, covering beauty, health, nutrition and wellbeing topics. Since graduating from the University of the Arts London in Fashion Journalism, she ventured down the beauty and health path and has worked across digital, social media, video and print, and was highly commended at BSME Talent Awards in 2017. From acne to eczema, she can talk endlessly about skin conditions and has jumped in -180C ice chambers, eaten just salmon for a week straight and tried pore-suction facials in the quest for well-behaved skin. She has also written about sleep, hormones and gut health amongst the latest wellbeing and self care trends. When Eleanor's not working, you'll often find her on a run in London or her hometown of Brighton, where she did her first marathon – but was beaten to the finish line by Scooby Doo. Post-run, she'll most likely be settling down to watch a documentary with a spoon and nut butter jar in hand. Follow her on Instagram @eleanorvousden.