New research reveals the surprising reason why new dads gain over a stone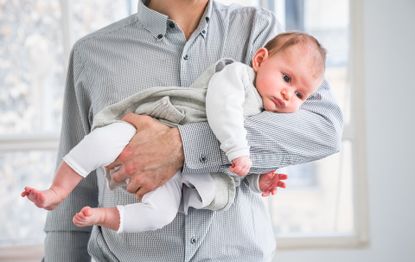 (Image credit: VOISIN/PHANIE/REX/Shutterstock)
Having a baby is a life changing experience - and new parents should expect quite a few changes to their lifestyles.
In between a lack of sleep and a new found overwhelming baby fever, new dads might have to say bye-bye to something else...
New research has discovered that fathers also have their own experience with a postpartum body - as men also appear to gain a substantial amount of baby weight after becoming a parent.
Yup, turns out the Dad Bod is actually a real thing!
Gordon Ramsay's weight loss is all down to ONE simple trick
The study, conducted by Lighter Life Fast, looked at the weight gain of over 1,500 men and found that new dads often gain over a stone in weight in the first year following the arrival of their little tot.
In fact, 22 per cent of new dads gain over a stone in their first year of of parenthood. Surprisingly, this is the exact same percentage as research conducted into the postpartum weight gain of new mothers.
The research details that around half of men put on weight in the first year of being a dad, whilst nine per cent can gain over two stone.
Unsettlingly, the survey also found that 32 per cent of new dads felt less confident in their body shape - a figure which soared to 51 per cent in dads under the age of 29.
However, the Dad Bod phenomenon can be halted - as the research detailed that this gain in weight is most likely because of a mixture of eating less healthy meals and a lack of sleep.
So, once your tiny tot reaches the age of managing a full eight hours per night, you might be able to get some quality shut eye once again.
In fact, parents hoping for a sounder night of sleep should take note of new research detailing the sleeping positions which aid your little bundle of joy into a deeper and longer sleep - including the failsafe shoulder trick. (opens in new tab)
Happy snoozing, dads!
Words by Alice-Rose Perry