How to clean an oven - the easiest and fastest methods recommended by experts
Find out how to clean an oven, as well as tips and tricks to make cleaning your oven hassle-free.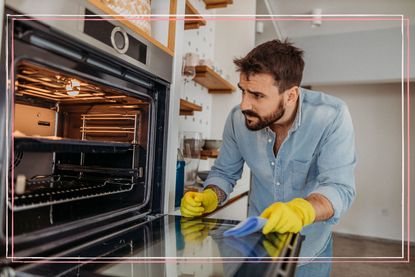 (Image credit: Getty Images)
We've asked the experts how to clean an oven, and these are their top tips to make it a quick and easy job.
Cleaning the oven is one of those chores that most people try to put off for as long as possible. Unlike cleaning a microwave or cleaning a dishwasher, it has a reputation for being an arduous task. But, as fans of Mrs Hinch cleaning tips will know, the longer you leave it the harder it will be to clean. Luckily for us, the experts have shared that cleaning an oven isn't actually that difficult if you know how.
As Mira Yordanova, owner at TopCleaningGB, explains: "Cleaning an oven is one of the most dreaded tasks when it comes to household upkeep, as removing the often thick layers of dirt and build-up from the walls and racks can seem an impossible task. However, ensuring your oven stays clean will not only make it look nicer, but could save you money in the long run. An oven with food stuck to the interior could not only be a fire hazard but also a cause of inefficiency, meaning your food takes longer to cook."
We've asked Mira and other cleaning experts how to clean an oven, and here's what they said...
How to clean an oven
There are plenty of chemical oven cleaners on offer that you can use to clean your oven, but you can also use household items such as lemon and baking soda. However, as Joyce French from DIY experts Home How told Goodto: "A chemical oven cleaner is one of the best ways to ensure your oven is sparkling clean."
Whichever method you use to clean your oven, the first thing to do is make sure your oven is cool before you start. You'll also want to remove all the racks to be cleaned separately and use an old cloth or paper towels to remove any excess food from the walls and bottom of your oven.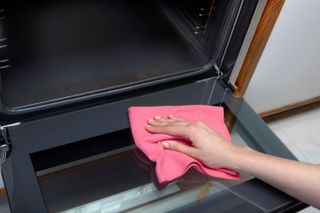 How to clean an oven with oven cleaner
Spray your chosen oven cleaner evenly around the interior of the oven.
Leave the cleaner to sit for at least 30 minutes so it can really get to work.
Use a clean, damp cloth to wipe away the oven cleaning solution.
Then, use a clean, dry cloth to ensure all of the cleaner is removed and the oven is dry.
How to clean an oven with baking soda
Mix around 125ml (½ cup) of baking soda with enough water to form a paste.
Spread this around the inside of your oven by hand (whilst wearing rubber gloves), but avoid the heating elements.
Leave this mixture to sit overnight, so the baking soda has time to work.
After you've left your baking soda to work its magic overnight, simply use a damp cloth to wipe it away.
To remove any lingering residue, spray a white vinegar and water solution on any remaining areas of grime.
Use a damp cloth to wipe away the vinegar solution.
Mira Yordanova adds that you can use the same mixture for cleaning the oven door - simply leave it for half an hour and wipe away the grime with a cloth.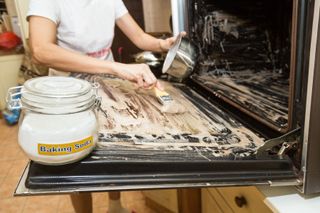 How to clean an oven with lemon
Fill an oven-proof bowl or tray with water.
Halve two or three lemons and squeeze the juice into the bowl of water.
Put the bowl inside your oven, and leave the oven switched on for around 30 minutes.
Once the oven is cool, wipe the inside with a clean, damp cloth to remove residue.
Joyce French recommends this method, explaining, "The steam and lemon juice will work wonders to loosen any debris and melt away any grease or grime."
How to clean oven racks
Run a shallow bath with hot water (just enough to ensure the racks are submerged).
Add a washing up tablet, or your standard measurement of dish soap.
Place your oven racks into the water and leave them overnight to soak.
Mira Yordanova says, "Oven racks can be tremendously difficult to clean, but there is a much easier way than scraping the grime off each individual wire. This deep clean will make removing grime a breeze the next day."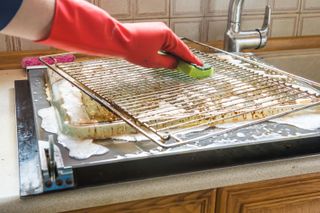 How to use your oven's self-cleaning function
It might be worth checking if your oven has a self-cleaning function, as this could prevent you from needing to give your oven a deep clean as often. The function uses either high temperatures or steam to remove any leftover residue or food from the oven's interior.
Prepare the oven for self-cleaning by removing any racks and trays, and wiping the interior with a damp cloth
Ensure there is good ventilation in your home, to allow the heat and any smells that might be produced to escape
Close the oven door and select the self-cleaning function
Depending on your make of oven, it could take anywhere from 1.5 to 4.5 hours to complete the self-cleaning cycle
Once the cycle in finished and the oven has cooled down, wipe the interior clean with a damp cloth to remove any residue
Your oven will get very hot when it is self-cleaning, so make sure you don't touch it, and keep children and pets away from it to. It's important that you do not leave your oven unattended while it is self-cleaning.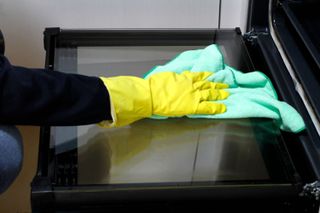 Top tips for cleaning your oven
Use a toothbrush or toothpick on areas where a cloth or scrubbing brush isn't doing the job, such as the seal around the door.
Remove the door of the oven for an even deeper clean - though you might need help from another person if you plan to do this.
Open the windows or turn on an extractor fan for ventilations while clean - especially if you're using a chemical oven cleaner.
Preheat your oven before cleaning to help loosen any burnt food or dry out spills. Turn your oven on the lowest temperature, and leave for 10-15 minutes.
How often should you clean your oven?
As a general rule, you should clean your oven around once a month, but this can vary depending on how much you use it. If you notice any burnt food in your oven or smoke when you use the appliance, this is a sign that it's time to give it a good clean.
If you want to make each deep clean of your oven easier, the best thing to do is to give it a once-over after each use. You can do this with a sponge or cloth dipped in warm soapy water, which will prevent the build-up of grease and grime.
If you do this, you might find that you only need to clean your oven every three months instead.
If you're looking for more cleaning tips, we've shared how to clean an air fryer and how to clean a washing machine too. You might also want to check out these 5 tips for cleaning with vinegar, or 10 expert tips for cleaning school uniform.
We spoke to the following cleaning experts:
Joyce French has worked in the cleaning industry for over twenty years. Joyce specialises in domestic cleaning and works closely with HomeHow.co.uk to provide expert cleaning knowledge to homeowners, tradespeople and news outlets.
Top Cleaning GB Ltd was established in 2004 as Top Cleaning UK, a family run business. Today Top Cleaning GB is still owned and operating professional cleaning company serving and covering the entire London. Since 2004 they have built an enviable reputation for providing professional, high quality and cost-effective cleaning services right across London.
Parenting advice, hot topics, best buys and family finance tips delivered straight to your inbox.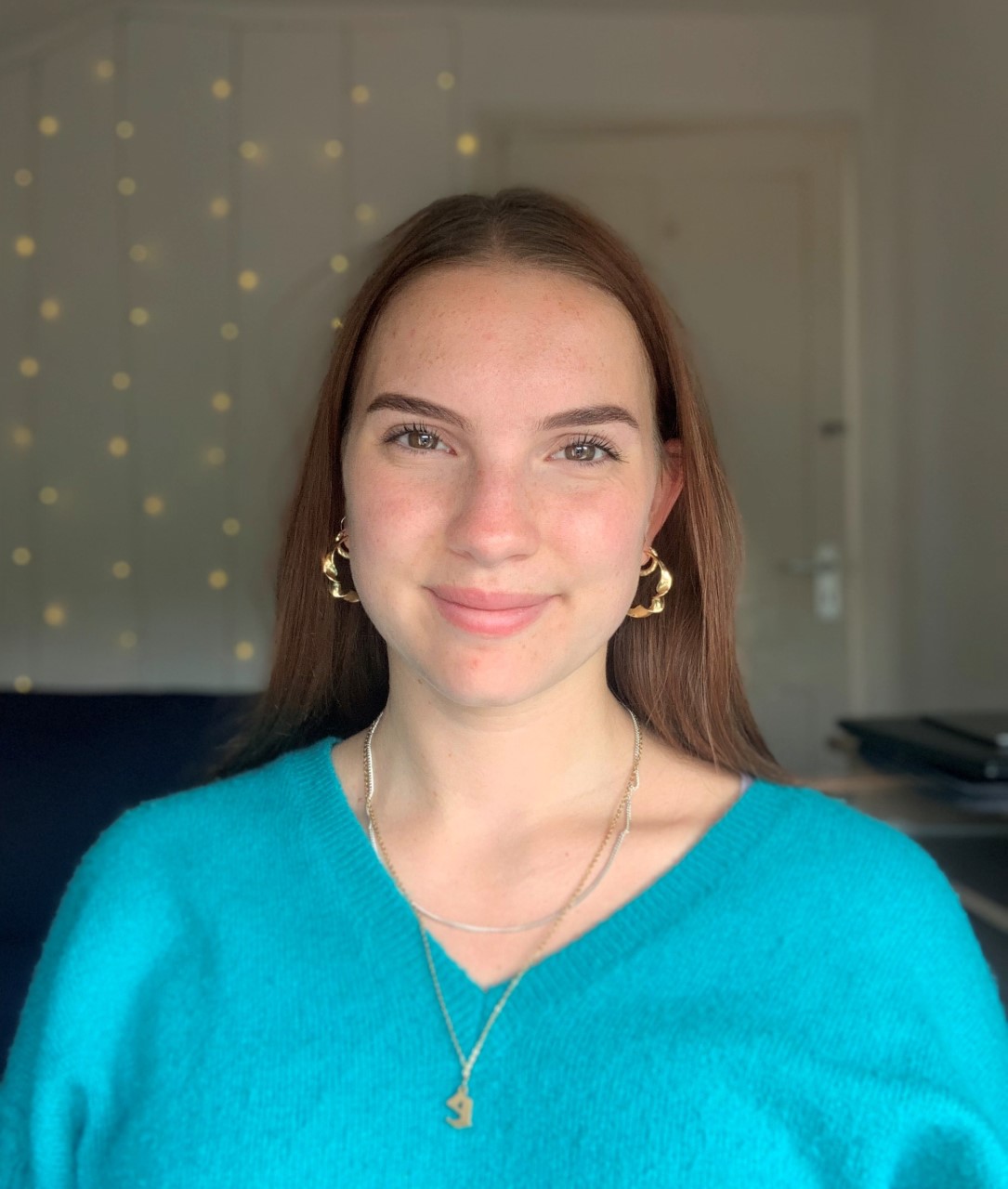 Ellie is Goodto's Feature Editor, having joined the team as a Junior Features Writer in 2022, and covers everything from wellbeing for parents to the latest TV and entertainment. Ellie has covered all the latest trends in the parenting world, including baby names, parenting hacks, and foodie tips for busy families. She has a distinction in MA Magazine Journalism from Nottingham Trent University and a first-class degree in Journalism from Cardiff University, and previously Ellie has worked with BBC Good Food, The Big Issue, and the Nottingham Post, as well as freelancing as an arts and entertainment writer alongside her studies.