How to clean a microwave according to cleaning experts - including how to clean with all natural ingredients
Here's how to clean a microwave using lemon, baking soda and vinegar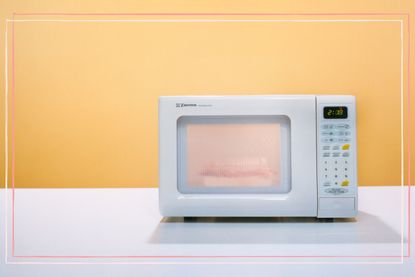 (Image credit: Getty Images)
We've asked the experts how to clean a microwave. Here are their top tips - including how to clean a microwave with natural ingredients.
Microwaves are one of the quickest and easiest ways to cook or heat up food and they're energy efficient too, so it's no wonder microwaves are one of the most used kitchen appliances. But they're not without their downside, because it only takes one bowl of overflowing porridge or a portion of splattering soup for your microwave to be covered in food stains.
Luckily for the fans of Mrs Hinch's cleaning tips (opens in new tab) among us, cleaning your microwave is much easier than cleaning an oven (opens in new tab) or cleaning a dishwasher (opens in new tab). The experts have a few hacks for keeping your microwave sparkling clean - and most of them use natural ingredients. Courtney Walsh, cleaning expert at Homeaglow (opens in new tab), told Goodto: "Using natural, homemade cleaners inside your microwave is a much better option than using toxic chemical cleaners. These gentle cleaners can remove cooking smells, grease, and dried food just as easily as commercial solutions."
How to clean a microwave
To clean your microwave, you first need to remove the turntable and plate, and wipe down the inside with a microfibre cloth. If your microwave has stubborn food stains on the interior, dip the cloth in hot soapy water before scrubbing at the stains.
If your microwave has vents or filters inside, make sure to clean them too. You can use a clean toothbrush or toothpick to remove any dirt or debris, but make sure whenever you're putting your hands inside the microwave to clean it that the appliance is switched off and unplugged.
While you're wiping down and cleaning the interior, put the turntable and plate in a bowl of hot soapy water and leave to soak, before giving it a wipe to get rid of any dirt or stains and putting aside to drain.
You should avoid using kitchen spray or multi-purpose cleaner on the interior of your microwave, as you don't want to risk the reside mixing with your food. The spray can also cause a pretty nasty smell when you next turn your microwave on!
How to clean a microwave naturally
1. How to clean a microwave with lemon
Tor Rydder (opens in new tab), founder of Organizing.TV, suggests putting lemon juice in your microwave to give the appliance a thorough clean.
He explains: "To deep clean a microwave, you need to use the heat from the appliance. Take a small microwave-safe bowl and fill it with water and a teaspoon of lemon juice, then place it in the centre of the microwave and turn it on full heat for five minutes.
"When this is done, let the dish cool for another five minutes, take it out of the microwave and wipe down the interior with a cloth. Any hard stains should come out straight away."
Tor recommends using this method to clean you microwave as it will also leave a pleasant, clean smell while the lemon juice and water is heated.
2. How to clean a microwave with baking soda
Baking soda is another great ingredient for cleaning your microwave, as it will not only clean the interior but it can also neutralise any unpleasant odours lingering in the appliance.
Joyce French, cleaning expert with HomeHow (opens in new tab), advises placing three heaped tablespoons of baking soda in a microwave-safe bowl before adding hot water and stirring the mixture.
You can then use the same method as Tor suggested with the lemon juice mixture. Put the bowl in the microwave on full heat for five minutes before removing it and wiping the microwave with a clean, dry cloth.
Joyce says, "This simple method should be enough to get rid of most dirt and grime out of a microwave."
3. How to clean a microwave with vinegar
There are so many household items you can clean with vinegar (opens in new tab), and your microwave is one of them. As Courtney Walsh explains: "White vinegar is a household champion. It has strong cleaning and antibacterial properties that help you effortlessly clean mirrors and freshen up floor grouting, as well as cleaning microwaves."
She recommends adding half a cup of vinegar to a bowl and putting it in the microwave on a medium-high setting for five minutes. After this, leave the bowl for another couple of minutes before dipping a sponge or cloth into the solution and wiping down the inside of the microwave.
Courtney adds: "If you're not a fan of the smell of vinegar, you can add two tablespoons of lemon juice to the bowl of water as well. This will mask the vinegar odour and leave your microwave lemony fresh."
What is the best way to clean a dirty microwave?
If you've been overlooking your microwave and have some really stubborn stains that you just can't get rid of, you may need to a take a more hands-on approach.
Joyce French suggests mixing four tablespoons of baking soda to roughly a litre of warm water, stirring the mixture and then wiping it all over the inside of the microwave with a cloth or sponge.
Then, try the vinegar method Courtney suggested above, before wiping the microwave's interior with the warmed vinegar solution until all of the baking soda has been removed.
How to clean the outside of a microwave
Fortunately, cleaning the outside of a microwave is much simpler that deep cleaning the interior. Tor Rydder told Goodto: "Cleaning the outside of the microwave just requires a microfibre cloth with some kitchen cleaner - the same cleaner you use for other appliances and countertops."
He adds: "Make sure not to put too much cleaner on your cloth and you could leave watermarks on the door or use window cleaner instead, as it is designed to avoid watermarks on glass."
We spoke to the following cleaning experts:
Joyce French has worked in the cleaning industry for over twenty years. Joyce specialises in domestic cleaning and works closely with HomeHow.co.uk (opens in new tab) to provide expert cleaning knowledge to homeowners, tradespeople and news outlets.
Tor Rydder is a minimalist traveller turned home organising expert. He is the founder of Organizing.TV (opens in new tab) as well as his own organising YouTube channel with over 18.5k subscribers. His main aim is to make organising and cleaning as easy as possible for his audience and to stop the narrative that organisation has to be a chore.
Related features:
Video of the Week
Ellie joined Goodto as a Junior Features Writer in 2022 after finishing her Master's in Magazine Journalism at Nottingham Trent University. Previously, she completed successful work experience placements with BBC Good Food, The Big Issue and the Nottingham Post, and freelanced as an arts and entertainment writer alongside her studies. In 2021, Ellie graduated from Cardiff University with a first-class degree in Journalism.