How to clean with vinegar: 5 expert tips on using vinegar around the home
Vinegar is the ultimate multi-purpose cleaning solution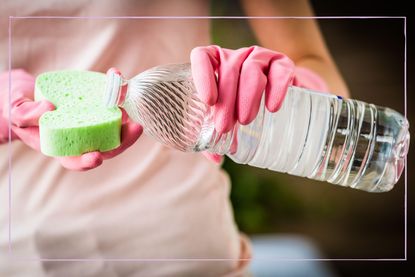 (Image credit: Getty Images)
You might be surprised by how versatile this household products is - here's how to clean with vinegar...
If you're on the hunt for new cleaning hacks or are a big fan of Mrs. Hinch's cleaning tips (opens in new tab), then you're going to want to know more about how you can clean with vinegar. Non-toxic, eco-friendly and cheap, vinegar can be used to make your own multi-purpose cleaning spray (opens in new tab) and works wonders on a variety of household items - whether you want to know how to clean a hair brush (opens in new tab) or a shower head.
New research from Confused.com (opens in new tab) has revealed that vinegar is the most popular ingredient to use around the home for cleaning. So, if you've been wondering how you can use vinegar to clean, we've found out from the experts exactly how to use this multipurpose cleaner to keep your home sparkling.
How to clean with vinegar
1. Getting rid of limescale
Limescale is caused by a build-up of calcium and magnesium minerals in hard water, and it's an inevitable problem on your showerhead - given its constant contact with water. However, vinegar is an especially effective substance for getting rid of limescale.
Andy Duncan, cleaning expert from Easy Cleaners (opens in new tab), says: "If you're suffering with limescale on you showerhead, the best thing that you can do is fill up a plastic bag with vinegar and wrap it around the showerhead for 40 minutes, allowing the showerhead to soak in it. Once you unwrap the bag, you should reveal a completely limescale-free showerhead."
As well as having a sparkly clean showerhead, removing the limescale will prevent any blockages and maintain the hygiene of shower water.
2. Removing streaky window stains
Andy explains: "If you mix together one part of distilled vinegar to every ten parts water in a spray bottle, it is the perfect solution to getting rid of any serious streaks on your windows.
"Spray this on your windows and then wipe it off using a paper towel or microfibre cloth. Make sure you remove all dust and dirt before doing this."
You might want to try this when the sun isn't shining directly on your windows, so you can better see any spots you might have missed.
3. Cleaning cloudy glasses
Hard water doesn't just cause limescale build-up, it can also turn your drinking glasses cloudy. Luckily, there's an easy way to fix this using vinegar.
Andy suggests filling a bowl with hot water and resting a bottle of vinegar in there for a minute so it warms up. He says: "Once it's warm, drain the sink and then fill it with the warm vinegar with the plug in. Let the glasses soak in the vinegar for an hour, and use a nylon net to rub the vinegar off. Swill the glasses with warm water and leave them to dry, and this should solve the problem."
4. Cleaning the dishwasher
Vinegar will not only cut through any build-up and leave your dishwasher sparkling, but it can also remove any unpleasant odours, mould and mildew that it's built up
"The best way to use vinegar to clean the dishwasher is to firstly remove any bits of food that have come off in the wash." Andy told us. "Then, place a cup of white wine vinegar in a bowl - but make sure that it's dishwasher safe - on the top shelf of an empty dishwasher. Once you've done this, let the dishwasher run on a hot-water cycle, and let it dry."
5. Removing grime in the washing machine
Washing machines can build up grime quickly, yet they're an appliance that people often forget to clean.
Andy suggests that the best way to clean your washing machine is to add two cups of white wine vinegar into the detergent drawer in you washing machine and running a hot wash.
You could also add half a cup of baking soda into the drum to get your washing machine super clean and neutralise any odours.
What vinegar can you clean with?
White distilled vinegar is usually the best vinegar to clean with, because it won't leave a stain. However, most vinegars are suitable for cleaning because their acidity enables them to kill germs.
Other types of vinegar include white wine vinegar, red wine vinegar, apple cider vinegar, balsamic vinegar, rice wine vinegar, malt vinegar and sherry vinegar.
If you don't have any white vinegar to hand, apple cider vinegar is the best substitute - and you might find that the smell is slightly more pleasant than that of white vinegar. However, apple cider vinegar is generally much more expensive than distilled white vinegar.
The best way to use vinegar to clean is to mix it with equal parts water and use in a spray bottle. If you don't like the smell of vinegar, try adding a few drops of essential oil (opens in new tab) to the solution to mask the smell.
What not to clean with vinegar
Granite or marble - Vinegar can cause natural stone to lose its shine, so you might want to avoid using it on your kitchen countertops.
Hardwood floors - Vinegar can dissolve the coating on hardwood floors, which may make your floors look dull or scratched.
Wool rugs - The acidity in vinegar can permanently damage the fibre of wool.
Kitchen knives - Vinegar can corrode the blades and dull the edges of knives.
TV screens - White vinegar will strip away the protective surface on electronic devices and may damage the anti-glare properties.
Mirrors - You might be tempted because vinegar is so great for cleaning windows, but it can penetrate through the backing and hinder the mirror's shine.
Related features:
Video of the Week
Andy founded, and is actively involved in Easy Cleaners, a local Midlands-based cleaning business covering both domestic and commercial cleaning services and offering helpful cleaning tips and tricks.
Ellie joined Goodto as a Junior Features Writer in 2022 after finishing her Master's in Magazine Journalism at Nottingham Trent University. Previously, she completed successful work experience placements with BBC Good Food, The Big Issue and the Nottingham Post, and freelanced as an arts and entertainment writer alongside her studies. In 2021, Ellie graduated from Cardiff University with a first-class degree in Journalism.