Imogen Thomas urges women to 'accept our flaws' as she reveals her post-baby diet and exercise secrets
Could you do this routine with two young children?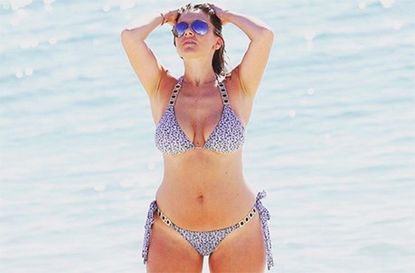 Looking at her, you might think Imogen Thomas was just one of those girls who was born trim, and although she does have a slim frame the brunette beauty has admitted she has to work hard to keep herself in shape.
Following two children the former Miss Wales has spoken about shifting the baby weight and why there's too much pressure on new mums to 'pop back into their size eight jeans'.
If you're intrigued by how she lost the pounds and got back to her pre-baby weight after her daughters were born, here are her exercise and diet (opens in new tab) secrets...
Take your time
[instagram]
you decide to work out, it's natural to want to see results fast. However, it often takes time and effort to get your body in the kind of shape you want, especially after having a baby, so Imogen is keen to reassure mums that it can take a while before you see results, and that's ok.
Talking to Now magazine to promote her new swimwear line, Chasing Summer, Imogen said: 'It's extremely difficult to bounce back. It takes time. Your body has been through so much - but more importantly, you've carried a healthy baby.
'That's all that should matter. Weight will sort itself out over time.'
Work out regularly
[instagram]
don't get a body like Imogen's without a lot of sweating it out. The mum of two has revealed that she works out most days, saying she exercises four or five times a week.
In a recent Instagram post she detailed the trials of combining childcare with hitting the gym, commenting: 'After waking up with the girls 4 times during the night..... 😴😴😴 I have to Work work work work work.....no pain no gain!'
Stick to healthy foods (most of the time)
[instagram]
likes a treat every now and then, but the trick is making sure they're a treat - rather than an everyday staple. Imogen admits to making healthy recipes (opens in new tab) most of the time. 'I'm on a strict diet,' she told Now. 'Although my diet has gone out the window this week. Sometimes you just want to eat junk!'
For the most part Imogen sticks to healthy meals, like her avocado on toast, and has previously told fans that she loves Bounce energy balls, which are high protein and fibre snacks.
Love yourself
[instagram]
of Imogen's most important advice is to 'love yourself' and be comfortable in your own skin - no matter what size or shape you are. Speaking about the pressure on women to keep their body trim, even after having a baby, the Welsh TV star said, 'We should all accept our flaws. None of us are perfect so let's not pretend we are. You are you love yourself for who you are.'
In a snap she shared on Instagram Imogen also revealed that she's accepted the shape of her 'naturally curvaceous' body instead of wanting someone else's body shape.