The GENIUS hack to clean your iron that you need to know about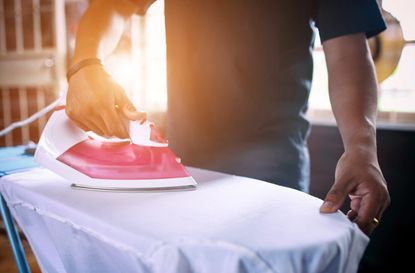 If you've ever wondered what's the best way to clean your iron, then we've got a genius hack for you – using something you probably already have in your cupboard!
We've all been there – you somehow burn your iron and then it starts to stain your clothes.
But how do you go about cleaning it? Well, one mum shared her genius hack on social media, in the Facebook group We Love Mrs Hinch – dedicated to the viral sensation Mrs Hinch (opens in new tab).
Her post was shared a few weeks after other people suggested the unusual hack, and she decided to share it after it worked out so well for her.
https://www.youtube.com/watch?v=AugI5s1ZjVw
And it couldn't be easier - it's all down to using paracetamol and tweezers. All you have to do is put your iron on maximum setting, and use the tablet to scrub the iron until it's clean.
As the iron needs to be hot while you do it, extra precaution is needed to prevent burns.
Mum reveals GENIUS (and super cheap) hack that keeps her sofa sparkling clean (opens in new tab)
The mum, called Debbie Bowker, wrote on the group (opens in new tab): 'Thanks to whoever it was who posted about cleaning an iron with paracetamol tablets! Didn't expect to go through so many tablets so will buy another pack tomorrow to finish the job. Looks like the iron is saved though'.
Others posted to rave about the hack: 'I had to do one small area with one tablet before it worked! It eventually started melting away but went through about 4 and it's loads better but not finished yet!'
A second said: 'Paracetamol worked for me I couldn't believe it ...had the iron on hot wet the paracetamol and rub round the black and it melts both the tablet and the black.....just wish I'd have taken a before and after pic!'
Another said: 'Have literally just done this with mine, paracetamol works amazing!'
Did you know about this hack? Will you try it? Head over to our Facebook page and let us know!