'For me, it's not about being thin' Kimberley Walsh shares her diet and exercise secrets
The mum-of-one opens up about staying trim and having a savoury tooth...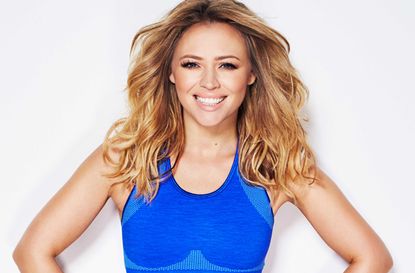 Girl band icon, Strictly star, musical lead and now mum - is there anything Kimberley Walsh can't do?
Not only is the 34 year old a woman of many talents, she somehow manages to looks fit and healthy throughout all of her various roles, and as any woman who's had a baby can tell you, that's no easy feat.
Fortunately for us, she's let us in on a few of her diet and exercise secrets, so we can start on the journey to getting a strong, super-toned body of our own. Spicy Thai Noodles, anyone?
'Me-time' workouts
Images: Fit & Well/David Venni
Hitting the gym gives Kimberley time to focus and unwind. 'My workout is real me-time,' she tells Fit & Well. 'I can switch off from baby stuff. It's addictive and I just feel better after it.'
Kimberley uses a combination of strength, cardio and core training sessions to get in shape, with the help of personal trainer Nicole Abbott - but the actual exercises aren't as intimidating as they sound. In fact, you could do them in your living room! She uses handheld weights, weighing anywhere from 4 to 10kg, and boosts her core with a physio ball.
Calorie control
Kimberley is a big fan of the SlimFast plan, for which she is a brand ambassador, and loves the ease of their calorie controlled meals and snacks with minimal prep.
'The shakes are great when I'm working out because they're high in protein. I always thought I'd struggle with a diet plan that only has sweet food. SlimFast snacks suit me because there are savoury options. My favourite is the Spicy Thai Noodles, at only 70 cals,' she added to Fit & Well.
She also spiralises veg to save calories on heavy carbs like pasta, and it seems her healthy habits are rubbing off on son Bobby 'He'll happpily sit and eat an avocado,' she reveals. 'I hadn't even tried one as a child!'
Patience, not pressure
Kimberley, who gave birth in September 2014, openly admits that she gained three stone during her pregnancy, but 'didn't want to put myself under pressure to snap back into shape.'
'Before I had Bobby, I'd never really struggled with my weight. Being in the band [Girls Aloud] and Strictly, I was able to maintain my weight and shape through exercise and dance routines,' she told MailOnline in August 2015.
'Whilst the first two stone came off quite easily, I really struggled to shift the last stubborn half a stone or so.'
However, a slow, steady weight loss and consistent training regime has meant that Kimberley has managed to achieve her goals, without obsessing over her body.
'For me, it's not about being thin - I like having shape and definition,' she tells Fit & Well.
Comfort zone
In January 2016, Kimberley tied the knot with long-term partner Justin Scott, but even then, she didn't go mad with her diet and exercise routine.
'I want to look like myself on my wedding day, I don't want to lose loads of weight,' she said before the wedding. 'I feel like it would be a bit strange to look completely different.'
'I think a lot of brides lose a lot of weight through stress, so I suppose that's out of my control, but I'm not going to go on some mad diet to look the thinnest I've ever been.'
While she used the SlimFast plan to retain her post-baby weight loss before the big day, Kimberley said she was comfortable with her size 10-12 figure.
'I'm a size 10 and I feel really comfortable. Sometimes I'm a 12 on the bottom, which is fine because that's just my shape.'
'I definitely feel happy and content in myself if I'm at a weight I'm comfortable with. My life doesn't revolve around what I look like and how much I weigh, but it takes that added pressure off.'
Try Kimberley's favourite exercise moves and read the full interview in the new issue of Fit & Well, out now only £1.99
Trusted, informative, and empathetic – GoodTo is the ultimate online destination for mums. Established in 2007, our 15-year-strong archive of content includes more than 18,000 articles, 1,500 how-to videos, and 7,000 recipes.