'This is what my breast cancer looks like': Woman's Facebook photo of symptoms goes viral
'I felt no lump. The GP felt no lump.'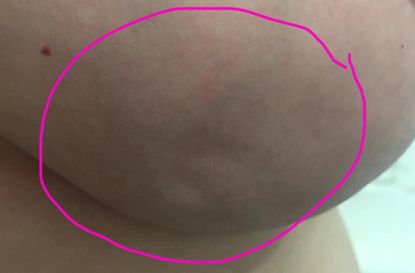 A woman's Facebook picture has gone viral after depicting lesser-known symptoms of breast cancer.
Kylie Armstrong, from Melbourne, Australia, posted the image, which shows three small dimples underneath her breast, to her personal Facebook page in late February, writing alongside:
'Please take a good look at this photo.
'These 3 very, very subtle DIMPLES on the bottom of this breast are a sign of BREAST CANCER!'
'This is what MY BREAST CANCER looks like.'
'I felt no lump. The GP felt no lump.'
'However, she listened to me when I said my breast looked different to usual and when I raised my arm I could see very, very feint dimples on the underside of my breast.'
'The GP sent me for a mammogram to be sure. It wasn't obvious on the scan so they sent me for an ultrasound. The ultrasound found the cancer deep in my breast close to the muscle.'
https://www.facebook.com/photo.php?fbid=1077848462238072&set=a.659702570719332.1073741826.100000387859109&type=3&theater
'These 3 dimples have turned my world and my families world upside down.'
'We are shocked, we are numb, we are emotional, we are sometimes ok, we are pretending it's not happening, we are trying to absorb information, we are dealing with tests, we are crying, we are trying to continue as normal.'
'We are angry, we are sad. We have more questions than answers. We are doing our best to cope.'
'The messages and phone calls to me, my husband and my children sometimes help and sometimes make us all cry.'
'I am sharing this because I hope I can make people aware that Breast Cancer is not always a detectable lump.'
'Please go straight to your GP if you notice ANY change in your breast. It could save your life.'
'Please share to spread awareness.'
https://www.facebook.com/photo.php?fbid=1065209953501923&set=a.149507465072181.24921.100000387859109&type=3&theater
People have taken Kylie's request to heart, as the picture has since been shared more than 62,000 times, and been seen by people around the world.
However, despite her good intentions, she was shocked to find that the image had been reported to Facebook for containing nudity.
'To the person who reported this: I really feeling like going off my nut at you, but you are clearly heartless and have no compassion or regard for anyone else, so what would be the point,' she wrote in response. 'You are obviously untouched by Cancer and don't care if anyone you love has symptoms they may be unaware of. I am not wasting my energy on you.'
Facebook later made the decision to keep the photo online, and comments have continued to pouring in in support of her brave message.
'Thankyou for sharing to make people aware, we went through this last year with my mum but thank the lord she got the all clear,' wrote one wellwisher, whilst another added, 'Thank you for sharing. You're so lucky you have a competent and understanding GP. I wish you all the strength and determination to fight this and you will.'
The symptoms of breast cancer every woman should know about
Do you know how to check your breasts? Here are the symptoms you need to look out for
The NHS lists the symptoms of breast cancer as:
a change in the size or shape of one or both breasts discharge from either of your nipples (which may be streaked with blood)
a lump or swelling in either of your armpits
dimpling on the skin of your breasts
a rash on or around your nipple
a change in the appearance of your nipple, such as becoming sunken into your breast
If you notice any of these symptoms you should visit your GP.
If you or someone you know currently has breast cancer and needs advice or support, visit breastcancercare.org.uk.
Trusted, informative, and empathetic – GoodTo is the ultimate online destination for mums. Established in 2007, our 15-year-strong archive of content includes more than 18,000 articles, 1,500 how-to videos, and 7,000 recipes.