'Having a hysterectomy was the best thing I have ever done' - Linda Lusardi opens up about cancer scare
The 57-year-old has spoken about about the moment doctors found a tumour the size of an orange in her stomach.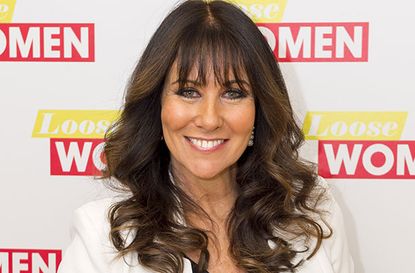 Seven months after doctors found a tumour the size of an orange in Linda Lusardi's stomach and she made the decision to have a hysterectomy, the star has revealed that it was 'the best thing she's ever done'.
The 57-year-old actress, who played Carrie Nicholls in Emmerdale, as well as appearing in Brookside, Hollyoaks and the Bill, said that she immediately feared that she had cancer (opens in new tab) when she saw the size of the growth.
After seeking medical advice, Linda was later told that she didn't have cancer, and had a hysterectomy to remove the tumour. 'I didn't cry at first. I was just taking it all in,' she told the Mirror. But seven months later and Linda says that 'having a hysterectomy was the best thing I have ever done'.
The mum of two told the Mirror, 'All the side-effects have been positive. I lost weight straight away – about seven pounds. My legs have become slimmer and I've got the flattest stomach I've ever had.
'I have more energy, my clothes fit better and I'm back to the size I was five years ago before this thing started to grow inside of me.'
What's more, it seems Linda's sex life has even improved, 'I used to have a little bit of pain' she admitted, but 'now it couldn't be better'.
Looking back to her diagnosis, the worst part was worrying about her children and family. 'I got in my car to call my husband Sam. When I heard that word "tumour" coming out of my mouth, it really hit me.'
'All sorts goes through your mind. You think: "What will my family do if I die?"'
The discovery was all the more poignant as Linda's close friend, Bernie Nolan (opens in new tab), passed away from cancer two years ago, aged 52.
Fearing the worst, she hid her symptoms from her children Jack and Lucy while waiting for her initial scan. She even told daughter Lucy she was having an MRI.
Linda initially hid her health scare from children Jack and Lucy, pictured above
'I tried to block it out and keep busy but it was a constant worry. There's no history of cancer in our family. I've had eight benign cysts drained from my breasts.'
'I've had that fear of thinking I could have cancer before with them so you try not to stress.'
'But at the back of your mind you do wonder, "What if this time my luck's run out?" It was like this alien was growing inside my stomach.'
However, after the diagnosis, a large but benign fibroid, Linda made the decision to undergo a hysterectomy.
'I was told I could live with the lump as it wasn't life-threatening, but it wouldn't go away and could get bigger,' she explained.
'I was given the option to have it taken out but as I'd been through the menopause I was told a hysterectomy was another option. I've had my kids. Having everything taken out down there didn't bother me. I just wanted to get rid of the lump so I went for the hysterectomy.'
She spent three days in hospital for the three-hour operation, and will now spend six weeks recuperating at home.
'I know how lucky I am to have been given good news,' she added. 'I can't wait to get back to being a bossy boots and running the house.'
Trusted, informative, and empathetic – GoodTo is the ultimate online destination for mums. Established in 2007, our 15-year-strong archive of content includes more than 18,000 articles, 1,500 how-to videos, and 7,000 recipes.