'Food is my drug!' Nadia Sawalha opens up about her battle with binge eating disorder
'Some people turn to gin, I turn to food'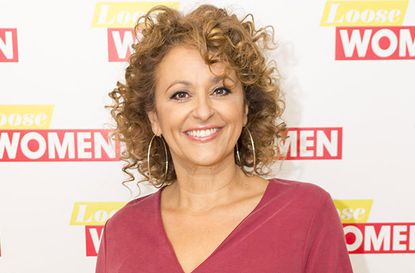 Loose Women favourite Nadia Sawalha has opened up about her eating disorder, admitting that food is her 'drug'.
Nadia confessed that she's addicted to food and struggles with binge eating (opens in new tab) - turning to food in the way that some others turn to alcohol when they're feeling down.
Speaking out about her struggles, the 52-year-old told Best magazine: 'Some people turn to gin, I turn to food!'
'It's what I call "emotional eating". You can be addicted to anything - alcohol, sex... But people don't seem to agree that you can be addicted to food.
The mum-of-two added: 'I am happy now but every day I meditate and exercise - I have things in place to help me stay on track.'
Nadia also confessed that it wasn't until she attended an Overeaters Anonymous meeting that she realised it was a 'thing'.
'It doesn't mean I never binge, but it doesn't get a grip on me like it used to, because I recognise it,' she said.
Nadia now takes measures to prevent her binges before they happen, admitting that she can't keep digestive biscuits in the house because she'd "scoff the lot".
But she says it all stems from mental issues of self-loathing, and she worries that her daughters may inherit an addictive personality from her.
In the past Nadia has confessed that she once tried to eat a duvet while doing the Atkins diet because she was so hungry.
She confessed: 'Once when I went on the Atkins diet, I woke up in the middle of the night and I was trying to eat my duvet because I was dreaming it was a naan bread.'
Speaking to The Sun newspaper, she added: 'I don't believe in diets in how we have come to understand them, which is that you go on them and then come off. I dieted my way to obesity.'
Nadia has publicly battled with her weight for years, fluctuating between dress sizes
It isn't the first time the mum-of-two has spoken about her battle with her weight, previously admitting that she was a 'compulsive eater'.
Nadia once again opened up about her experience with emotional eating (opens in new tab) on an episode of Loose Women in February 2016, explaining, 'For years from a child I was a compulsive eater. I have that language now - I know I'm a compulsive eater and I use binge eating to suppress my emotion.
'I'm a very happy person, had a very happy childhood. I love my life but I also had a long period of my life where my eating was out of control. Not in the way that somebody might just overeat and be a bit greedy. I ate to shut up things that I didn't want to feel or low self esteem.'
'I grew up with incredibly low self esteem about my body,' she added. 'I used to cry about how hideous I thought I was. I always used to do this thing where I'd overeat. And when I say overeat - where somebody would come in feel a bit down and have a couple of slices of toast. I'd have the whole loaf.
'I would have to scrape things in the rubbish and pour washing up liquid over it so I couldn't [eat it].'
'I discovered what I was doing wasn't the norm. The way that I was eating wasn't that I was greedy or ugly or whatever, it was just that I was using food to shut myself up.'
What is compulsive eating?
Compulsive or binge eating is defined by the NHS as 'an eating disorder where a person feels compelled to overeat on a regular basis through regular binges.'
Compulsive eaters regularly overeat even when they are not hungry, sometimes to the point of pain, and often eat alone to avoid the feelings of embarassment and guilt they feel afterwards. Anyone can develop binge eating disorder, but it is more common in women than in men.
The condition often stems from low self-esteem or self-confidence, and can also be associated with depression (opens in new tab) and anxiety (opens in new tab). Your GP can identify whether you have binge eating disorder, and there are a range of treatments available.
Group support from Overeaters Anonymous, like Nadia receives, is just one of the options - sufferers may also benefit from self-help programmes, individual psychological therapy, or, in some cases, even medication.
If you think you may be a compulsive eater, visit your doctor to discuss your options and the support available.
Trusted, informative, and empathetic – GoodTo is the ultimate online destination for mums. Established in 2007, our 15-year-strong archive of content includes more than 18,000 articles, 1,500 how-to videos, and 7,000 recipes.