Natural remedies for hair loss: How to treat thinning hair
If you're suffering from hair loss or thinning hair there are a number of natural remedies you can try - say hello to thicker hair with these solutions!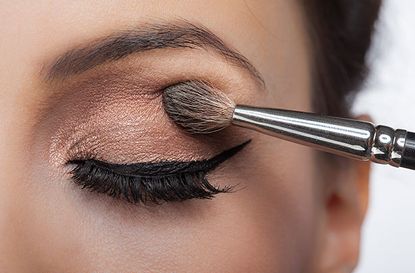 If you're suffering from hair loss or thinning hair there are a number of natural remedies you can try - say hello to thicker hair with these solutions!
Natural remedies for hair loss are a great alternative treatment. Instead of always reaching for the medicine cabinet to deal with long-term conditions such as thinning hair or female baldness, go natural.
Hair loss remedies come in all different shapes and sizes. These include vitamins for hair loss, herbs to help with hair growth and even shampoos to combat thinning hair - so there should be something for everyone!
What causes hair thinning?
Although the causes of hair loss are often hard to determine, things such as pregnancy, being a new mum, ageing, symptoms of stress (opens in new tab) or anxiety (opens in new tab), or alopecia (opens in new tab) could be making your hair look and feel thinner than it used to.
Feeling like your hair is thinning (opens in new tab) can be a horrible feeling, especially when worrying about it can be another trigger for your hair thinning even more so - it's a vicious cycle. And we're often guilty of falling into traps where we think we're helping our hair (e.g. bleaching or getting high lights to make it look fuller) but actually these 'tricks' can be even more damaging to our delicate locks.
What helps thinning hair grow back?
From dietary ideas to simple life hacks, we've rounded up our top hair tips on combatting thinning hair, so you'll be feeling back to your thick-hair best in no time!
Although if you're particularly worried about hair loss over a long period of time, it's always advisable to go and see your doctor, they may refer you for another type of treatment.
See our best natural remedies for hair loss...
Natural remedies for hair loss: Eye shadow
It may sound silly, but eye shadow doesn't just need to be for your eyes. According to leading hairdresser Anthony Nadar, putting eye shadow on your roots is a great way to make your hair look thicker and give it a bit of life!
Simply find the palette that best matches your own hair colour and apply it to your hairline to boost thickness and cover up any of regrowing roots.
He says: 'Give this technique a go for those of you that have either a super iridescent scalp, or the other reason I love this is that it makes even the finest of hair strands appear thicker on the roots & hairline so your scalp doesn't appear like your strands are lack lustre nor thick...'
Okay, it may not last forever, but this handy trick is a quick and easy way to give your hair a bit more volume exactly when you need it.
Natural remedies for hair loss: Massage your scalp
Next time you are washing your hair in the shower or bath, instead of just applying the shampoo and conditioning products and rinsing off, take a few minutes to give your scalp a relaxing rub. A quick massage while your conditioner is sinking in will bring the blood to the surface, kick-starting hair growth.
We love a natural remedy for hair loss that also doubles up as a home spa treatment - maybe you could even persuade your partner that this cure for hair loss works better when someone else does the massage?
We recommend massaging with lemon juice or olive oil which will lift dead skin and other nasties from the scalp.
Not only does it remove debris but a scalp massage will provide a moment of relaxation and lower stress levels, which we all know is another major cause of premature hair loss and thinning hair.
And the natural treatments do not end when you leave the shower, make sure to be kind to your hair when it's wet too - forcing a comb through the ends is painful for a reason!
Natural remedies for hair loss: Change your shampoo
The best shampoo for thinning hair might not be the one you have in your bathroom cabinet - it is worth thinking about the time you last changed your brand of shampoo and whether that had an impact on hair loss or hair thinning.
The effects of hair loss is most noticeable just after you've washed your hair when it is wet, and there may be a reason for this because you are aggravating in the shower.
A good way to test your shampoo is to think that losing up to 50-100 strands of hair a day is completely normal but if you think it must be more than this then it could be a reaction to your shampoo.
So try swapping for a new one until you find something that works. Some also claim that rinsing thin or fine hair with cold water after washing will close the hair cuticles and help hair to 'swell' and therefore look thicker.
Natural remedies for hair loss: Unplug the straighteners
Instead of trying to treat the hair loss once it has happened, get ahead of the damage by removing intense heat from your daily hair-styling routine. Or at least reducing it, if you can't bear the thought of ditching the tools forever.
It is true we're all guilty of overdoing the hair-dryer and straighteners, but too much heat can really frazzle your hair follicles, causing frizz and breakage.
Give your locks a break by air drying without styling products once or twice a week. Turn down the heat setting on your hair-dryer too - the highest setting on most straighteners is far too hot for your hair - a gentle heat will smooth without stripping. Then blast your hair with some cold air to seal in shine.
Natural remedies for hair loss: Use the right products
Hair products may not directly be causing hair loss or thinning on the scalp, but they could be making your hair appear thinner and more damaged than it needs to by weighing down the remaining hair you have.
For example, if you have thin hair and you're trying to combat it by laying on product after product, this could only be adding to how it looks and feels. Instead you should try different volumising shampoos to see what works for you, and a volume-enhancing root-lift spray when you blow dry your hair.
Dry your hair (on the lowest setting) with a round brush up and away from your head to create volume, or give the heat a break altogether and try air-drying your hair. Remember to avoid styling products which could add weight, like serums and leave-in conditioners.
Natural remedies for hair loss: Eat properly
One of the biggest causes of hair loss can be something as simple as a lack of the correct vitamins and nutrients in your diet, caused by skipping meals or eating a limited range of foods. You also need to be getting your five a day, not just for hair loss, but for so many bodily functions.
Although it can be difficult when we're all so busy, it is really important to take steps to try to eat healthily throughout the day - this isn't about dieting, it's about getting a wide range of foods into your diet to provide yourself with the essential nutrients.
Iron-rich foods such as liver, kidney, bran flakes and soya products all contain high levels of iron, whilst Brazil nuts or a few carrot sticks are just some healthy snack ideas (opens in new tab) that will boost lank locks.
Getting more protein into your diet by eating more protein-rich foods (opens in new tab) can also make a huge difference to how thick your hair looks and feels. Up your protein levels by stocking up on lean meat like chicken or turkey, with leafy green veg for a tasty, cheap lunch. Eggs, brown rice and low-fat yogurt are also family-friendly options.
Natural remedies for hair loss: Pop a vitamin
Vitamins for hair loss are a great way to tackle the problem from the inside rather than the outside and also help your body in a whole host of other ways.
Healthy hair needs a combination of vitamins and minerals including zinc, vitamin A, calcium, iron and B vitamins and busy lives mean we could all do with a little vitamin boost from time to time.
Don't be tempted by expensive branded 'hair vitamins', a good multivitamin will work just as well. Check the back of the packet to find out what they contain but if you can get a good balance of calcium, A and B vitamins that is worth the investment.
Natural remedies for hair loss: Avocados
As much as you try and later your diet to be healthier and well-rounded, we all have those days sometimes where we can't choose a carrot over a packet of Doritos and a glass of wine.
So instead of throwing in the towel and accepting defeat, turn an avocado into a home-made hair mask to treat thinning hair. That way at least you can take the nutritional beauty benefits of avocado - it can moisturise and thicken your hair - even if you can't face eating it.
For the best home-made hair treatment all you need to do is simply mix one mashed avocado with a mashed banana and a tablespoon of olive oil, rub it into your scalp then leave it for around half an hour.
Rinse off and voila - shinier, healthier locks!
Natural remedies for hair loss: Go easy with the hair dye
Although grey roots combined with hair loss can have a real impact on your self confidence, trying to disguise greys or grey roots can make hair thinning even worse - a vicious downward spiral.
Before starting to dye your hair, always make sure you ask for a patch test, especially if you are regularly changing between dye brands or colours. During the hair dying process make sure you really follow the instructions on the home dye kits to reduce any potential damage or side effects.
If you think that you are suffering hair loss in greater quantities just after dying your hair then this could be an allergic reaction to the chemicals and you should speak to your hairdresser.
Natural remedies for hair loss: Chat with your GP
Relying on hair loss remedies often leads to people trying to find a cure for hair loss without knowing what the root cause of the problem is.
Indeed hair loss isn't uncommon, especially during stressed periods or if you're feeling a bit run down, but this should only be for brief spells and should correct itself long-term. These natural remedies are good short-term solutions to help.
However if the hair loss is really affecting your mental state or has been prolonged, you should visit your GP - it's best to make sure it isn't a side effect of a bigger problem. Your doctor will be able to run a few tests and put your mind at ease.
Hair thinning can sometimes be caused by the contraceptive pill or medication, so don't be afraid to raise any concerns.
Jessica Dady is Senior Content Editor at Goodto.com and has over 10 years of experience as a digital journalist, specialising in all things food, recipes, and SEO. From the best food hampers to cookbooks, from the best cake stands to baking sets, Jessica has a wealth of knowledge when it comes to must-have food products. A passionate baker, she spends much of her time creating celebration cakes for friends and family - particularly for her two lucky children.