One-day 'fast-fix' diet plan to get your healthy eating back on track
You can remedy your overeating quite simply if you wish, with a healthy, low-calorie day, to get your body back on track.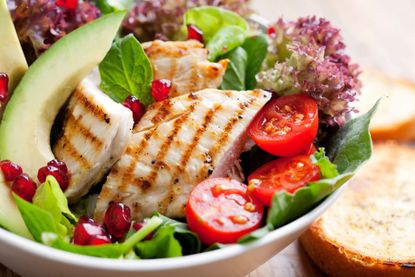 Goodto Newsletter
Parenting advice, hot topics, best buys and family finance tips delivered straight to your inbox.
Thank you for signing up to GoodTo. You will receive a verification email shortly.
There was a problem. Please refresh the page and try again.
We've all been there – an afternoon spent baking the perfect banana bread to have with your cuppa, or an evening settling in with pizza for a virtual catch-up with friends. Suddenly everything's feeling a little bit tight.
So if you're looking for a fast-fix diet that works, you've come to the right place. We understand though, it's easy to fall off the healthy eating wagon, or deviate from your diet commitments. And it's often fun, too.
But, if you're trying to lose weight, be careful not to let those indulgent meals and nights on the wine take over your eating routine in the long-term.
You can remedy your overeating quite simply if you wish, with a healthy, low calorie meals, to get your body back on track.
Our delicious one-day 'fast-fix' plan will add up to around 800 calories a day, which is about half of what an average woman needs to maintain her weight – so you're more than making up for a 'bad' day or weekend.
What can I eat on the fast fix diet plan?
Breakfast: make it simple
100g blueberries with 150g low-fat plain yogurt.
Scrambled eggs made with 2 beaten eggs and a splash of skimmed milk, served with some grilled tomatoes.
2 boiled eggs and a small glass of orange juice.
2 oatcakes and 2tsp low-fat peanut butter.
A cereal bar with 1 banana.
Lunch: keep it light
Pastrami deli wrap
On an 8in tortilla wrap, layer 40g low-fat cream cheese, 2 slices of pastrami, 1⁄2 red pepper cut into strips, 1⁄4 cucumber, diced, 1⁄4 red onion, sliced, and 1 slice of low-fat Cheddar cheese.
Jacket potato with creamy tuna Mix 100g tuna in spring water with 1⁄2tbsp low-fat mayonnaise, add a pinch of paprika, plus 1 celery stick, 1 spring onion and 1⁄2 red pepper – all chopped. Add filling to 1 small baked potato. Serve with salad leaves.
Italian tricolore salad Layer 1⁄2 avocado,10 cherry tomatoes, 1⁄2tsp olive oil, 1tsp balsamic vinegar, 40g mozzarella cheese; drizzle with 1tsp oil and vinegar.
Or one of the following...
4 oatcakes, 1tbsplow-fat houmous, carrot and cucumber sticks, and 5 cherry tomatoes. 4 Ryvita, 2tbsp low-fat cream cheese and chives, topped with 50g cooked prawns Roast beef (wafer thin) sandwich with rocket, horseradish and beetroot. A pack of vegetable sushi A bowl of ready-made fresh soup
Dinner: watch your portions
Chicken stir-fry 120g lean chicken breast, cut into strips, soy sauce, and 200g frozen stir-fry veg.
Steak supper 100g fillet steak, grilled, with a small baked sweet potato, and grilled tomatoes and mushrooms, sliced.
Mushroom risotto Put 100g mixed mushrooms, sliced, on a baking tray, spray with oil and roast in the oven for 15 mins. Meanwhile, spray a little oil in a pan and soften 1⁄2 onion, chopped,1 celery stick, chopped, and 1 clove garlic, crushed. Add 30g risotto rice to the pan, and cook for 2-3 mins; gradually add 150ml hot chicken stock, stirring. When all the stock has been absorbed by the rice, add the mushrooms and a handful fresh basil leaves, torn.
Pasta and prawns Cook 50g wholegrain spaghetti, immediately add 2tbsp low-fat cream cheese with garlic and chives, 40g cooked prawns and 60g cooked frozen peas, and return to a very gentle heat to allow the cheese to melt into a sauce, and the peas and prawns to heat through.
Quick chicken fajitas Spray a spritz of oil in a pan, add 1 chicken breast, diced, and cook for 10 mins. Add a small tub of ready-made salsa to the pan, with 1⁄2 pepper, sliced, and 1⁄2 onion, sliced, and cook for a further 5 mins. Divide the chicken mixture between 2 tortillas, top with a little grated cheese and some coriander.
Baked cod with ratatouille Wrap 1 cod fillet with a slice of lemon and some mixed herbs in foil and bake for about 20mins. Spritz a little oil in a pan and soften 1⁄2 onion, chopped, and 1 garlic clove, crushed, then add a small can chopped tomatoes, 1⁄2courgette, sliced,1⁄2red pepper, chopped ,and 3 mushrooms, sliced. Simmer until the cod is cooked.
These are just some of the options for what to eat on a fast fix diet plan.
Video of the Week
Parenting advice, hot topics, best buys and family finance tips delivered straight to your inbox.
Rose Goodman joined Future Publishing in 2020 and writes across Goodto.com, Woman & Home, Woman, Chat and Woman's Own magazines. Prior to pursuing her career as a writer, Rose obtained a degree in psychology and went on to work in adult mental health for five years at Addenbrooke's Hospital, Cambridge, specialising in eating disorders. She is fully trained in first aid, medical emergency response and motivational interviewing – a directive, patient-style counselling approach to address ambivalence in recovery. She graduated with a MA in creative writing from the University of Brighton in 2017. In her spare time she enjoys writing poetry and attending literary events, and offers weekly support to those living with homelessness. Rose has a passion for raising awareness around mental illness and the importance of prioritising our wellbeing.