'I can't accept myself if I'm over 200lbs' Oprah Winfrey talks honestly about her weight loss struggle
...and the reason why she's no longer a slave to the scales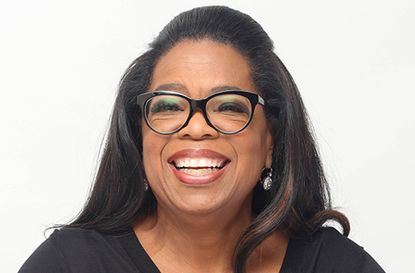 (Image credit: Startraks Photo/REX/Shutterstock)
Goodto Newsletter
Parenting advice, hot topics, best buys and family finance tips delivered straight to your inbox.
Thank you for signing up to GoodTo. You will receive a verification email shortly.
There was a problem. Please refresh the page and try again.
Oprah Winfrey opened up about her battle with her weight, and revealed the number on the scales that she feels comfortable at these days.
Since joining Weight Watchers in 2015 (after buying a 10% stake in the same year) Oprah has lost a whopping 40lbs, or more than two-and-a-half stone.
She's not only followed their program, she's also spoken of how she's shifted the focus of her goals, and said in a recent interview with New York Times Magazine that she doesn't care if she is ever skinny again, so long as she is in control over her body and her diet.
'So all of the people who are saying, "Oh, I need to accept myself as I am" - I can't accept myself if I'm over 200 pounds [equivalent to around 14 stone], because it's too much work on my heart.
'It causes high blood pressure for me. It puts me at risk for diabetes, because I have diabetes in my family.'
The 63-year old knows that, for her, exercise is needed alongside diet... 'For your heart to pump, pump, pump, pump, it needs the least amount of weight possible to do that', she added
'This whole accepting yourself as you are - you should, 100 percent. It actually is, for me, mindful eating, because the [Weight Watchers] points are so ingrained now.'
Want to follow in Oprah's healthy footsteps? Here are the secrets to her success...
Make sure your weight loss program is the right fit
Oprah has frequently talked about her struggle with her weight on her talk show, The Oprah Winfrey Show. On what would be her most viewed episode in 1988, she revealed that she had lost a whopping 30kg, and wheeled out 30kg of fat on a wagon to show exactly how hard she had worked.
At the time, Oprah had slimmed down thanks to a liquid diet, fasting and exercise.
Image: Rex/Shutterstock Oprah in 1988
'What I did was I fasted for - without cheating - for a solid six weeks' she said at the time.
'I want you to know whatever diet you choose - and this audience is filled with people who've had great successes - you can do it with the help of your family doctor and if you can believe in yourself and believe this is the most important thing in your life, you can conquer it because if I did it, you can do it.'
However, Oprah evenutally found that the lifestyle she had adopted to lose weight just wasn't realistic in the long run, admitting that she began binge eating almost immediately after fasting.
'In all, I have gained 17 pounds of the 67 pounds I've lost this year,' she said. 'It is still a battle I am fighting every waking moment of my life.'
Image: Rex/Shutterstock Oprah at the Oscars in 2015, and in January 2017
Since then, Oprah's weight has fluctuated, but she says nothing has worked for her as well as her current regime has. After realising that she had an addiction to food, she began looking into the psychology of what brings people to overeat, and took a look at her own approach to goal-oriented weight loss.
Prioritise your reasons for slimming down
Oprah told Weight Watchers magazine that the initial thing she needed to sort out in her weight loss journey was to find her 'intention' for slimming down.
'Intention is the most powerful principle that rules my world. It's the principle by which I rule my company and every action in my life. I do nothing without first thinking about why I'm doing it.'
Image: Rex/Shutterstock Oprah winning an Emmy Award in 1991
She explained in the interview how a common mistake people make with weight loss is doing it for everything else except for themselves.
'When the weight started to come off, I needed to get clear on my intention. I could lose weight to fit a dress size, or attend an event, or to make other people like me.
'But I couldn't keep it off for those reasons. I always put the weight back on.
'This time I changed the intention to, "I want to be the healthiest I can be - physically, emotionally, spiritually". So the process and purpose of losing shifted for me. It was easier, because my intention was clearer.'
Image: Rex/Shutterstock Oprah in 2013
Lose those numerical goals
Although she says she comfortable under the 200lb mark these days for the sake of her health, Oprah previously told Weight Watchers that the moment she stopped measuring her worth by the number on the scales, her outlook was immediately freshened - leading her to live more sustainably and realistically.
Image: Rex/Shutterstock Oprah in August 2016 - when she claimed she hadn't lost weight during the entire summer
'I lost at a steady pace and then went through this whole summer without losing a pound,' she said in her interview.
'That was OK because I was so happy with my life. There was no longer a sense of urgency to just lose the pounds; there was now a strong desire to be fully present and savour every meal.
'I focused on what I was eating and appreciating my life. Isn't that what everyone is looking for?'
Image: Rex/Shutterstock Oprah in 2008
'At 200 lbs. (90kg), I was OK. I have never, ever, ever been at that point. And then at 190 lbs. (86kg), I was OK. If I don't lose another pound right now, I'm still OK,' she continued.
'The fullness of life, the fullness of being, the self-acceptance - I'd never done that before. I'd always beaten myself up because I was tied to a number.'
Oprah also explained to the magazine how she grew tired of making promises to herself that she didn't realise she could fulfil long term.
'It was frustrating to promise myself "I'm going to do it today, I'm going to do it today" and then not stick to my plan,' she said.
Image: Rex/Shutterstock Oprah in January 2017
'So I shifted. Now, I don't have a goal in mind. I get to a certain weight and I'm OK, and say, "This is where I want to be. Hang in there. I'll get there when I get there". And my body will tell me when I am exactly where I need to be.'
Parenting advice, hot topics, best buys and family finance tips delivered straight to your inbox.