Training, fundraising and running: Everything you need to know about Cancer Research's Race For Life
Get fit AND do your bit for charity by taking party in Cancer Research's Race for Life. Here we'll tell you how to get involved and even help you plan your training.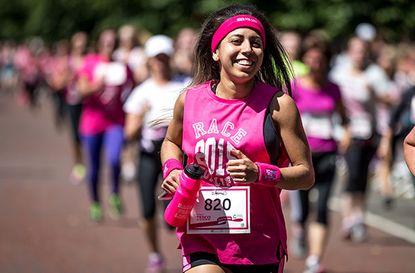 Many of us have been touched by cancer in some way or another - but you can do your bit by helping to raise money for Cancer Research. Not only that, but you can get fit in the process!
Race for Life is one of Cancer Research's biggest events of the year, but they need your help to make a difference. Getting involved is easy and your contribution is so valued - you'll be helping to save lives.
What is Race for Life?
Race for Life is an event where women of all ages and fitness levels walk, jog, run or even dance (yes, dance!) 5k or 10k, or take part in their new Pretty Muddy 5k obstacle course to climb, jog and walk, all to raise money for Cancer Research.
Where can I do it?
There are almost 300 events taking place across the UK - around 200 events are 5k, while this year there are more 10k events than ever before, so those looking for more of a challenge can get involved. Find your nearest event for more details of when and where you can take part.
How can I get prepared?
If you're unsure of where to even get started with the training, panic not! Our 5k training plan takes just 30 days to complete and will help to you to feel stronger, fitter and ready to take on the challenge.
Not up to running? Try Race for Life's Official Fitness Expert, Lucy Wyndham-Read's walk and talk training plan:
Walk and talk
'Walking is a great form of exercise. You can do it alone or with friends and it is simple, so simple in fact that this rule applies - the more you do it the healthier you will become and it doesn't have to feel hard. In fact the reason we call it the WALK and TALK programme is because if you can comfortably talk when you are walking you know that you are not working too hard,' Lucy explains.
For 6 weeks before the Race for Life you want to go walking to start with for 60 mins per week and then by the 6th week 100 mins. You can do a little every day or spread it out over 3 days of the week. You can of course build your walking into your daily schedule. You could perhaps walk with the children to school instead of taking the car or get off your bus 2/3 stops early. The most important thing to remember is that to improve your fitness you want to be walking faster than you normally do.
Here is an example of how a week might look:
MONDAY Got off bus early 10 minutes TUESDAY Walked around park at lunchtime 15 minutes WEDNESDAY Raining THURSDAY Walked around park at lunchtime 15 minutes FRIDAY Busy all day SATURDAY Walked into town 20 minutes SUNDAY Lazy day TOTAL TRAINING 60 minutes If you find you are doing more minutes than the weeks target that's fine. It means you will be more prepared for the race! Just make sure you spread your training throughout the week rather than doing catch-up at the weekend.
Stretches
5-MINUTE STRETCHES Doing stretches before you exercise isn't very effective as stretching works best when you are really warm, so save them for after you finish. Don't rush out of the house, though; start with five minutes limbering up shoulders, back, hips, knees and ankles or begin every exercise session with five minutes gentle walking. We really recommend you do these 5 stretches after every training session. You need to do each of the 5 stretches on both sides, and hold each stretch for at least 20 seconds. The simple rule is if you cannot feel it you are not stretching, so take it just to the point of tension then hold.
Quadriceps Stand up straight with your feet shoulder-width apart. Lift your right heel towards your bottom, taking care not to lock your left knee. To increase the stretch, gently push your right hip forward. Change legs & repeat.
Side stretch Start by crossing your right leg over to the left, lean to left and then stretch your right arm above. Change legs & repeat.
Glutes Stand with your feet shoulder-width apart. Place your right ankle across your left leg, just above the knee. Using a table or chair for support, drop your bottom to create a right angle with your left leg. You should feel a stretch in your right buttock. Change legs & repeat.
Calves Holding onto a support such as a chair or desk, stand with your feet a stride length apart. Your front knee should be bent and your back knee straight. Push your back heel into the floor to stretch your calf. To stretch your lower calf, bend your back knee towards the floor. Change legs & repeat.
Hamstrings Stand with your feet parallel, about a foot apart. Keep your front leg straight and bend your back leg. Push your hips back & away from your front foot. You should feel a stretch in the hamstring of your straight leg. Change legs and repeat.
Training tips
What should I wear?
You have 3 areas to think about - feet, body and skin.
Feet Wearing proper training shoes when you exercise is a great investment as they are designed for comfort, provide cushioning and above all help to prevent injuries.
Body Comfort is key. Most important is to ensure you're wearing clothing that's comfortable and allows you to move easily, and don't forget the value of a supportive bra.
Skin In the UK we take national pride in moaning about the weather so it's important to take care not to burn in the summer sun. Even on a cloudy day, make sure you slap on that sunscreen as those rays can still get through. If you can, try to avoid summer training from the hours 11am-3pm, when the sun is particularly strong. When you're out training between 11am and 3pm, protect your skin with clothes and a hat, and use factor 15+ sunscreen on areas it's not practical to cover.
Other things to consider
Drink Your Race for Life event may be on a hot day, so get used to drinking on the move in training by carrying a small bottle of water. Better still, two small bottles can double up as hand weights!
Speed We are all different, so when you are training, or on the day you should only think about your own pace. A good way of judging your speed is a 'talk test'. If you can chat to somebody as you walk or run you have the pace pretty much spot on.
Motivation
Over the past 20-plus years, more than 7 million women have taken part in Cancer Research UK's Race for Life, raising over £526 million to fund the charity's life-saving work. The money is helping to change people's lives. By entering Race for Life you have taken the first step, but by getting friends and family involved in fundraising you will be even more successful.
Pick an event Knowing the date and place makes it real. TELL PEOPLE they can join you, help you, cheer you on and, importantly, sponsor you.
Start training The programmes are designed for the last 6 weeks leading up to the event, if you have more than 6 weeks to train do weeks 1-6 then repeat weeks 5 and 6 until the event day.
Write it down If you write things down you are more likely to achieve them. Make a note of when you are going to train, that way it is an appointment at a specific time.
Be inspired The Race For Life website has many inspirational stories from women who have taken part in the Race for Life and in particular a section written by cancer survivors. If you read their stories you won't think twice about sitting down to watch telly when you had planned to go training. It's also worth visiting the Race For Life Facebook page and joining the community, especially if your motivation is flagging.
The GoodtoKnow girls run the 5k Race for Life events every year - and they love it!
Important note: We advise you to check with your doctor before starting any type of exercise programme. If you, or any member of your family have diabetes, high/low blood pressure, a history of heart disease or high cholesterol, you must obtain clearance from your doctor.