'My boyfriend won't stop cheating!'
Like John Terry's wife Toni, Emma's life is being torn apart by her partner's cheating. She needs your relationship advice!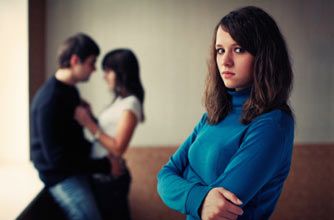 Emma needs your advice about a man she's seeing who keeps cheating on her. Read her story and offer her your opinions
I used to date this guy, was at a low time in my life and hadn't been in a relationship really for 12 years. When I finally had the guts to go out in town, I met this guy on the first night. He said he was seeing someone, but it was nearly over, and would it be ok for us to be friends.
Anyway, I found out he was seeing at least two girls when he was with me but told me as we got to know each other the other girls would fade into the background (ok I know should have run then)!
We lasted two years, but there were so many lies. I remember him getting a few texts from other women, a phone call from some women saying: 'Are we meeting later Hun?'
He said although she was an ex, they were just friends and met up to go clubbing sometimes. He used to take another ex out for meals, and then would meet up on Sundays with another one! BUT he always told me they were just friends. And then one day I saw one of these women in his car, when he'd said he was at his daughter's house. I actually was on the phone to him when he said this, and then saw him arrive at his house with this woman. I found out they'd just been out for a meal!
On another occasion I met two women in a bar and as they were a bit older I said jokingly to my friend: 'Bet he'd like them!' I then found out he already had one of the women's numbers and took them out for cocktails one afternoon. One of these women then texted him when we were having sex and he actually stopped to text her back... twice!
Again he states they are only friends. But I went through months of torment. I was at an all time low and even went on anti-depressants, but I stayed with him as I believed some love is better than being alone again for so many years.
Now a few months on he says he wants to try again. We had weeks of talks and I kept asking him 'Are you going to be faithful?' Then a few weeks later he admitted he wanted to see other women too! So I told him it was over.
There were other incidences too, but the recent thing is that he's now saying he loves me and wants to be with me. He says he's changed and that he loves me and then pleaded me for weeks to give him the chance to prove he has changed. I kept repeating 'If these women are still around, I DO NOT want to know!' He never really answered my question so I had a feeling they must be.
I went round his house to talk about our future and low and behold there were birthdays cards to him from these women! So he'd lied to me - well not lied but deliberately withheld the truth! He said he will tell them to leave him alone, as it's me he wants. But then he decided he wouldn't do this, and said he wants to keep one as a friend! But the other one he admitted he used as a doormat and she was just sex on tap so he'd break it off.
A month on, excuses, no meets. He's decided he won't do this for me either, says he only chats on the phone, nothing more. And I should give him a chance to prove he has changed. Now he thinks he is right in this.
Has he really changed, already weeks of lies?! He was sleeping with these women behind my back, he even told me how good sex was with one of them! They cause destruction, harm, arguments, mistrust, loss of respect. Should I put up with these women still being around? One of them who he used to love although (arguably), I said ok have your contact, but the other he used for sex, I said had to go. He agreed to this but nothing happened again. Also, if he says he loves me so much wants our future together why when I tell him I can't cope, would he would actually walk away from ME...not THEM? He literally chooses them, over me! There are other women, I will never find out about! He knows I'm writing this and wanted me to say about all the abuse I give him. I say over and over his actions cause my reactions. I feel with his past history he needs to move heaven and earth for me to trust him again! Is that not understandable? He's positive I'm wrong for my worries and concerns, but I feel out of principle and respect I deserve better?
Honestly people I would like honest replies. Am I wrong? Or am I right? What should I do? Thanks all x x x
Give Emma your advice by commenting below!
Where to next? - Reasons why men cheat - Cheating confessions