New study finds that women prefer to spend time with their friends over their husbands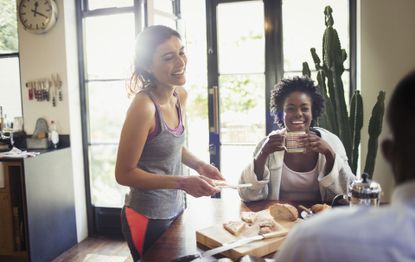 (Image credit: Getty Images/Caiaimage)
A news study has reported a surprising revelation about the difference between our relationships with partners and friends.
Growing up and looking for love, we would all expect that whenever we did find the person we wanted to spend the rest of our lives with, we would want to spend every spare minute with them.
Going on dates, cuddling up on the sofa, doing household chores together. We thought that they would all be our favourite things to do.
But a new study has revealed that we might actually have something else on our minds when we're spending this valuable relationship-building time with our partners.
New research carried out by Champney's Health Spa shows that women actually prefer to spend time with their best friends, rather than their husbands.
Results of the survey, which looked at over 1,500 women, showed that over 50 per cent of married women enjoy their time with their friends to their time with their husbands.
According to the survey, this is because the married women 'can talk about everything' with their friends as they 'listen more' than their partners do.
The study also revealed that a startling 44 per cent of the women surveyed said that they could tell their best friend things that they couldn't tell their husband.
Forty-one per cent of women said that the preference was due to the fact that they enjoyed doing the same things as their best friends.
This shocking revelation could also be down to the relationship changes that come with parenthood, including changes to couples' sex lives after having children.
Of course this could change if couples are aware of the time that they're spending together and put in effort to make some changes, like this five-minute relationship hack that could save marriages.
If you're not yet married these results may not be the same, as the survey only looked at married women, so it could be a whole different case.
Although the results did show that 30 per cent of the women would rather have a boozy lunch with their ladies than spend time with their husbands, and really who wouldn't want that?
Aleesha Badkar is a lifestyle writer who specialises in health, beauty - and the royals. After completing her MA in Magazine Journalism at the City, the University of London in 2017, she interned at Women's Health, Stylist, and Harper's Bazaar, creating features and news pieces on health, beauty, and fitness, wellbeing, and food. She loves to practice what she preaches in her everyday life with copious amounts of herbal tea, Pilates, and hyaluronic acid.