Is it EVER a good idea to give your partner permission to cheat?
We asked you on Facebook, and you had plenty to say...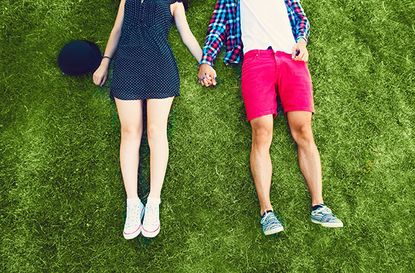 Would you ever give your partner permission to stray?
The subject is being debated after Loose Women panellist Saira Khan admitted that she'd given her husband Steven Hyde permission to sleep with another woman, after losing her sex (opens in new tab) drive and feeling as though she could no longer satisfy him.
'We used to have a fantastic sex life. I still love my husband, we cuddle up and it's lovely. We've been together for 11 years, but I'm not interested [in sex]. I don't want to,' she explained on the ITV show.
'As soon as he comes home, I panic and start saying, "I'm so tired!" I'm embarrassed to say this but I said to him you can go with someone else if you want.
'I want to make him happy. He'll kill me for saying this… Am I the only one?'
Saira's husband has since come forward to state that the pair don't have a particular agreement with regards to the matter, but the debate is still an interesting one.
We asked you your thoughts on Facebook, and you had a lot to say...
Brittney Swayze: Heck no! My man is MY man only, I don't share! If he feels the need to get satisfaction elsewhere and you feel the same way, you all just need to get a divorce right now. That's not happiness at all. That's cheating sorry but I wouldn't allow it! This woman isn't thinking clearly!
Sal Yong: I think that's pretty brave of her. She actually loves her husband and values his happiness. I would most likely do the same thing if I were in her situation.
Sherianna Rouf Mua: That's messed up if she was actually serious!! What kind of right minded woman talks that personally on television and would be OK with their spouse having sex with other women WTF I hope she was trolling!
Cassandra Jameson: That's a brave call from her - but how could you know your partner is being intimate with someone else and be comfortable with it? I couldn't but I hope it works out ok for them.
Pam Todkill: If a man loves a woman he will accept that she's off sex for a while and vice versa. If he plays away from home, his is worthless and she should get rid asap.
Nancybell Beattie: You are more than your sex drive. So is he. I pray that in his love for her is able to be openhearted to her pain and by showing her caring understanding is able to help her and be true to himself and the love they share. It is not a given that he will take advantage of her permission.
GoodtoKnow spoke to relationships expert Dr Pam Spurr, to see whether giving permission to cheat can ever be beneficial to a couple.
'It's never a good idea to make a rash decision about having a semi-open relationship to "solve" an issue like low sexual desire,' she says. 'Not only would that complicate an already difficult situation but there's potential for the partner who has sex with a third party to develop feelings for them. After all, the third party is giving them the sex they're missing in their relationship.
'Feelings of neglect and anger may linger about their partner and with passions running high in their fling it looks like a great option!'
So what should a couple do if they're in the same situation as Saira and Stephen?
Dr Pam advises:
Look at key areas of your life that might be responsible for it. Start by taking steps to solve differences over things like housework.


Discuss with your GP if any medication you're on has side effects affecting desire. Also discuss whether health issues you have like diabetes or heart trouble can lead to this.


Check whether anxiety (opens in new tab) and/or depression (opens in new tab) is at the heart of diminished desire. Many people don't realise that mental and emotional health conditions play a big part in feeling desire.


Get on top of work stress and general stress because it sucks any desire right out of you.


Stop any excess drinking, reduce or stop smoking, late nights and relying on snack foods - these play a big part in your energy levels, including sexual energy.


Carve out time together as a priority. Do some fun things, try flirting again. Let your partner know what you really want in bed, and ask what they might like to try.

Dr Pam Spurr is a self help expert, life coach and agony aunt. You can visit her website at drpam.co.uk (opens in new tab) or follow her on Twitter @DrPamSpurr (opens in new tab)

Would you ever give your partner permission to cheat? How would you feel if you were given permission yourself? Let us know your thoughts in the comment box below. (opens in new tab)