Loose Women star Coleen Nolan opens up about trust issues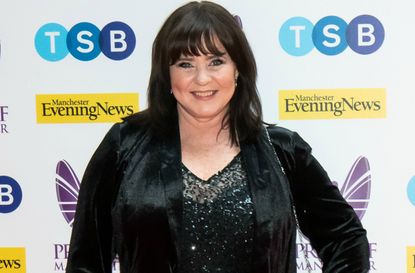 (Image credit: Carla Speight)
Coleen Nolan confessed she's ready to find love again after divorcing her husband of 11 years, Ray Fensome, but it looks like the Loose Women star is still dealing with trust issues.
Coleen, 54, has claimed that her first husband, Shane Richie, was unfaithful during their marriage, yet she struggled to leave him. While Shane has never admitted any indiscretion, Coleen has said the alleged infidelity shattered her confidence.
'I used to think I'd be the kind of person to leave my husband at the mere suggestion of an affair,' she said. 'But then it happened and it took me two years to leave him.'
During Channel 5 show In Therapy, Coleen revealed that after learning of Shane's infidelity via an anonymous letter, he made her feel like she was being paranoid.
'"I swear on my life nothing is going on, Coleen," he'd say, putting his face really near to mine and looking me straight in the eye,' she said.
Coleen previously confessed, 'Whether someone's had an affair for two months or 20 years, it destroys trust and it's a hard thing to get back.'
She has since announced she is dating again (opens in new tab).
Read more: Coleen Nolan is making big surgery plans ahead of her 55th birthday (opens in new tab)
And even though she's now ready to find love again, Coleen wants to make sure she isn't taken for a fool.
'I'd be nervous doing online dating because you read so much about people not being who they say they are,' she said.
Speaking previously about single life, Coleen admitted: ''I'm loving single life!
'Everybody's always asking, "Are you on the lookout for someone special?" but I'm not bothered about that. 'I've never really been single. I've been in relationships my whole life. I've gone from one relationship to another. 'My first marriage to Shane [Richie] was for a long time and then I wed Ray.'
She continued: 'I love not having to answer to anyone and making my own decisions. I'd love to meet someone. Obviously it would be nice, but I don't want to go through getting married again.'
Sibelle Mehmet is a Junior Digital Writer at Goodto.com. She joined the team in April 2019 and was her first job since completing a MA in Magazine Journalism at City, the University of London in the summer of 2019. Sibelle previously interned at a number of national titles including OK!, Heat, Closer, Mother & Baby, and The Times Newspaper magazine. She's written extensively about the latest celebrity, showbiz, and royal news.