Coleen Nolan is making big surgery plans ahead of her 55th birthday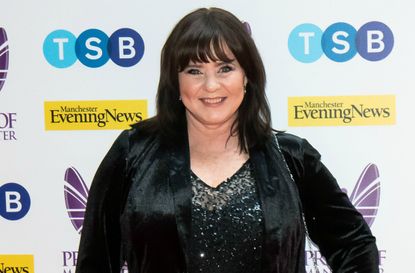 (Image credit: GettyCredit)
Coleen Nolan has made a lot of changes to her life in the past 12 months, and it looks like the Loose Women star is set to make the most dramatic change of all – going under the knife!
However the panellist has always disapproved of cosmetic surgery and was terrified when sister Maureen had a facelift last year. Aware that Coleen wouldn't approve, her other sibling Linda kept her own facelift under wraps, revealing it live on the ITV show – much to her sister's shock!
But Woman's Own can reveal that the presenter is now looking to follow in their footsteps in a bid to get a younger looking body. After her split from husband of 11 years Ray Fensome – who she shares daughter Ciara, 18, with – last year, it seems Coleen is on a mission to finally feel confident again.
And she has started dating again (opens in new tab) after finding love in lockdown 2021.
Surgery plans
As she stripped off for The Real Full Monty last year, Coleen appeared to be the epitome of body confidence. But we're told the presenter is ready to change up her look with surgery, with our insider revealing, 'Coleen has seen both good and bad results and she's not diving into anything until she's done all the research possible. Ideally she'd like to deal with her neck and bum.'
Next year will see Coleen turn 55 and she wants to look her best for the next milestone in her life. 'Coleen is on a path with a goal to lose the pounds and then tighten. In an ideal world she would like to be size 14.'
Time for a toy boy?
There's no denying that Coleen's fluctuating weight (opens in new tab) has previously been an issue for her. 'Coleen describes her battles with her ever changing shape as an emotional roller-coaster,' our insider explains. 'She's an emotional eater and lover of wine. She wants to do this for herself and her kids.'
Although the support from children Shane Jr, 30, Jake, 26, and Ciara isn't the only thing spurring on the star. After splitting from Ray, Coleen admitted she's open to finding love with a younger man. She said, 'I don't mind going out with someone younger – maybe 40s upwards – I couldn't date someone I could have given birth to.' And our source expects the Big Brother winner's new look will help, adding, 'Some women shop for a designer bag but Coleen wants a new body and a toy boy to go.'
Second time lucky
This isn't the first time Coleen's contemplated going under the knife. She once revealed how a surgeon told her she needed £20,000 worth of work, but decided against any procedures.
'I got to see how my face could be saved by plastic surgery,' she revealed. 'Suddenly all my flaws were magnified. There was nothing that I had been really unhappy with before, but now I was aware of things that had never even bugged me.'
However, the experience clearly hasn't put the mum-of-three off, with our insider adding, 'Coleen says to love the skin you're in, but she jokes she's about to fall out with mother nature and gravity! The plan is to look at her neck and fix the loose skin she has on her tummy, back and bum.'
Finding happiness
Coleen couldn't help but feel concerned for her sisters Maureen and Linda when they both went under the knife for their facelifts last year.
'I can't bear the thought of anything going wrong in surgery, I just can't handle anything happening to any more of my sisters,' she said on Loose Women.
But after 65-year-old Linda's facelift was such a success, we're told Coleen may now be ready for her own little makeover, despite the family telling her 'she's beautiful just the way she is.'
And while those close to her may have their concerns, they also know they must be supportive of whatever Coleen wants. 'She has had some really tough times,' our insider says, adding; 'She deserves to find that happiness again.'