'Ruth's difficult to live with!' Eamonn Holmes opens up about life with wife Ruth Langsford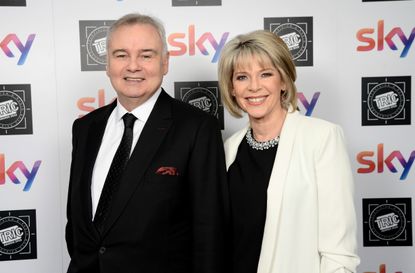 (Image credit: Dave J Hogan)
This Morning host Eamonn Holmes opens up about life with wife Ruth Langsford and confesses he worries about how much she loves him.
They're one of our favourite telly couples and, after being together for 22 years, you'd think Eamonn Holmes and Ruth Langsford would have it all worked out. But Eamonn, 59, confesses that he still sometimes has insecurities over how much Ruth, also 59, loves him – because he's so much more forward in expressing his feelings than she is!
We've all seen them bicker while presenting This Morning, usually because of his cheeky jokes to his wife, but Eamonn insists it's actually Ruth who's sometimes hard to live with. We find that very hard to believe, Eamonn…
She's the one
Despite their playful arguments, it's clear Eamonn and Ruth are made for each other. Eamonn is dad to Declan, (opens in new tab) Rebecca and Niall from his previous marriage to Gabrielle Holmes, while he and Ruth share 17-year-old son Jack. Seeing how caring Ruth is with Jack is the thing Eamonn loves most about her.
'The way she looks after our son and me, and how she's grown in confidence – I find that a real turn on,' he said.
When previously asked about the secret to more than two decades together, Ruth replied, 'Make time to do things together. Not because we've problems in our marriage, just because you need that time, otherwise why be in the relationship?'
Meanwhile, Eamonn summed up his feelings for Ruth perfectly, explaining, 'You've got to say to yourself, "Would I ever find anybody better than this?" The answer is no.' We think you're perfect together!
Opposites attract?
Despite his cheeky jibes at Ruth – including jokes about her looks and weight – Eamonn claims he worries that he loves her more. He says, 'The thing about me is that I would say I love Ruth far more than she loves me, but she would say, "How do you know how a person feels?"'
There's no denying the pair have different backgrounds. Born in Singapore, Ruth lived in five countries before she was 10, while Eamonn comes from a more traditional background. He says, 'She's more stiff upper lip, she comes from an army family, but I totally believe that she loves me and adores me.'
But Ruth gives him a run for his money. During a chat about Paul Hollywood (opens in new tab) breaking up with his much younger girlfriend, Eamonn quizzed, 'Say I ran off with a 24-year-old?' To which Ruth quipped, 'Take him, seriously, he's yours.'
Home life
Just like when they're on-screen, it seems that Eamonn and Ruth disagree about who causes rows at home, too. He says, 'She's a very difficult person to live with because she's illogical with a lot of things.' But Ruth – who he claims has 'always got an argument on the boil' – says it's usually down to trivial things.
Read more: 'I don't want to lose you too' Ruth Langsford's fears for Eamonn Holmes' health (opens in new tab)
She said previously, 'Most rows are trivial. He left the orange juice out. I came in and said, "Why is this out?" It turns into a row. Big stuff we don't argue about.' And it does seem like homemaker Ruth is all about making Eamonn's life more comfortable, including ensuring he's always eating one of his favourite meals.
She says, 'You fall into certain jobs, but not because I'm a woman and he's a man. I cook because I like cooking. I'd happily spend most of Sunday in the kitchen. I cook for the freezer – Bolognese, shepherd's pie, curry.' Eamonn, we don't know what you're complaining about!
Celebrity Content Director
Jack White is Celebrity Content Director at Future, working across Women's Lifestyle brands such as Woman&Home, Woman, Woman's Own, Women's Weekly and GoodtoKnow. When he's not interviewing your favourite stars or writing about the latest make-up/break up, you'll find Jack searching for new Gemma Collins memes, singing (badly) in the office or binge-watching crime dramas.