'I don't want to lose you too' Ruth Langsford's fears for Eamonn Holmes' health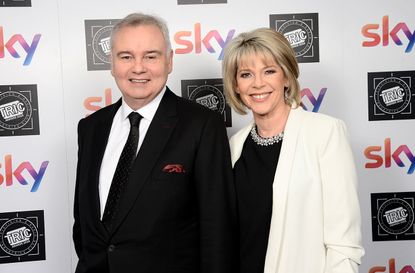 (Image credit: Dave J Hogan/Getty Images)
Just weeks after the death of her sister, Ruth Langsford is putting all her energy into getting her husband Eamonn Holmes' healthy.
This Morning's Ruth Langsford was heartbroken after losing her sister, Julia Johnson – at the time taking to social media to say: 'My lovely sis Julia has sadly died after a very long illness. My heart is completely broken. She was the kindest and most gentle soul and I will miss her forever.'
And, after three weeks out of the limelight, Ruth bravely returned to our screens.
But away from the cameras Ruth is putting her energies into her husband and forging a healthy lifestyle for both of them.
Ruth, 59, has never been one to shy away from Eamonn's health issues and as she mourns the death of Julia, who passed away at her home in June, it's no surprise that the This Morning host is perhaps feeling protective of her loved ones.
While Ruth may have briefly taken a step back from work duties following her family loss, Woman's Own can reveal she is doing all she can to help Eamonn, 59, put an end to his naughty habits and put their health and happiness firmly in pole position.
Feeling worried
Ruth, by her own admission, has always been a homemaker and enjoys taking care of her family. She said previously, 'I love cooking a Sunday roast (opens in new tab). Eamonn often tells me I shouldn't go to the trouble but I don't see it like that. Jack and Eamonn might start watching football and I'll shut the kitchen door, put the music on and sing like Beyoncé, and have a little think about this and that as I peel my carrots and wash the swedes.'
Our source adds, 'It's simple, Ruth wants to look after everyone who she cares about and loves, and there's no way she will stand back and watch her husband harm his own health – he's everything to her. Eamonn is already doing really well but Ruth is worried that he could become unwell if he doesn't adhere to advice.'
Past problems
Last year Eamonn was left shocked after being told by health expert Steve Miller live on This Morning that he was a 'heart attack waiting to happen'. And nine months later it seemed Eamonn had taken Steve's warning on board, when a dietician claimed he'd lost a stone. Rachel Clarkson said at the time, 'You can tell how considerable his weight loss is (opens in new tab) by looking at his temples. He's got a more chiselled face.'
The fact that Eamonn is taking his health seriously is music to Ruth's ears, with our source adding, 'Ruth has always worried about Eamonn's health and she previously admitted that she cooks his meals to ensure he's eating the right things, saying, 'I sort out his food and make sure he's in bed on time, that he's going to have clean sheets and I've made a lovely dinner.'
Changing his ways
Keeping fit has never been a problem for Ruth, who regularly exercises (opens in new tab) and follows a healthy diet. But it's been less easy for Eamonn after he went through a double hip replacement in 2016.
He previously explained that the operation was a result of 25 years of pain. And it's having the operation that spurred Eamonn on to try to stay fit. He said, 'Walking was not appealing to me. Mentally it still isn't. But the alternative is less appealing to me – which is the onset of illnesses like cancer, dementia, diabetes, that sort of thing. So when I had my double hip replacement it gave me another opportunity to get back and do something.'
End goal
We're told that Ruth is determined to have something to focus her mind on – the first being her husband's health. 'Eamonn has been a pillar of strength of late but Ruth is adamant that Eamonn's healthy outlook isn't derailed,' says our source.
Ruth wants to get her hubby in tip-top shape before his milestone 60th birthday in December. 'Ruth has set Eamonn a target – sexy, slim and 60,' our source adds. 'Lose the pounds and reap the benefits of a very happy wife!'
The clock is ticking, Eamonn, but it looks like you are off to a great start!