Sugababes star Heidi Range reveals she never lets her husband see her naked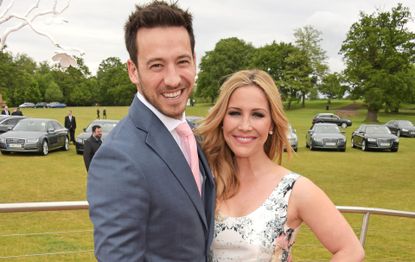 (Image credit: Getty)
Former Sugababes star Heidi Range has admitted that she never lets her husband see her naked.
The singer, who gave birth to her first child (opens in new tab) at the beginning of last year, opened up on Yahoo! UK's White Wine Question Time podcast about how she was left 'mortified' when her husband, Alex Partakis, walked in on her naked.
'My husband came into my wardrobe the other day, and I'm bent over moisturising my legs under those cellulite lights – you know, spotlights? – and I just went APE,' she told podcast host Kate Thornton.
'I was like, 'What are you doing? Get out! GET OUT! Don't look at me!'
The mum-of-one, who last year revealed what she finds is the hardest past of motherhood (opens in new tab), went on to explain how her property developer husband was baffled at her reaction.
'He said, 'You're my WIFE. Of course I'm gonna look. What's wrong with you? You're beautiful.'
'But I was MORTIFIED,' she continued.
'We've been together for seven years,' said the 35-year-old. 'He's seen me give birth. But I've just never been comfortable [in my own skin].'
The couple, who married in a romantic ceremony in Tuscany (opens in new tab) in September 2016, got engaged back in 2015 after she was famously engaged to radio host Dave Berry (opens in new tab).
The Push the Button singer, who last year opened up about her breastfeeding nightmare, went on to explain how she has always struggled with body image.
'I've never been body confident, and I've been so many different sizes. And even when I've been tiny I remember feeling self-conscious.
'I've just never been comfortable,' she added. 'I've never been one of those girls who feels good walking around in a bikini.'
The new mum also admitted that she worries about passing her body insecurities down to her daughter Aurelia, who will be celebrating her first birthday next week.
'I don't want her to ever think about what her body looks like,' said the concerned mum, 'because it's not important.'
Kate Thornton assured Heidi she was both beautiful inside and out - and we agree!